You are currently browsing the category archive for the 'Charleston Correctional Facility' category.
M.C.C. never ceases to amaze me, I found out that this afternoon they closed the rec yard for the men in minimum custody. The source stated that they couldn't go outside because there was no staff to watch the yard. What the Fuck? Those inmates are minimum custody because they have proven them selves worth of it. The other minimum custody facilities in Maine (Charleston and Bolduc.) don't have fences! With that said why should the minimum custody inmates at MCC be treated differently? It's down right degrading to these inmates to be treated in such a fashion, compared to their fellow minimum inmates at other facilities.
Mr. Commissioner and Mr. Superintendent, just because were a couple incidents in the rec yard in 15 years and one being recently (which would have been avoided if the officer on duty would have done their job properly,) regardless of the fact, minimum inmates should be allowed to roam the rec yard with out supervision. My opinion, Mr. Commissioner, is do not allow classification to under-classify individuals with violent tendencies; just to move them out of the pods in a timely manner. (Something I've heard you have allowed.)
Sincerely,
Mr. Bob Hopeful
Governor Janet Mills and members of the Washington County delegation announced a plan to reopen the Downeast Correctional Facility Friday. The operation will be significantly smaller than it was before its 2018 closure.

MACHIASPORT, Maine — Reopening the Downeast Correctional Facility was high on the list of Governor Janet Mills' campaign promises. On Friday, that plan got one step closer. Governor Mills and the Washington County delegation agreed to terms to build a new pre-release center on the DCF property.
"This is great news. This is awesome news. This is what we've been hoping for," said Sen. Marianne Moore (R – Washington).
RELATED: DCF resurrected in deal to build pre-release center on lot
"We're going to get a better facility, we're going to a get a new and improved rebuilt facility when this has all come to fruition," said Rep. Will Tuell (R-East Machias).
The facility is scheduled to open in two years. It will employ 15, down from the 50 that worked at the previous facility. It will hold 50 inmates, down from 150.
RELATED: Department of Corrections looks for new facility
Reopening the facility has been a mission for those in Machiasport and Washington County since its closure in 2018. Many are now optimistic.
"As a town we'd like some kind of stability down here, and this would be a wonderful place to start that," said Machiasport Selectmen Jeffrey Davis.
Times have been tough for Machiasport residents since the facility's closure. In addition to the nearly 50 employees who were laid off, many local businesses also lost the chance to have inmates in the prison's work release program assist their businesses.
"I've seen how this is effecting our community. I've seen the things we don't have now because of it, and it's sad," said Machiasport resident Melissa Hinerman.
RELATED: Corrections facility may return to Washington County
Although there will only be 15 jobs, compared to the previous 50, retired DCF employee Kevin Millay is excited to see any amount of jobs back in his county. "That's a lot of staff for Washington County. You may not think that in Windham or Bangor, but it's a start."
Other former employees however are disappointed the new facility wont provide as many jobs or as many inmates.
"That's not what we deserve and that's not what's best for the town," said DCF employee of 24 years JJ Tibbetts.
For many of the former employees, an additional two years is a long time to wait to get back to work. When the facility opens, residents hope it can help alleviate some of the stresses caused by the closure.
"Please, arrest someone!  We need people to guard!"
If you have…..
INTEGRITY  COURAGE  COMMITMENT
Let's talk!!  The Department of Corrections is currently seeking applicants for Correctional Officers.  View a list of our current openings below or call (207) 287-4498 to find out how to join our team and begin an exciting career in Corrections!
Watch the video below to see what the job is all about and to find out what we're looking for in applicants.  Do you have what it takes?
https://player.vimeo.com/video/82035562
Correctional Officers have many opportunities for career diversity and advancement.
Click here for more information.
If you are interested in a challenging career in the Maine Department of Corrections, the following positions are now open for recruitment.The links below will give you the job postings and information on how to apply.
Click here for medical, mental health and substance abuse opportunities
Paperwork to get the process started
Direct Hire Career Opportunities
Search Jobs
Search Jobs  Reset
Becoming a Correctional Officer
The Maine Department of Corrections is recruiting for tomorrow's Correctional Leaders!  We are looking for ethical, dependable, career-oriented men and women.  We provide interesting, hands-on training to provide you with the skills and abilities you need to do your job effectively and ensure your professional success.  Correctional Officers attend a six-week training academy covering all aspects of correctional work.  Correctional Officers receive continuous reinforcement, which highlights the Department of Corrections' Core Values – INTEGRITY, COURAGE, and COMMITMENT.
Benefits as a Correctional Officer
A career as a Correctional Officer offers competitive pay and benefits that include:
A 25-year retirement system, with age 55.  Correctional Officers contribute 1.15% of their gross salary with a generous State contribution.
Night and Weekend shift differentials
Paid sick leave
Paid vacation leave
12 paid Holidays per year
Uniforms
On-site fitness centers
Overtime opportunities
Requirements
MINIMUM QUALIFICATIONS
Age:  Applicants must be at least 18 years of age prior to date of hire.
Education:  Applicants must be a high school graduate or hold an equivalency certificate (GED).
Conduct:  Applicants must have no serious criminal or extensive motor vehicle records.  See Automatic Disqualifiers for details.
Physical:  Applicants must be in adequate physical condition to perform the duties of a Correctional Officer. A valid, State of Maine Driver's License is required upon employment.
Hiring Process
APPLICATION EVALUATION: Applications are reviewed to verify that each candidate meets the established Minimum Qualifications/Requirements. Applicants who do not meet these requirements are disqualified from further consideration.
PHYSICAL AGILITY TEST (PAT):  Standards for successful completion of the PAT are available upon request.
ORAL BOARD INTERVIEW: Applicants successfully meeting the Minimum Requirements and who have passed PAT will be scheduled for an Oral Board Interview. The Oral Board is a structured interview that evaluates applicants' skills in the areas of Commitment & Independence; Judgment & Logic; Decision Making Decisiveness; Tact & Diplomacy; and Communication Skills. The Oral Board is a pass/fail component of the applicant process.
BACKGROUND INVESTIGATION:  Applicants who successfully pass the Oral Board Interview will have a finger-print based criminal history record check along with a prior employment reference check.
ALERT TEST: Applicants must pass the ALERT test prior to being hired as a Correctional Officer.  The Alert Test will be set up upon completion of all previous steps. This test must meet the Maine Criminal Justice Academy's minimum passing score for entrance into basic corrections training. Test questions are multiple choice and fall within the categories of Writing Skills and Reading Comprehension.
You should be aware before starting the application process that the following are disqualifiers for this position.
If you:
Have been convicted of murder or any crime classified in Maine law as a Class A, Class B, or Class C crime (i.e., any crime with a maximum term of imprisonment of one year or more), or of any substantially similar crime in another jurisdiction outside the State of Maine;
Have been convicted of any crime classified in Maine law as a Class D crime (i.e., any crime with a maximum possible term of imprisonment of less than one year), or of any substantially similar crime in another jurisdiction outside the State of Maine;
Have been convicted of any of the following provisions of the Maine Criminal Code (Title 17-A of the Maine Revised Statutes Annotated), or of any substantially similar crime in another jurisdiction outside the State of Maine;

Theft, including, but not limited to: Theft by deception; Insurance deception; Theft by extortion; Theft of lost, mislaid or mistakenly delivered property; Theft of services; Theft by misapplication of property; Unauthorized use of property;
Chapter 19, Falsification in Official Matters, including, but not limited to:  Perjury; False swearing; Unsworn falsification; Tampering with a witness, informant, juror, or victim; Falsifying physical evidence; Tampering with public records or information; Impersonating a public servant;
Bribery and Corrupt Practices, including, but not limited to: Bribery in official and political matters; Improper influence; Improper compensation for past action; Improper gifts to public servants; Improper compensation for services; Purchase of public office; Official oppression; Misuse of information; or
Chapter 45, Drugs, including, but not limited to: Unlawful or Aggravated trafficking in scheduled drugs; Unlawfully furnishing scheduled drugs; Unlawful possession of scheduled drugs; Acquiring drugs by deception; Stealing drugs; Cultivating marijuana; Illegal importation of scheduled drugs; Unlawful possession, unlawful trafficking, or unlawful furnishing of synthetic hallucinogenic drugs;

Have engaged in any conduct described in paragraphs 1, 2, and/or 3, above;
Have been convicted of any crime that is a violation of any domestic abuse law of any State or Federal jurisdiction;
Have been convicted of operating under the influence (O.U.I.) of intoxicating liquor and/or drugs within the ten (10) years preceding the date of your application;
Are currently abusing drugs or alcohol; or
Falsify or misrepresent a material fact by signing this document, or when you are/were interviewed during the background investigation phase of the application process.
HOW TO APPLY:
We require the State of Maine Direct Hire Application and the DOC Supplemental Application.  Submit both to:
Department of Corrections Service Center
Attn: Clint Peebles, HR Recruiter
doc.jobs@maine.gov or fax to (207)287-4310
Or mail to:
Department of Corrections Service Center
Attn: Clint Peebles, HR Recruiter
25 Tyson Drive
SHS 111
Augusta, ME  04333-0111
In the list of Direct Hire Career Opportunities above, click on the YES in the "Supplemental Required" column.  Direct Hire Application Forms may also be obtained from the State Bureau of Human Resources, a local branch of the Maine Career Center, or any of our facilities.
For More Information – Thank you for considering a career with the Maine Department of Corrections.  For more information about the hiring process or about employment opportunities, please contact Clint Peebles at doc.jobs@maine.gov or (207)287-4498.
For all other Human Resources inquiries, please contact the Human Resource Business Partner below.
Mountain View Correctional Facility / Downeast Correctional Facility, Contact: Darlene Sage
Long Creek Youth Development Center, Contact Charlene Gamage
Maine Correctional Center/Southern Maine Reentry Center, Contact: Michelle Senence
Maine State Prison / Bolduc Correctional Facility, Contact: Jeanne Fales
Adult Community Corrections/Juvenile Community Corrections, Contact: Rhonda Hutchinson-Peaslee
Maine Department of Corrections, Come for the Job….Stay for the Challenge!
The Maine Department of Corrections is an Equal Employment Opportunity/Affirmative Action Employer.  Women and minorities are encouraged to apply.  We provide reasonable accommodations to qualified individuals with disabilities upon request.
24 January 2019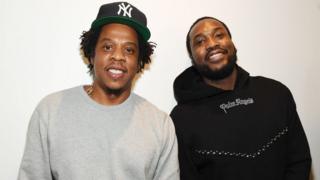 Jay-Z, Meek Mill and sport and business leaders have pledged $50m (£38m) to reform the US criminal justice system.
The Reform Alliance, which was inspired by Meek Mill's recent stint in prison for a minor probation violation, hopes to free one million prisoners in five years.
The owners of the New England Patriots and Philadelphia 76ers, Robert Kraft and Michael Rubin, are co-founders.
Reform says it wants to help people who are "trapped in the system".
The group's "mission" is to "dramatically reduce the number of people who are unjustly under the control of the criminal justice system, starting with probation and parole".
"To win, we will leverage our considerable resources to change laws, policies, hearts and minds," it says.
More than six million people can currently count themselves as part of the "correctional population" of the USA – which includes people in prisons and local jails, but is mostly made up of the more than four million people on probation or parole, according to Bureau of Justice statistics.
Probation is often given as a sentence instead of time in prison and can include conditions like being on a curfew or going to rehab.
Parole is when an inmate is released early from prison with similar conditions to probation.
Meek Mill has experienced all three: probation, parole and jail.
The Reform Alliance says his case is an example of the "devastating and long-lasting effects" that can occur after one interaction with the criminal justice system.
The rapper was arrested in 2007 – he says wrongfully – for drug and gun charges, aged 19.
He was sentenced in 2009 to between 11 and 23 months in county prison, but was released on parole after five months and put on house arrest.
It was during this time he started to make his name nationally as a rapper, signing to Rick Ross's label and releasing a string of hugely successful mixtapes.
Before long he was a platinum-selling artist.
But a parole violation for suspected cannabis use resulted in a ban on touring, and then after failing to get his travel plans approved by the court Meek was sentenced to prison again in 2014.
Examples of parole violations that can land people back in prison range from being late to appointments with parole officers or missing a curfew, to things more specific to the crime that was committed – like failing to attend an Alcoholics Anonymous meeting.
"When you talk about these so-called technical violations, it's not technical to the kid who can never see her mum again because she showed up late for a meeting. That's not technical, that's devastating for that individual child," Reform Alliance CEO Van Jones said.
Violations over the next few years resulted in his probation period being extended – it now lasts up until 2023 – as well as the five months in prison which ended in April 2018 and birthed the #FreeMeek movement.
It's people with a similar story to Meek's, that have been "caught up on probation and parole", that Reform says it wants to focus on first.
'If someone commits a crime they should go to jail'
"Being from the environment I'm from, I don't even think it's possible for you to be an angel," Meek said as the organisation was announced in New York.
"You grow up around murder on a daily basis, you grow up in drug-infested neighbourhoods.
"And every time I started to further my life with the music industry, there was always something that brought me back to ground zero," he said.
Pennsylvania Governor Tom Wolf, who attended the event, said he was a supporter of criminal justice reforms that are "fair, help our system work better and smarter, and save crucial taxpayer dollars while balancing public safety and victim concerns".
Across the US, roughly a third of people on parole are black, according to Bureau of Justice statistics – something Jay-Z raised at the event.
"We want to be very clear. If someone commits a crime they should go to jail. But these things are just disproportionate and the whole world knows it," he said.
Jay-Z has been vocal about Meek's case, writing in the New York Times while he was imprisoned.
"On the surface, this may look like the story of yet another criminal rapper who didn't smarten up and is back where he started," he wrote.
"What's happening to Meek Mill is just one example of how our criminal justice system entraps and harasses hundreds of thousands of black people every day.
"I saw this up close when I was growing up in Brooklyn during the 1970s and 1980s. Instead of a second chance, probation ends up being a land mine, with a random misstep bringing consequences greater than the crime. A person on probation can end up in jail over a technical violation like missing a curfew."
The facility is not expected to have the heat restored in the housing units until the end of February!
CHARLESTON, Maine — Officials at the Mountain View Correctional Facility in Charleston say they have taken all the necessary steps to make sure inmates are comfortable while their heating is being repaired.
Commissioner Randall Liberty said the boiler that heats the minimum security facility in Charleston is being worked on and space heaters are keeping staff and inmates warm in the meantime.
But Katy Boegel, who has a son at the facility, says that her son is telling her that ice is forming in cells and toilet water is freezing. Boegel says her son is wearing all the clothing he has in an effort to stay warm but is still very cold. 
Officials say they have placed 25 rented space heaters throughtout the facility, and have given inmates extra linens, blankets and clothing.
Facility staff say the temperatures within the housing units are between 60 and 70 degrees despite the heating issues and that when cells are cooler, inmates are allowed to spend more time and even sleep in common areas.
The facility is expected to have the heat restored in the housing units by the end of February.