You are currently browsing the category archive for the 'Correctional Corruption' category.
---
GUESTS
Jennifer Turner

human rights researcher with the American Civil Liberties Union. She wrote the ACLU's new report, "A Living Death: Life Without Parole for Nonviolent Offenses," and also authored "Island of Impunity: Puerto Rico's Outlaw Police Force."
---
A shocking new study by the American Civil Liberties Union has found that more than 3,200 people nationwide are serving life terms without parole for nonviolent offenses. Of those prisoners, 80 percent are behind bars for drug-related convictions. Sixty-five percent are African-American, 18 percent are white, and 16 percent are Latino — evidence of what the ACLU calls "extreme racial disparities." The crimes that led to life sentences include stealing gas from a truck, shoplifting, possessing a crack pipe, facilitating a $10 sale of marijuana, and attempting to cash a stolen check. We speak with Jennifer Turner, human rights researcher and author of the new ACLU report, "A Living Death: Life Without Parole for Nonviolent Offenses."
---
Transcript
This is a rush transcript. Copy may not be in its final form.
JUAN GONZÁLEZ: A shocking new study by the American Civil Liberties Union has found that more than 3,200 people nationwide are serving life terms without parole for nonviolent offenses. Of those prisoners, 80 percent are behind bars for drug-related crimes. Sixty-five percent are African-American, 18 percent are white, and 16 percent are Latino—evidence of what the ACLU calls "extreme racial disparities." The crimes that led to life sentences include stealing gas from a truck, shoplifting, possessing a crack pipe, facilitating a $10 sale of marijuana, and attempting to cash a stolen check.
AMY GOODMAN: Sixty-three percent of those serving life without parole for these nonviolent offenses are in federal prisons. Most were sentenced under mandatory minimum laws. The ACLU says keeping nonviolent offenders behind bars for life is costing taxpayers an additional $1.8 billion. In a minute, we'll be joined by the author of the study. But first, this is a clip from a video that features family members of some of the more than 600 prisoners it profiles.
SARLOWER SURRY: Everything he did was to hurt himself, not others. And it went from—from one-year sentence to two-year sentence to natural life.
CASHAWNA TILMAN: My dad will never get out for something so little? Natural life.
LORETTA LUMAR: For stealing a $150 jacket. And that $150 jacket got him life in prison.
SARLOWER SURRY: Here in Louisiana, they use that habitual offender law: Three strikes, you automatically get natural life.
CATHERINE MATTHEWS: It's like giving him a death sentence, because this is no life—no life for a man with his children or his parents or anybody else, once they're in there.
BURL CAIN: Judge should have the discretion not to give a life sentence. I mean, that's extreme. You tell that to anybody, they'll say, "Ah, nah-uh, that's a little bit too much." That almost gets to be the point that that's not what the forefathers envisioned, even with the Constitution. That's extreme. That's cruel and unusual punishment, to me.
CASHAWNA TILMAN: He's a good person, my dad. I mean, he's always—like I said, he's always been there for me and my sister and brother. He's always done his best, until he started abusing the drugs.
CATHERINE MATTHEWS: And a lot of times with Patrick, with the drugs, it came down to not being able to find work.
SARLOWER SURRY: Life sentence is no way to deal with a drug addiction.
EISIBE SNEED: My son wasn't a menace to society.
DELOICE LEWIS: He would give his shirt off his back.
CATHERINE MATTHEWS: And being so tenderhearted in a place like that, it just doesn't fit. It's changed him that way, because I notice he is getting a little colder. I find that he's not believing and he's not keeping his faith as much. He's not—like, he's like, "I'm about ready to give up on this."
WILLIE COMBS: Oh, it's been hard. I go down there and see him. I can't hardly stand to leave him, but I know I have to go. It be hard. It be hard.
CATHERINE MATTHEWS: To tell him what I ate for Thanksgiving, and he couldn't eat it, you know, it's hard. It's little things like that.
DELOICE LEWIS: And my birthday coming up, and those are days I break.
BURL CAIN: But if this person can go back and be a productive citizen and not commit crimes again, these nonviolent crimes, then why are we keeping him here, spending all this money? Because maybe I've done my job, so he should have a parole hearing.
SARLOWER SURRY: There's too many families that's suffering out here.
LORETTA LUMAR: Give him a second chance. He's 54 years old now.
WILLIE COMBS: I'm looking for things to change.
CATHERINE MATTHEWS: Because these boys are just getting wasted away in these prisons for no reason.
AMY GOODMAN: That's a clip from a video that accompanies the ACLU's new report, "A Living Death: Life Without Parole for Nonviolent Offenses." For more, we're joined by its author, Jennifer Turner, human rights researcher with the American Civil Liberties Union.
Welcome to Democracy Now! I mean, it is just astounding. A man—the story we just heard; another story, a man walks out of a store with a coat slung over his shoulder, $159, gets life in prison without parole.
JENNIFER TURNER: Absolutely. These sentences are grotesquely out of proportion of the crimes that they're seeking to punish. And we found that 3,278 people are serving life without the possibility of parole for nonviolent crimes, but these numbers actually underrepresent the true state of extreme sentencing in this country. Those numbers don't account for those who will die in prison because of sentences such as 350 years for a drug sale. It also doesn't account for the many millions of lives ruined by excessive sentencing in this country, as well.
JUAN GONZÁLEZ: And especially the impact of federal mandatory minimum sentencings, could you talk about that and the efforts to try to roll back some of those—some of those laws?
JENNIFER TURNER: Yeah, what we found was that over 80 percent of these sentences were mandatory, both in the federal system and in the states. They're the direct consequence of laws passed over the 40-year war on drugs and tough-on-crime policies that included mandatory minimum sentencing laws, habitual offender laws in the states.
And they tie judges' hands. And in case after case after case that I reviewed, the judge said from the bench—outraged, would say, "I oppose this sentence as a citizen, as a taxpayer, as a judge. I disagree with the sentence in this case, but my hands are tied." And one judge said, when sentencing one man to life without parole for selling tiny quantities of crack over a period of just a couple of weeks, he said, "This is a travesty. It's just silly. But I have no choice."
AMY GOODMAN: What if a judge said no?
JENNIFER TURNER: The judges can't say no. In fact, I looked at cases where the judges tried to say no, where the judge tried to find a legal loophole, where prosecutors appealed, repeatedly. One man was sentenced to zero time in prison by a Louisiana judge for threatening a cop while handcuffed in the back of a police cruiser. He was drunk, threatened him, was sentenced initially to no time. The prosecutor appealed; the sentence increased to 10 years. Prosecutor appealed again. On the third appeal, it was increased to life without parole as a mandatory sentence because of his priors dating back as much as 20 years earlier.
AMY GOODMAN: Let's go to another case. Another person profiled in your report, in the ACLU report, is Sharanda Jones. She was sentenced to life for conspiracy to distribute crack cocaine when she was a 32-year-old mother, with a nine-year-old daughter—no prior arrests. No drugs were found on her, but her supposed co-conspirators testified against her in exchange for reduced sentences. In this clip from the film, The War on Drugs, she talks about being separated from her daughter.
SHARANDA JONES: My sister bring her to visit. And every time she come, it's hard. I see her like once a month. And to see her grow from a little bitty baby to almost a grown woman now, it's just like, God, my dream is to just show up at her school. I mean, I know they gave me life, but I can't imagine not being at her graduation, her high school graduation. I just can't imagine me not being there.
AMY GOODMAN: Sharanda Jones. Jennifer, tell us more about her case.
JENNIFER TURNER: Well, Sharanda was caught up in a massive drug sweep in a majority white town in Texas. Over a hundred people were arrested, all of whom were black. Chuck Norris participated in some of the arrests. Sharanda had no information to trade for a lenient—a more lenient sentence. And the judge was required to sentence her to life without parole, objected to the sentence, but he had not choice.
AMY GOODMAN: So, they had nothing on her, but—
JENNIFER TURNER: They had nothing but one wiretap. What happened was, a couple had been arrested on drug charges and began cooperating with the feds as confidential informants and, from there, started implicating others in the community. They called Sharanda and said, "Hey, do you know where we can get some drugs?" The wiretap caught Sharanda saying, "Let me see what I can do." That was the extent of the evidence against her, with the exception of testimony from these confidential informants and other co-conspirators. They never found any drugs on her. There were no even video surveillance of her with drugs. But she was sentenced to life without parole.
A single mother. Her daughter Clenesha has been separated her for many, many, many years. And Sharanda maintains a very close relationship with her daughter. She carefully apportions the 300 minutes she's allowed to use per month for non-legal calls to call her daughter 10 minutes each day. When I talk to Sharanda on the phone, she's like, "I've got to go! I can't use up my minutes; I need to speak with my daughter."
And Sharanda, unfortunately, has no relief available. Her sentence is final, like those of everyone else we were profiling. They have really no chance of relief unless President Obama, in Sharanda's case, because it's a federal case, or, in the states, where the governors use their executive clemency powers to reduce their sentence.
JUAN GONZÁLEZ: Could you talk about the racial disparities that your report highlights? They're really amazing. I mean, everyone knows that African Americans and Latinos are disproportionately incarcerated, but in terms of these life-without-parole sentences, the amazing percentage of African Americans, specifically, in states like Louisiana, 91 percent are African-American.
JENNIFER TURNER: The racial disparities are staggering. Obviously, as you said, that blacks are treated disparately throughout the criminal justice system, but what we found was that in life-without-parole sentencing for nonviolent crimes, those disparities are even more marked. Nationwide, 65 percent of people serving these sentences for nonviolent crimes are black; 18 percent are white. In the federal system, blacks are 20 times more likely to be sentenced to life without parole for nonviolent crime. In some states it's even higher. In Louisiana, where 91 percent of the people serving these sentences are black, they're 23 times more likely. In the federal system, Latinos are five times more likely to be sentenced to life for nonviolent crime than whites.
AMY GOODMAN: So, the avenue for this to be changed is legislation?
JENNIFER TURNER: There are very clear avenues for change. These sentences are really symptomatic of the larger problem of excessive sentencing in this country. Many, many, many more thousands of people are serving excessive sentences that are disproportionate to their crimes. And they're all the result of the 40-year war on drugs and tough-on-crime policies, such as mandatory minimums and three-strikes laws. We simply need to repeal the laws that led to these sentences. And with growing national consensus across both sides of the political aisle that mandatory minimum sentences, for instance, are a travesty of justice, this is quite possible. There have been two bipartisan bills introduced in Congress that would somewhat reduce the reach of mandatory minimum sentencing laws.
But also, as I mentioned before, the—President Obama, who has the worst pardon record of any modern president—he has pardoned five turkeys and commuted the sentence of only one prisoner—he does have the power and authority to review the sentences of the over 2,000 people like Sharanda serving life without parole for a nonviolent crime, and he can reduce their sentence. Same with state governors.
JUAN GONZÁLEZ: And as you note, even if there were changes in the law, these more than 3,000 people that have already been sentenced would not necessarily be affected. It would have to take some executive action by governors or by the president to get some of them—to assure they don't die in prison, essentially.
JENNIFER TURNER: Absolutely. Some sentencing reforms have been retroactive, and certainly future sentencing reforms could be retroactive, and that's what we're calling for. But for many of these people, their only chance at release is some form of clemency. And we have a petition online on our website where you can all take action to call on President Obama to review these sentences and impose a fairer and smarter sentence for these prisoners.
AMY GOODMAN: Finally, just to shift gears a bit, about a year ago you came out with a report, "Island of Impunity: Puerto Rico's Outlaw Police Force." Explain what's happening now.
JENNIFER TURNER: Absolutely. In Puerto Rico, I looked at Puerto Rico Police Department because it's the second largest in the country, second only to NYPD, and because its policing practices are really off the map. We found that the police force uses lethal force at a rate much higher than other police departments—three times the per capita rate of police shootings by the NYPD, for instance; uses excessive force against protesters; brutal beatings of low-income and black Puerto Ricans and Dominican immigrants.
And we sued the police department, called on the Department of Justice to investigate the police department. And just in August, the department was entered into a consent decree with the Justice Department. And two weeks ago, a monitor was appointed to oversee the reform effort and to ensure that the police department actually institutes the reforms that they've promised to institute. One week ago, a top New York Police Department officer was appointed superintendent of the police force to start this reform process.
So it's really the very beginning stages, and we will be watching closely to make sure the police department does follow through on its promise for reforms, which are truly an overhaul of the police force, which is required. The police force is so dysfunctional that it needs to be overhauled at all levels, from basic policies put in place to holding cops accountable when they kill or hurt people, as well as changing the reporting mechanisms. Really, everything has to be reformed in that police department.
AMY GOODMAN: Jennifer Turner, we want to thank you very much for being with us, human rights researcher with the American Civil Liberties Union, wrote the ACLU's new report, "A Living Death: Life Without Parole for Nonviolent Offenses," also authored the report, "Island of Impunity: Puerto Rico's Outlaw Police Force." We'll link to both of them at democracynow.org. When we come back, Calle 13 joins us here in studio. Stay with us.
HALLOWELL — One corrections officer spread a false rumor that the new female officer at the state prison in South Windham was a stripper.
Another one called her "Genitalia," instead of her real name, which also began with a "G."
She was asked by a colleague if he could measure her buttocks. When she said no, he did it anyway. She was asked about her favorite sexual positions and to describe her breasts.
When her complaints were not taken seriously, she quit her job and filed sexual harassment and retaliation complaints against the Department of Corrections with the Maine Human Rights Commission, detailing her claims in a sworn statement.
The state settled the case. Cost to taxpayers: $20,000.
A beginning state trooper – a male – was placed under the supervision of a male sergeant, who took him on assignments to secluded locations, rubbed the trooper's inner thigh and talked about skinny-dipping. The sergeant gave the trooper a rug and told him how good it felt to lay naked on it, according to the trooper's sworn statement.
The trooper got a transfer, but the sergeant called him regularly, making comments about penises and oral sex and suggested they take a naked sauna together.
The trooper filed a sexual harassment complaint and the state settled the case out of court. Cost to taxpayers: $50,000.
A corrections officer was threatened on a website run by anonymous corrections staff after she complained of sexual harassment. Cost to taxpayers: $137,500.
Retaliation in the Human Services department, disability discrimination in Public Safety, sex discrimination in Corrections and on and on for a total of 45 such cases settled by the state in the past 10 years.
• The cost to taxpayers for a range of alleged bad behavior by state employees towards their fellow workers in the past 10 years is almost $1.85 million.
• The state has spent about another $500,000 to defend itself in the cases.
• Forty-four percent of the cases came from two law enforcement departments – Corrections and Public Safety, home of the Maine State Police. Those 20 settlements cost taxpayers more than $1 million.
• The most common charges were sexual harassment, sex discrimination, and retaliation, the latter often in response to filing a previous charge.
• Of the 19 state employees who said they experienced sexual harassment or discrimination, two-thirds were women.
• In all of the settlements, the state admitted no liability.
No tracking by department
State law requires that all new employees receive sexual harassment training their first year in the job, according to Assistant Attorney General Susan Herman.
Herman said her office does not track the claims to find out where there might be a chronic problem.
Public records do not include any disciplinary action that may have been taken in the 45 cases.
Some details kept secret
The settlement agreements – legally binding documents signed by the state and the employee – are often written in a way that prevents full public disclosure.
For example, in 34 of the 45 cases, in return for the settlement, employees and the state agreed not to disclose the terms of the agreements.
The secrecy goes even further in the 21 cases that have non-disparagement clauses. Typically, they state, "Both parties agree that they will not disparage the other."
In 82 percent of the cases, the process began with the employee filing a complaint with the commission. (The others filed civil lawsuits.) The commission, a state agency established in 1971, investigates complaints of discrimination from public and private employees.
Webbert, the employment attorney, said, "Based on representing many state employees … I have observed that the worst problems … are in the law enforcement areas. … These are the areas that most often have leadership that sends a message to the rest of the organization of hostility or indifference to civil rights requirements, especially equal treatment and respect for women and workers with same-sex sexual orientation."
Payments from state budget
The settlement payments don't come from traditional insurance; the state is self-insured for these cases. That means the cash comes directly from the state budget.
The Department of Corrections, which runs the state's prisons, is currently assessed $101,000, 10 percent of the total self-insurance budget, while it only has 6.8 percent of the state's 18,500 employees. The reason is the disproportionate number of settlements in Corrections.
The department's employee discrimination settlements were one reason the Legislature asked its investigative agency to evaluate Corrections in 2009. The Office of Program Evaluation and Accountability report was called "Organizational Culture and Weaknesses in Reporting Avenues Are Likely Inhibiting Reporting and Action on Employee Concerns."
The report said intimidation, retaliation and distrust within Corrections kept a lid on exposing internal problems. Combined, the practices "appear unethical" and "expose the State to unnecessary risks and liabilities."
Recent progress
According to two long-time state Human Resources officials, in the past two years there has been a push in state government to deal more effectively with discrimination and harassment.
The change was at least partially a reaction to the costly settlements.
She also praised a new attitude in Public Safety, which she traced to a new head of the state police, Col. Robert Williams.
Joyce Oreskovich, human resources director for the state, said "(Williams) is much more interested in fairness and equity" than previous management.
The two women said there's been a shift in Corrections, also, under Commissioner Joseph Ponte, who took the job in early 2011.
"Very early on, Commissioner Ponte began talking about changing the culture in Corrections," Shippee said. "I am definitely seeing an interest in swift and firm discipline that they're not wavering on. That is one of the best ways to get across that we're taking this seriously, if people are held accountable for these behaviors."
'They use a lot of retaliation'
One of the incidents that let to the OPEGA study was the 2008 case of Pamela Sampson, a corrections officer at the state prison in Warren.
In her lawsuit against the state, she said she was sexually harassed by a sergeant who was later fired for sexually harassing another officer.
When she complained to management, she said they retaliated by investigating her on charges of sexually molesting inmates.
She was later cleared, but she ultimately left the state job because of the stress and concern for her safety.
The state denied she was sexually harassed and that the sergeant was dismissed for harassment, but admits the charges against her "were not substantiated."
The state settled her claim in 2007 for $66,000. Only six of the 45 claims were settled for a higher amount.
Although Sampson's settlement has a non-disclosure and non-disparagement clause, she was willing to be interviewed.
"If you speak about anything against these guys (in Corrections), it's not good," she said. "They use a lot of retaliation. That's why everything was thrown out in my case: They tried to create a false investigation against me."
Sampson now lives in Bangor and is looking for a job in security.
"I wanted to continue working at my job, and I miss it very much," Sampson said. "It's just really hard right now."
From the case files
Examples of discrimination charges from court documents and complaints filed with the Maine Human Rights Commission:
Bets on her sex life
The corrections officer was hired in 2001, one of the few females in that job. (The employee is not being identified because of the salacious nature of the allegations.) Among the claims in her sexual harassment lawsuit:
• Some fellow officers "had a betting pool about whom and when (she) would sleep with first," including inmates.
• Rumors circulated that she "was willing to perform fellatio for $20."
Advertisement
• She claimed her supervisor was trying to force her out because she had complained about the sexual harassment. One example she cited involved a report she said was designed to undermine her: that she witnessed a male officer demonstrate how he could touch his nose with his tongue.
According to the report, she said: "I can't believe he can do that. I think I'm in love."
In her court filing, she claimed she never made the remark. Instead, she said the officer was ordered by the supervisor to fabricate the comment. In the state's response to that charge, it agreed that the officer admitted he did not hear the offensive comment, but denied that he was ordered to make up the claim.
The female officer eventually quit the department when she said behavior and comments by officers and a supervisor created "a hostile work environment."
While the state contested some of her allegations, it eventually paid a lump sum cash settlement to her for $65,000.
The kissing supervisor
From 2007-2008, Trish Smith was a juvenile program worker at the Department of Corrections Mountain View Youth Development Center in Charleston. Her lawsuit against the department for creating a hostile work environment and retaliation details the case of a supervisor known for his advances towards female employees.
The suit, citing Smith's allegations and also affidavits from other employees, is unusual in that the state admits some of the behavior.
Some examples of what the state admitted:
• The supervisor "made inappropriate comments and jokes of a sexual nature, inappropriately touched and hugged and attempted to kiss" Smith and demonstrated similar behavior with other employees.
• In March 2004, the supervisor "intentionally snapped" the bra of an employee.
The state denied some of the other claims by Smith, including that management failed to keep her supervisor away from her, as they had promised to do after she complained.
Smith's suit said she felt forced to resign because of the unwanted contact with the supervisor.
The state settled for $69,500.
There is no public record of what happened to her supervisor.
— Maine Center for Public Interest Reporting

Watch Full Show
The former chief medical officer of New York City jails has just published a remarkable new book about the health risks of incarceration. The book is titled "Life and Death in Rikers Island." Dr. Homer Venters offers unprecedented insight into what happens inside prison walls to create new health risks for incarcerated men and women, including neglect, blocked access to care, physical and sexual violence, and brutality by corrections officers. Venters further reveals that when prisoners become ill, are injured or even die in custody, the facts of the incident are often obscured. We speak to Dr. Venters and Jennifer Gonnerman, staff writer for The New Yorker magazine.
---
Transcript
This is a rush transcript. Copy may not be in its final form.
AMY GOODMAN: This is Democracy Now! I'm Amy Goodman. His name is synonymous with all that's wrong with the prison system: Kalief Browder. Kalief spent three years at Rikers Island jail in New York without charge. He was a 16-year-old high school sophomore when he was detained on suspicion of stealing a backpack. Browder never pleaded guilty, was never convicted. He maintained his innocence and requested a trial, but was only offered plea deals while the trial was repeatedly delayed. He was held at Rikers Island jail for three years, beaten by guards and prisoners alike. After enduring nearly 800 days in solitary confinement and abuses, Browder was only released when the case was dismissed. He committed suicide on June 6, 2015, at his home in the Bronx. He was 22 years old. Nearly four years later, the question remains: Why did Kalief have to die? Is there something inherently wrong with incarceration that makes it a health risk, sometimes with deadly consequences?
Well, a remarkable new book attempts to answer those questions as it shines a light on the health risks of imprisonment. The book is titled Life and Death in Rikers Island. Its author, Dr. Homer Venters, the former chief medical officer of New York City jails. He offers unprecedented insight into what happens inside prison walls to create new health risks for incarcerated men and women, including neglect, blocked access to care, physical and sexual violence, and brutality by corrections officers. Venters further reveals that when prisoners become ill or injured, or even die in custody, the facts of the incident are often obscured. He writes, quote, "[W]e work in settings that are designed and operated to keep the truth hidden. Detainees are beaten and threatened to prevent them from telling the truth about how they are injured, health staff are pressured to lie or omit details in their own documentation, and families experience systematic abuse and humiliation during the visitation process," unquote. The risks of jail are disproportionately harmful for people with behavioral health problems and for people of color, Venters explains. He concludes Rikers Island must close, and suggests how that should be done.
Well, Dr. Homer Venters joins us now, physician and former chief medical officer for New York City's Correctional Health Services. Again, his book, Life and Death in Rikers Island. He's currently senior health and justice fellow at Community Oriented Correctional Health Services and associate professor at New York University's College of Global Public Health. Also with us, Jennifer Gonnerman, staff writer for The New Yorker magazine. Her most recent piece is a review of Dr. Venters' book. It's called Life and Death in Rikers Island. "Do Jails Kill People?" is the name of her article.
Welcome you both to Democracy Now! OK, Dr. Venters, start off talking about why you wrote this book and how Kalief Browder's death relates to all of this.
DR. HOMER VENTERS: Well, early on in my time overseeing the health system in the New York City jails, it became clear that our job was not just to take care of people who were injured or address the medical problems people had, but that this system was conferring new health risks to our patients. So, our patients were getting hurt because of the way the jails were set up and run. And so, it was clear to my team and I that part of our mission had to be to use our tools as public health and epidemiology folks, as well as doctors and nurses, to document just what these health risks were and to report those out. And one of the things that over the years became clear is that those health risks, as you just stated, aren't meted out in a uniform fashion. People with behavioral health problems, people of color, our data show, were more likely to find themselves on the wrong end of these health risks.
AMY GOODMAN: Talk about why prisons are lethal. Talk about Rikers Island, for example.
DR. HOMER VENTERS: Well, we can start with the first and most serious health risk, which is death. It's clear that there are many preventable, or what we would call jail-attributable, deaths that happen. We worked hard to document those while I was leading the health service in the New York City jails, but there are many others. So, for instance, people that we know who are coming in with very serious health problems—diabetes or hepatitis C or needing dialysis—who then are denied those services, despite the fact that we have them available; people who are exposed to solitary confinement, not just the isolation, but the brutality and violence associated with it, who do take extreme measures to get away from the distress that that setting causes—those are things that were conferred to those people.
AMY GOODMAN: Tell us the story of Carlos Mercado and Angel Ramirez.
DR. HOMER VENTERS: So, those are two patients who, as have been publicly reported, entered into the jail system with clearly identified health problems, one with diabetes and one undergoing withdrawal. And as has been reported in the press, they both, despite having clearly communicated their problems and even having their problems elicited and understood by quite a few people in the jails, received a punishment response and a neglect response that led to their death, even though they were in a system that was able to provide them the healthcare they needed.
AMY GOODMAN: So what happens to a prisoner when they're sick? You also talk about the tension between the doctors, the nurses—the health professionals—and the guards.
DR. HOMER VENTERS: In the best of circumstances, the correctional officers, who are with our patients all the time—you know, they see and interact with people much more than we do in the health service—they determine that somebody is ill and they need help, or somebody just reports, "I don't feel well," then they're taken to medical care, and they get the appropriate level of medical care. They're transferred to the hospital if they need something that the jails can't provide.
In the worst circumstance—and there are some situations that actually hardwire in this less ideal response—people aren't able to say that they're sick or that they feel well, or when they do, they're not believed, and so they're kept in a chaotic intake pen, or they're kept in a solitary confinement cell, even though they're saying, clearly, "I need insulin," or "I'm sick," or "I've just swallowed something that could kill me," and then they're denied access to healthcare.
And then, finally, I would say that because of the pressure of dual loyalty, this really crushing and very omnipresent ethical problem, human rights problem, in correctional health, that even when they do make it to the health service, sometimes the doctor or nurse or social worker in front of them is acting more as an agent of the security service than as a healthcare provider.
AMY GOODMAN: Talk about your own experiences. You entered the jails in what? 2008?
DR. HOMER VENTERS: Yes.
AMY GOODMAN: About a decade ago?
DR. HOMER VENTERS: Yes.
AMY GOODMAN: What did you find there? What shocked you most?
DR. HOMER VENTERS: I believe that what—one of the things that shocked me the most was the high level of injury and injury associated with violence. Certainly, all physicians and healthcare people, we have experience taking care of injuries. But so many of our patients were coming to us with injuries, and so many of them were saying that these injuries were from things called slip and falls. So, you know, patients that come with a fracture to the jaw, a very—you know, very serious injury, or a fracture of the upper arm or the leg, and then saying that they had slipped and fallen—things that just did not—you know, we didn't believe. But also, it was clear, when you interacted with these patients, that they were terrified and that they, actually, in that moment, were thinking very clearly about their survival and their preservation. And so, it makes a very difficult proposition for a doctor or nurse.
AMY GOODMAN: So, you set up an injury surveillance system?
DR. HOMER VENTERS: That's right. Shortly before I arrived, Christopher Robinson, another young man who died in that same jail that Kalief Browder was held in, he had been beaten to death. And so, when I did arrive and started with the Correctional Health Service, we set about understanding how many other people were injured, especially adolescents. And we saw lots of jaw fractures and hand fractures. And so, at first we were dealing with paper records, but then we quickly implemented in the New York City jail system an electronic medical record. But we were able to modify that in really major ways, so that we could capture data not just about the type of injury people had, but about whether or not it was intentional. Did it happen during a use of force? Was there a blow to the head? Then we could use that data to report out to others, not just in the correctional service or the city, but outside parties that might be interested, what the rates of injury were, so that we had empirical data to show that brutality and injury was in fact a real crisis for our patients.
AMY GOODMAN: Describe what would happen when you would send an email to the DOC, to the Department of Corrections, to upgrade an injury, to upgrade what you saw.
DR. HOMER VENTERS: Well, the injury reporting system on the health side, as I mentioned, we built a pretty sophisticated electronic medical record system. On the security side, it required paper, pieces of paper, injury reports, to be updated and amended actually on an individual piece of paper. So, when I would find a patient, as I often would, who had an injury that was more serious than initially reported, or that the circumstances of the injury were different than was originally reported, unlike in healthcare, where we want all information to lead us to the quickest, best outcome for the patient, these paper forms then would be put back in my face, and people would say, "Listen, you have to find the original doctor or go to the original jail. Go find this piece of paper"—that nobody can find. "That's the proper way to get this addressed, not simply to tell us that, just because you're a doctor or a health administrator, you think something else happened."
AMY GOODMAN: Why is there so little transparency? Talk about the silent complicity you describe.
DR. HOMER VENTERS: You know, these are paramilitary settings. And so, the health service, in most of these places, even when we have an independent health authority, we still rely on the correctional staff for our safety and security. And so, as such, because there isn't a lot of mandated transparency about health outcomes, about the true characteristics of injuries, for instance, at the time we were doing this work, most of the system is designed to keep information on the inside, so that anybody who wants to change the original account, whether it's a patient or a doctor or a nurse, faces a real gauntlet of challenges, that not only are bureaucratic and administrative, but actually could put their own personal safety at risk.
AMY GOODMAN: We're going to break and then come back to this discussion and bring in Jennifer Gonnerman, who wrote the review of your piece for The New Yorker—the review of your book. Dr. Homer Venters' book is called Life and Death in Rikers Island. Stay with us.
[break]
AMY GOODMAN: "Blue Prelude" by Ethel Ennis, Baltimore's "First Lady of Jazz." She passed away February 17th at the age of 86. This is Democracy Now!, democracynow.org, The War and Peace Report.
I want to turn to Kalief Browder in his own words. Kalief Browder, of course, is the—well, was 16 when he was arrested and sent to Rikers Island. He ended up being there for three years, much of that time in solitary confinement, without charge. He was arrested when he was a high school sophomore. Police believed—they said that he stole a backpack, but could never come up with the person who made the accusation, who they drove around a neighbor, and the person pointed out Kalief walking on the street. And then that person just disappeared. Kalief would not plead in prison, because he said he was taught not to lie, and he said he was innocent. Held for three years, much of that time in solitary confinement. He said that while he was in solitary confinement at Rikers, the guards often refused to give him his meals.
KALIEF BROWDER: If you say anything that could tick them off any type of way, some of them, which is a lot of them, what they do is they starve you. They won't feed you. And it's already hard in there, because if you get the three trays that you get every day, you're still hungry, because I guess that's part of the punishment. So, if they starve you one tray, that could really make an impact on you. And—
MARC LAMONT HILL: How much were you starved?
KALIEF BROWDER: I was starved a lot. I can't even—I can't even count.
AMY GOODMAN: So, that was Kalief Browder speaking on HuffPost Live, when it was around. He died within two years after this interview. He took his own life. He went on to say he was once starved four times in a row—no breakfast, lunch, dinner or breakfast again. After enduring nearly 800 days in solitary, Browder was only released when the case was dismissed. Browder took his own life June 6, 2015, at his home in the Bronx. He was 22 years old. He was a student at Bronx Community College.
Jennifer Gonnerman wrote a lot about his case for The New Yorker and exposed videos that were gotten from the inside of Rikers showing him being beaten by guards and prisoners alike.
Jennifer, you have covered the prison system a lot. And you were really taken with this book, Life and Death in Rikers Island, and wrote a review of it for The New Yorker.
JENNIFER GONNERMAN: Yeah, you know, I saw an early copy of this book in December. And a lot of books come in. You know, as a reporter, you get a lot of—often get a lot of books and people who want publicity. I started reading this book, and I really couldn't put it down. I thought it was so important, crucially important. And I feel like it covers one of the most overlooked aspects of mass incarceration. I mean, mass incarceration has gotten a lot of attention in recent years. But what—the health risks that folks endure when they go inside is something that I feel needs much more attention. And I think, as a society, we've sort of grown numb to these headlines, like an individual died in prison or jail, and we don't really follow up with the necessary questions. And what Dr. Venters' book does is really pushes us to ask those harder questions, like: Did this death have to happen? Was it preventable? Did something happen in the jail that led to this individual's death? And those are the kind of questions the public—and journalists, in particular—really need to be asking.
AMY GOODMAN: Tell us the case of Ronald Spear.
JENNIFER GONNERMAN: Ronald Spear is one of the gentlemen in the book. He was in Rikers Island. He was in his fifties. He was a kidney dialysis patient. In 2012, one night, he felt very ill and tried to get the attention of the doctor. He was housed in the infirmary on Rikers Island. There was a medical office next door to his dorm. He snuck out of the dorm to get into the hall to get to the medical office, and the doctor told him—you know, a guard stopped him, and the doctor said, "You have to keep waiting." He had been waiting for hours. The officer, the correction officer, and Mr. Spear got into an altercation, which ended with two other guards coming in and restraining him on the floor. And that would have been the end of the situation, but then the first officer, whose name is Brian Coll, came in and kicked Mr. Spear in the head repeatedly, and he died right there on the floor. This case was covered up, lied about for years, until, finally, federal prosecutors in the Southern District in Manhattan brought a prosecution against the officer. And he went on trial in 2016. So I sat through the trial. And obviously the focus was on what this officer did and didn't do.
But one of the subtexts of that court case was what the medical staff was doing at the time. So, this crime took place in the hallway right outside the medical offices, and the nurse got on the stand and said, when she heard the altercation in the hallway, she opened her door, and then she shut her door, and that she had sort of been taught to do that. It's almost like an unofficial rule on Rikers Island. And the doctor who was on duty and hears all of this commotion going on in the hallway, he was sitting in his office and never looked out the window, never opened the door, testified to all of this, and only opened his door after the whole thing was over, and somebody knocked on the door—I believe it was a captain—and said, "Can you come out here and, you know, help?" And at that point, Mr. Spear is on the floor, in handcuffs, face down and no pulse. And so, essentially, this homicide took place within feet of the medical staff. And that always stuck with me. And, you know, this idea of an unofficial rule of averting your eyes when there's an altercation between correction officers and inmates is something that actually shows up in Dr. Venters' book also.
AMY GOODMAN: You say that 112 people died in New York City jails between 2010 and 2016. That's like almost what? Twenty a year.
JENNIFER GONNERMAN: More, probably, in some years, right? Yeah.
DR. HOMER VENTERS: Some years, yes.
AMY GOODMAN: So, what is society's responsibility here?
DR. HOMER VENTERS: I think that there are really very large policy decisions that have been made to keep these deaths and injuries hidden. And so, to undo these problems is not simply a matter of a little bit of training for one group of staff or another. It is that we have to establish medical systems that work not only to care for the patients and their health problems, but also to collect the data we do in the rest of the country, and report it out. We also need independent oversight. We're fortunate in New York City to have the Board of Correction, an incredibly vital institution that really doesn't exist in most of the other 3,000 counties in the States. But they need to be supported and the independence to make sure that the health service and the correctional service adhere to rules.
AMY GOODMAN: Dr. Venters, you also say Rikers should be closed.
DR. HOMER VENTERS: Absolutely.
AMY GOODMAN: Is it happening fast enough?
DR. HOMER VENTERS: Well, so, the Mayor's Office of Criminal Justice, led by Liz Glazer, is doing an amazing amount of work to come up with the actual planning that can make it happen. But this is a political question. To close Rikers Island, one of the—
AMY GOODMAN: How many people does it imprison?
DR. HOMER VENTERS: The jail system today has about—has under 9,000. But we really need to get down to 5,000 or so, which means building at least another borough jail.
AMY GOODMAN: You write, the health risks that are faced, particularly by people with behavioral problems, in prison—talk about that.
DR. HOMER VENTERS: Yeah, I think that the most extreme example, that's really an obscenity, is the notion that people who exhibit symptoms of mental health problems would be then put into solitary confinement, where we know that they'll get worse and often die. And so, the idea that we had a solitary confinement unit for people with mental illness in the New York City jails until 2014 is horrific. It's not—that's not a lack of resources. That's not a lack of thought. Thought went into it. And so, where Jason Echevarria and others died, you know, that was an affirmative decision. So, undoing those bad decisions, coming up with a more clinically appropriate, a therapeutic model, in most cases, means not having people in jail. It means having people in a community setting, that's an actual healthcare setting. We built alternative models in the New York City jails, these units, the CAPS and PACEunits, these very therapeutic units, but they're incredibly expensive—couple million dollars a year for 20 patients. And every aspect of those units would be more effective if they were not in the jails.
AMY GOODMAN: Mass incarceration in this country has been taken on by grassroots activists now for years. And it's certainly reading, I think, a—reaching a tipping point, where you have people across the political spectrum saying we have the largest prison population in the world. How can this be changed?
DR. HOMER VENTERS: I think that one of—there's an important voice that needs to be brought to this, which is healthcare systems, health insurance companies, because keep in mind that while most people don't die in jail or prison, many people are coming home with physical and psychological damage from these settings. And the care they need—which they may have struggle to access, but the care they need is going to be provided by community hospitals. Just take the example of traumatic brain injury. We documented all of the hidden traumatic brain injury just in the New York City jail systems. That increases the risk of those people for dementia and CTEdown the road, that is incredibly costly to them and their families.
AMY GOODMAN: How do people on the outside get access to this information on the inside, particularly families of people who are in prison?
DR. HOMER VENTERS: So, I think that it is—these systems are designed to keep the truth from—certainly from families, who are, you know, lied to all the time. And from—but I think that it's incredibly important to have aggressive journalism. But also, I think that some of the structures that exist in New York City should be replicated elsewhere, so having a board of correction or an oversight agency that demands data. Having investigative journalists that dig into individual deaths is incredibly important.
AMY GOODMAN: Steve Coll just wrote a new piece in The New Yorker, "The Jail Health-Care Crisis," talking about the opioid epidemic, among other things.
DR. HOMER VENTERS: Yeah, I think that that's a—that is also a very good example, that most jails and prisons, people don't have access to evidence-based addiction care. So, many people end up incarcerated because of an addiction problem. Then, because they're denied access to buprenorphine and methadone, they leave, and, we know—we have documented, here in New York City—their risk of death when they leave is much higher. Now, in New York City, we have a methadone program and a buprenorphine program for people who are incarcerated, but very few jails around the country have that.
AMY GOODMAN: And, Jennifer Gonnerman, what gives you the most hope as you continue to cover the prison-industrial complex?
JENNIFER GONNERMAN: Well, you know, as you were mentioning, there's a lot of activists that have taken up this cause, which is fantastic, because, you know, back in the '90s, the 2000s, you just didn't see that level of interest or enthusiasm in activism for taking on these really challenging topics. That gives me hope. And also folks like Dr. Venters, people who have been on the inside, who have witnessed horrific things, and then have the wherewithal and the courage and take the time to really record them, so the rest of us can really, truly get a much better understanding of what's going on behind bars.
AMY GOODMAN: And the access to information you, as a journalist, have, getting—for example, you leaked these videos of what was taking place with Kalief being beaten, the videos that are taken, the surveillance system within prison?
JENNIFER GONNERMAN: Right. You know, that was very unusual. You know, there is very little video footage that has come out of—from prisons around the country, despite there being a number of surveillance cameras. You know, like Dr. Venters said, the truth is hidden. It's intentionally hidden. It's very difficult—you know, reporting on what's going on inside of jails and prisons is very difficult. But, obviously, the more journalists who are taking on the challenge, the more we're going to get to the heart of what the truth is.
AMY GOODMAN: I want to thank you both for being with us. Dr. Homer Venters, former chief medical officer for New York City's Correctional Health Services. His new book, Life and Death in Rikers Island. And Jennifer Gonnerman, staff writer for The New Yorker magazine. We'll link to her piece, "Do Jails Kill People?"
Vassalboro,  Maine — A sheriff in Maine says two corrections officers have been placed on paid leave after a fellow officer was shot in an apparent accident at a police training academy.

Matthew Morrison of the Aroostook County Sheriff's Department was shot in the leg in a parking lot at the Criminal Justice Academy in Vassalboro on Monday. He was taken by ambulance to MaineGeneral in Augusta and then flown by the Lifeflight helicopter to Maine Medical, according to CBS affiliate WAGM-TV,  and is recovering.

Police say 24-year-old Cumberland County corrections officer Matthew Begner shot Morrison. Police say the shooting took place inside a pickup truck owned by by another Cumberland County officer, 25-year-old Cody Gillis, of Brunswick.

Police say the 9mm gun is owned by Gillis.
The shooting took place as the three men were leaving the academy grounds for the evening around 8 p.m. The gun had been stored in the console of Gillis' truck.
The director of the academy says he will also review the shooting and is awaiting the final investigative report from Maine State Police. WGME-TV reports ( http://bit.ly/2sy9dWR ) that the academy director says corrections officers aren't supposed to have guns on campus.
The Kennebec County District Attorney's Office will also receive a copy of that report, the station reports.
State police and the Cumberland County sheriff are both investigating.
AUGUSTA, Maine — Inmates in Maine's state prisons are more likely to be sexually assaulted than those in most other correctional facilities around the U.S., a recent Department of Justice report suggests.
The Maine State Prison in Warren was one of eight facilities from among 463 visited by Department of Justice officials in which the rate of sexual assault was significantly higher than the national average. Those assaults, according to DOJ, are perpetrated by other inmates and prison staff.
State prison officials are working to change that poor record in response to the federal Prison Rape Elimination Act, or PREA, of 2003, and to a report prompted by the law earlier this year that featured survey data of 81,566 inmates nationwide. Also, in May, the Obama administration began pushing a zero-tolerance approach for sexual assault in prisons.
Inmates at the Maine State Prison and the Maine Correctional Center in Windham were surveyed between 2007 and 2009 for the report.
In the 2007 survey at the Maine Correctional Center, 173 of an estimated 650 inmates were asked about sexual assaults and unwanted sexual advances, responding using a computer touch screen that maintained confidentiality. The overall rate of sexual assault — including inmate-on-inmate, staff-on-inmate and inmate-on-staff — was found to be 5.6 percent, compared with a national rate of 4.5 percent, according to Allen Beck, senior statistical advisor at the federal Bureau of Justice Statistics.
"If the data are restricted to inmate-on-inmate sexual victimization," Beck reported, "the Maine facility rate was 4.4 percent, compared with a national rate of 2.1 percent."
The 2008-2009 survey of 143 of about 950 prisoners at the Maine State Prison found an overall rate of 9.9 percent sexual victimization rate. The corresponding national rate was 4.4 percent, Beck said. If limited to inmate-on-inmate assaults, the rate at the facility was 5.9 percent, compared to a national rate of 2.1 percent.
Beck said both surveys were found to have high rates of statistical accuracy. Comparing the sampling process to a presidential preference poll, Beck said, "This is actually better," because larger numbers were sampled and because mathematical formulas and historical data confirmed the accuracy.
The survey included 10 questions each for men and women inmates about various sexual acts. Each question started with one of the following two phrases: "During the last 12 months, did another inmate use physical force to make you …?" or "Did another inmate, without using physical force, pressure you or make your feel that you had to …?"
The survey found that nationally, most sexual assaults occurred in the first 24 hours of a victim's incarceration and occurred between 6 p.m. and midnight.
Corrections Commissioner Joseph Ponte, who has been overseeing state prisons in Maine since 2011, said he had not been able to review the raw data that came from the inmate surveys conducted in Maine.
"I don't know if it's accurate," he said of the DOJ report. "You just have to take the data for what it is."
In Maine, any sexual contact between inmates and between staff and inmates is prohibited, and officials assume any such contact is not consensual. Maine also does not tabulate complaints from inmates of sexual assault at the hands of other prisoners or by staff, Ponte said, nor does it keep easily retrievable lists of criminal charges that followed such complaints.
"We're just not collecting data in a sophisticated way," he said, "but we probably should."
The commissioner also noted that there is a range of complaints. Some fall into the petty category, he said, such as when an inmate claims a guard groped him during a pat-down search.
Better data will come as part of a $545,000 PREA grant to the state, Ponte said.
The grant is paying for a PREA coordinator at the Corrections Department, new information technology infrastructure and software, an outside consultant to review the culture at Maine State Prison to bring it into compliance with PREA, and a screening process which Ponte hopes will identify likely perpetrators and victims when they enter the facility, thereby allowing administrators to house them accordingly.
All states have until August to comply with PREA.
"Ten years ago, it was an untalked about topic," Ponte said of rape in prison. Many prison officials viewed it as an inevitability, and incidents often were not reported. In those days, he said, "An assault was an assault," and so a punch was not differentiated from a sexual attack.
That attitude changed with PREA, he said.
"It's clearly an area that we've put a lot of attention and focus on," he said, and improvements will come.
Stan Moody, who served as prison chaplain at Maine State Prison from 2008 to 2009, paints a different picture.
Though he gives Ponte high marks for making changes in the culture by moving staff and prisoners to different parts of the facility, Moody described a system he likened to "a mini Mafia." Inmates were beholden to some staff members as their "kids," and lower in the hierarchy, inmates were beholden to other inmates as their "kids." Sexual favors and drugs were the currency in this power structure, he said.
Moody said prisons are "a hormone factory," and that sex, both consensual and nonconsensual, "may not be tolerated officially, but it's going to be a regular feature of prison."
"The DOC has a zero-tolerance policy regarding sex, but that defies reality and really amounts to a zero-tolerance policy of dealing with sexual assault — the three-monkey defense of hear no evil, see no evil, speak no evil," Moody said.
When pressed for specifics, the former chaplain said that during the time he was at the prison, no inmate filed an official complaint about a sexual assault. Moody said that was because assaulted inmates feared retribution from other inmates or guards. He stressed that he would warn inmates for their own protection that if they reported a sexual assault to him, he was obligated to report the incident and the name of the complainant.
"Virtually all of the reporting that I received had to do with physical and emotional harassment and guard complicity with harassment," he said. "Sex could very well have been part of that harassment, but if so it was not mentioned. … What that tells me is that sexual assault is an accepted part of prison life and buried."
Ponte declined to comment specifically on Moody's claims because he was not commissioner during the years Moody worked at the prison, he said. But he cast some doubt on those claims based on his contact with inmates and their families.
"I think the place was much different when [Moody] was there," Ponte said. "I take 10-15 calls a day and I get 10-15 emails a day from families," and in his nearly two-year tenure, no one has reported a sexual assault.
"I talk to family members, I talk to inmates," he said.
Now, any complaint of sexual violence from an inmate is required to be passed up the chain of command. "That goes right to the warden," Ponte said, and an investigator is assigned to the case. The perpetrator is removed from the general population.
With the federal PREA grant, a special telephone number on a phone in the prison's day rooms can be accessed by inmates to make complaints of sexual assaults. The calls will be monitored by the PREA coordinator hired through the grant, the commissioner said.
"We established a security team at Maine State Prison," Ponte said, which identifies sexual predators and drug dealers. "We have a very good handle on who's in those categories."
Two important keys to changing the culture, the commissioner said, are training and hiring practices. Ponte wants to raise the employee screening process to that used by the Maine State Police, which employs polygraph tests and psychological profiles to ensure good hires.
Last month, the Corrections Department published a request for proposals to develop an inmate screening process. A $75,000 grant, created with federal funds, will go to the winning bidder, expected to be announced next month. The work must be completed within six months and the state must be in compliance with the federal law by Aug. 20, 2013.
Once developed, the screenings will be conducted at the Maine State Prison, the Maine Correctional Center, the Mountain View Youth Detention Center in Charleston and the Long Creek Youth Development Center in South Portland.
In Maine, there are just over 2,000 adult prisoners in the state facilities and about 200 under 21 in state facilities.
The department is not limiting the bidders for the grant to any particular kind of organization, though psychiatric research centers and institutions of higher learning would be likely groups to respond, according to the Corrections Department's Michelle Urbanek, who has been named the state's PREA coordinator.
"Nobody has been able to form [an effective] screening tool yet. We're hoping someone out there can help," Urbanek said.
Judy Plummer, a Corrections Department spokeswoman, said two or three states had developed their own screening process, but when they were applied to Maine prisoners, nearly everyone was identified as either a potential perpetrator or victim, rendering it useless.
If potential perpetrators and victims can be identified, Urbanek said, "It's going to help us know where to house them. It will help us fit them appropriately."
Urbanek said information generated by a screening tool also would help medical and mental health staff in prisons.
Not everyone sees the screening as innocuous, though.
Judy Garvey of the Maine Prisoner Advocacy Coalition said her group wholeheartedly supports the goal of eliminating sexual assaults in prisons. But she worries that an incoming prisoner's criminal history might unduly affect the screening, and that the process may be too subjective, resulting in curtailed civil liberties.
"Our concern is that the screening can cause problems that are not there," Garvey said.
"It's a problem in all prisons," she said of sexual assault, the result of "putting together hundreds of people" without adequate outlets.
On TV and in movies, rape in prison is often a punchline to a joke, the DOJ report notes.
"But sexual abuse is never a laughing matter, nor is it punishment for a crime," the report asserts. "Rather, it is a crime, and it is no more tolerable when its victims have committed crimes of their own.
"Prison rape can have severe consequences for victims, for the security of correctional facilities, and for the safety and well-being of the communities to which nearly all incarcerated persons will eventually return," the department concluded.

Zachary Titus
WARREN, MAINE (AP) —  An 
inmate has pleaded not guilty to killing his cellmate at a minimum security prison in 
Maine
.
Zachary Titus made a brief appearance in court on Monday. A separate hearing will be held within five days to determine whether Titus will be eligible for bail in 18 months when he completes his current prison term for theft.
Dana Bartlett died June 24 at the Bolduc Correctional Facility, a minimum security facility in Warren. His fiancée says he was having issues with another inmate and had asked to be moved.
Defense lawyer Jeremy Pratt said Monday that he couldn't comment because the state had provided no information about the killing, including the autopsy or affidavits.
More than 1,600 prisoners at a Brooklyn federal detention center were forced to endure freezing temperatures during last week's polar vortex, with no heat, no light, no hot water for showers and no hot meals. Demonstrators rallied throughout the weekend to protest the conditions at the Metropolitan Detention Center, which is run by the Bureau of Prisons. Prisoners communicated with protesters by banging on the jail windows. On Sunday afternoon, some of the protesters, including family members of those incarcerated, were pepper-sprayed by guards. Democracy Now! was there on the ground. By 6:30 p.m., officials said electricity was restored. We speak with Brad Lander, a New York city councilmember who spoke with prisoners and prison officials this weekend.
---
Transcript
This is a rush transcript. Copy may not be in its final form.
AMY GOODMAN: This is Democracy Now! I'm Amy Goodman. We end today's show here in New York, where more than 1,600 prisoners at a Brooklyn federal detention center were forced to endure freezing temperatures during last week's polar vortex, with no heat, no light, no water for showers, no hot meals.
Demonstrators rallied throughout the weekend to protest the conditions at Metropolitan Detention Center, which is run by the Bureau of Prisons. Heat issues at the facility have been ongoing. Officials said the electricity problem was caused in part by a fire the previous week and that the jail had switched over to emergency power. Legal Aid Society said it wrote to the jail's warden as early as January 22nd to demand heat be restored, before temperatures arrive that were, quote, "dangerous to human life."
As the news of the conditions spread, crowds of protesters gathered outside the prison, known as MDC. Prisoners communicated with them by banging on the jail windows. On Sunday afternoon, some of the protesters, including family members of those incarcerated, were pepper-sprayed by guards. Democracy Now! was there and spoke to family members, activists, including Women's March co-chair Linda Sarsour.
PROTESTER: Let them know that you are happy that we are here for you. Bang on those windows!
LINDA SARSOUR: A group of activists, organizers and family members have actually been out here since yesterday. Many of us slept overnight here, on the ground here in front of MDC.
We have been figuring out a communication system that works really well with the incarcerated brothers that are inside. And we ask them questions, and they answer by banging on the windows. And it's been in unison, literally. Like, yes, yes, everybody's yes. If it's no, no. And the fact that they're not in the same cells together and can answer questions makes us believe that what they are telling us is to be true. We just watched some incarcerated folks actually recognize their families' voices and started talking to us through a different area up here. We have videos of people talking to their moms: "I hear you, Mom. I see you, Mom." It was really heartbreaking to watch people have to talk to their family members. They were not wearing shirts. It's cold. And we know they don't have heat inside.
One of the mothers went to confirm that that was her son who was talking to her in there without a shirt. She went inside with some folks. Next thing you know, the CO started beating people up and throwing people on the floor, pepper-spraying the mom and all the people, the media. They were—picked up cameras, and they were throwing them out, people falling down the stairs. It was really horrible to watch it happen. And all the mom wanted to do is go in and to confirm if that was her son speaking to her from this other undesignated area that we don't even know what this area is. He was climbing up on the gate of the window. It's horrible.
The warden has been not responsive. Yesterday, the Mayor's Office delivered trucks of blankets for everyone, generators. And they—lawyers from Federal Defenders went inside to see their clients, and asked them, "Did you get blankets?" No blankets. None of these people have gotten blankets. Yesterday, they told us, at 6:00 is when they got their first meal of the day. They're not getting hot meals. They don't have hot water. I mean, this is inhumane. It's cruel. There are people in there who have asthma, who are not able to have use nebulizers, people who have sleep apnea machines, who are not able to have those apnea machines during the night, which means that they are at high risk of stroke. There are people with diabetes that are in there. There are older folks in there, people who need medication, who have not had any access to medical care. I mean, this is outrageous. And the issues with the families is, you don't even know if your family member is alive. I mean, that's the issue here.
JUMAANE WILLIAMS: What surprised me the most in there—
AMY GOODMAN: New York City Councilmember Jumaane Williams.
JUMAANE WILLIAMS: —was the blatant disregard of urgency of anything that was going on. Things happen. Emergencies happen. But you have a plan. They had no plan and didn't seem to care. We asked them about what's going on to get the heat properly regulated. The warden said the contractor left and went home. What are you talking about? Get another contractor and get this fixed like it was your house. We asked the warden why he would not receive the blankets and the generator that the Office of Emergency Management in the city was not accepting. He had no excuse. He said, "We didn't. Maybe we will now," because it was an emergency. It was an emergency on Sunday when it happened. What are you talking about?
What's happening there is a microcosm of this country. That man in the White House and the people who continue to support him, all of them, don't even know where the kids are that they separated from the border. Those are melanated children. That's why they lost them. The majority of people here are melanated, so they don't care. Even the ones that aren't are from the poorer communities, so they don't care. But we care. And we are going to stay here until this gets resolved. And if we've got to shut some stuff down, we're going to shut it down.
ELIZABETH: Name is Elizabeth. I'm here for my brother Jason, who has been here at MDC for the past five years. This condition with the heat is not new. It happened last year. But fortunately for Jason, he has family that sends him money, and he can buy what he needs to layer up and have blankets and food and resources.
I'm here because, one, I want my brother to know I love him; two, I do not want this problem to keep going on. God forbid if the temperatures plummet again. You know, I'm really worried about his health. We contacted his attorney and demanded that he find out what's going on.
You know, this has been an ongoing issue, that the power went out last year for like three, four days and that the heat went out three, four days last year. You know, so—and it's disgusting. And when Nydia Velázquez came out, she was saying that there were wet mattresses from leaks in the ceiling and crumbling conditions in ceilings and things like that. It's just—it's disgusting. And we can only imagine the vermin and the rodents and everything else. You know, so, again, it's disgusting.
But, you know, this has restored my faith in humanity. It's really made me very proud to be a New Yorker. No one wants to see any human beings suffer, especially knowing what we know about sentencing, extreme sentences and mistreatment of people, you know, especially when so many of these people here haven't even really been convicted of anything, not that that makes a difference, but they're just waiting because they're poor, you know, and they can't afford bail. So, it's unfortunate, but it is what it is. So, thankfully, everybody showed up for them.
AMY GOODMAN: Voices from the protest outside MDC, Metropolitan Detention Center. Special thanks to Tey-Marie Astudillo and Ariel Boone for that report.
Around 6:30 p.m. Sunday, officials said electricity restored, but many cells still lack heat. As protesters gathered outside, many lawmakers toured the Metropolitan Detention Center. One of them, who was standing next to Jumaane Williams, the city councilman who was speaking outside, was Brad Lander, a New York city councilmember. He's with us now.
We have very little time. Has the electricity been restored?
BRAD LANDER: The electricity was restored last night at 6:30, about one full week after it had gone off.
AMY GOODMAN: But people are still reporting they're freezing.
BRAD LANDER: It's cold in that facility. It's going to take more changes to make it warm enough on the coldest days.
AMY GOODMAN: How could there have been no plan, with this polar vortex this week, with people freezing inside?
BRAD LANDER: The whole thing, no plan for an emergency provision. And when the power went off a week ago, last Sunday, they did not act with any urgency. They could have had an emergency plan. If there had been a round-the-clock contractor in there, power could have been back on by Tuesday.
AMY GOODMAN: This is a federal prison. Mayor de Blasio sent in hundreds of blankets. They didn't distribute them?
BRAD LANDER: There was just, from the staff, from the prison officials, from the facilities manager, no sense of urgency, no sense that there were human beings in those cells who had the right to talk to their families, who needed light. You know, they were eating in the dark. You know, their toilets are in their cells. They were in there. They couldn't shower for 48 hours. It was really a nightmare.
AMY GOODMAN: Who is responsible for this?
BRAD LANDER: Federal Bureau of Prisons. Federal Bureau of Prisons.
AMY GOODMAN: Now, Jerry Nadler is head of House Judiciary Committee.
BRAD LANDER: Yes, he is.
AMY GOODMAN: He was in there both days this weekend.
BRAD LANDER: And he was in there with me on Saturday and Sunday. And he says he is going to have hearings and make sure this gets fixed.
AMY GOODMAN: New York City Councilmember Brad Lander, thanks so much. I'm Amy Goodman. Thanks for joining us.
The protesters included relatives of inmates who have not heard from them in days
Friends and relatives of inmates stuck in cells without power or heat at a prison in New York have held a protest against their detention conditions.
Protesters outside the Metropolitan Detention Center, a federal facility in Brooklyn, chanted: "Where is the heat"?
Many inmates have not been able to contact the outside world for days, following a partial power failure.
Members of Congress who visited the prison on Saturday described the situation there as a "nightmare".
How bad are the conditions?
"It is like living in a closet without lights," said Representative Nydia Velázquez, a Democrat whose district includes the prison.
She said temperatures in some cells were as low as 49 F (9.5C).
The Metropolitan Detention Center houses more than 1,600 inmates
Jerrold Nadler, another US House member for New York, condemned the authorities' "total lack of urgency and concern".
He told the crowd outside the prison – which houses more than 1,600 inmates – that power was unlikely to be restored until Monday.
The protesters carried signs reading "Shut it down", "Torture at the MDC", "United in outrage" and "Turn up the heat".
One tweeted that the prisoners were banging windows as the demonstrators were gathering outside.
What are authorities saying?
Officials say the failure was the result of a fire that destroyed an electrical panel. The fire melted a switch designed to turn on a back-up generator.
The Federal Bureau of Prisons said officials were "working to restore power as expeditiously as possible", adding: "Inmates have hot water for showers and hot water in the sinks in the cell. Essential personal hygiene items and medical services continue to be provided."
The bureau also said that the building had emergency lighting.
In a tweet late on Saturday, New York City Mayor Bill de Blasio condemned the federal authorities and said the city was providing blankets for the prisoners.
24 January 2019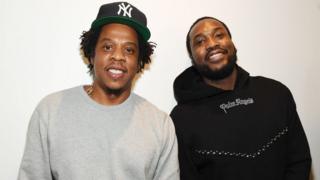 Jay-Z, Meek Mill and sport and business leaders have pledged $50m (£38m) to reform the US criminal justice system.
The Reform Alliance, which was inspired by Meek Mill's recent stint in prison for a minor probation violation, hopes to free one million prisoners in five years.
The owners of the New England Patriots and Philadelphia 76ers, Robert Kraft and Michael Rubin, are co-founders.
Reform says it wants to help people who are "trapped in the system".
The group's "mission" is to "dramatically reduce the number of people who are unjustly under the control of the criminal justice system, starting with probation and parole".
"To win, we will leverage our considerable resources to change laws, policies, hearts and minds," it says.
More than six million people can currently count themselves as part of the "correctional population" of the USA – which includes people in prisons and local jails, but is mostly made up of the more than four million people on probation or parole, according to Bureau of Justice statistics.
Probation is often given as a sentence instead of time in prison and can include conditions like being on a curfew or going to rehab.
Parole is when an inmate is released early from prison with similar conditions to probation.
Meek Mill has experienced all three: probation, parole and jail.
The Reform Alliance says his case is an example of the "devastating and long-lasting effects" that can occur after one interaction with the criminal justice system.
The rapper was arrested in 2007 – he says wrongfully – for drug and gun charges, aged 19.
He was sentenced in 2009 to between 11 and 23 months in county prison, but was released on parole after five months and put on house arrest.
It was during this time he started to make his name nationally as a rapper, signing to Rick Ross's label and releasing a string of hugely successful mixtapes.
Before long he was a platinum-selling artist.
But a parole violation for suspected cannabis use resulted in a ban on touring, and then after failing to get his travel plans approved by the court Meek was sentenced to prison again in 2014.
Examples of parole violations that can land people back in prison range from being late to appointments with parole officers or missing a curfew, to things more specific to the crime that was committed – like failing to attend an Alcoholics Anonymous meeting.
"When you talk about these so-called technical violations, it's not technical to the kid who can never see her mum again because she showed up late for a meeting. That's not technical, that's devastating for that individual child," Reform Alliance CEO Van Jones said.
Violations over the next few years resulted in his probation period being extended – it now lasts up until 2023 – as well as the five months in prison which ended in April 2018 and birthed the #FreeMeek movement.
It's people with a similar story to Meek's, that have been "caught up on probation and parole", that Reform says it wants to focus on first.
'If someone commits a crime they should go to jail'
"Being from the environment I'm from, I don't even think it's possible for you to be an angel," Meek said as the organisation was announced in New York.
"You grow up around murder on a daily basis, you grow up in drug-infested neighbourhoods.
"And every time I started to further my life with the music industry, there was always something that brought me back to ground zero," he said.
Pennsylvania Governor Tom Wolf, who attended the event, said he was a supporter of criminal justice reforms that are "fair, help our system work better and smarter, and save crucial taxpayer dollars while balancing public safety and victim concerns".
Across the US, roughly a third of people on parole are black, according to Bureau of Justice statistics – something Jay-Z raised at the event.
"We want to be very clear. If someone commits a crime they should go to jail. But these things are just disproportionate and the whole world knows it," he said.
Jay-Z has been vocal about Meek's case, writing in the New York Times while he was imprisoned.
"On the surface, this may look like the story of yet another criminal rapper who didn't smarten up and is back where he started," he wrote.
"What's happening to Meek Mill is just one example of how our criminal justice system entraps and harasses hundreds of thousands of black people every day.
"I saw this up close when I was growing up in Brooklyn during the 1970s and 1980s. Instead of a second chance, probation ends up being a land mine, with a random misstep bringing consequences greater than the crime. A person on probation can end up in jail over a technical violation like missing a curfew."