You are currently browsing the category archive for the 'death in Maine jails and prisons' category.

Write to Dirty via:
Maine State Prison – Michael McQuade – MDOC #82448
807 Cushing Road – Warren, Maine 04864-4699
Desiree Fischer, a med tech at the Androscoggin County Jail in Auburn, wheels a medication cart down the hall on Wednesday. Between 30 and 61 percent of Maine?s 1,774 county jail inmates were prescribed at least one psychiatric medication, according to a survey conducted by the Bangor Daily News in August (Troy R. Bennett | BDN).
STATEWIDE (BDN) — A Maine judge makes the unprecedented decision to forcibly medicate a murder suspect with antipsychotic drugs. A violent, severely mentally ill patient is shipped to state prison after twice attacking staff members at Riverview Psychiatric Center.
Now Gov. Paul LePage, besieged with troubles at Riverview, has plans to send even more violent patients to prison, and proposes to spend millions to convert the prison facility in Windham to house mentally ill inmates.
These headlines point to a much deeper crisis in Maine. After a well-intentioned move decades ago to shift the care of the mentally ill away from psychiatric institutions, many Mainers can't find adequate care in their communities. They still end up institutionalized but now it's behind bars.
The ranks of inmates taking psychiatric medications in Maine's jails and prisons today once would have filled the state's largest hospitals for the mentally ill.
Between 30 and 61 percent of Maine's 1,774 county jail inmates were prescribed at least one psychiatric medication, according to a survey conducted by the Bangor Daily News in August. About a third of the 2,223 inmates in state prisons were taking drugs to manage their mental illness. At the Intensive Mental Health Unit at the state prison in Warren, all inmates were medicated at the time of the survey.
The figures are even higher at Maine's now consolidated youth corrections facility. More than half of all juvenile offenders, or 79 of the 127, took medications. Many of them are at high risk of returning to the prison system as adults, still in need of mental health treatment.
As high as those percentages are, they underrepresent the real population of inmates with mental illness, because the figure is nearly impossible to nail down.
County jail and corrections officials broadly agree that the rising volume of mentally ill patients is untenable. But counting prescriptions offers only a point-in-time snapshot of the problem. It also fails to account for offenders who are undiagnosed or have mental illnesses that don't require medication, or varying, facility-to-facility policies for dispensing medications.
Inmate advocates also contend that budget cuts have spurred jails and prisons to crack down on taxpayer-funded prescription drugs, leaving some prisoners unmedicated.
Penobscot County Sheriff Troy Morton said many of the people walking through his jail's doors are undoubtedly experiencing a mental health crisis, whether they have an official diagnosis or not. The need burdens everyone it touches from the sick individual to the law enforcement official apprehending them, from the jail taking custody to the taxpayer picking up the tab.
"There was a day when if a person was on the street yelling and screaming, [police] didn't know what to do with them, so they were charged with disorderly conduct, end of problem," Morton said. "But it wasn't the end of the problem. It was a temporary delay."
A moving target
After an arrest, inmates typically are asked about their mental health. Most correctional facilities follow National Commission on Correctional Health Care guidelines for initial screenings, which include a questionnaire that asks about current medications and thoughts of suicide.
Jail and prison staff do not make decisions about medical care, including for mental health problems, Morton said. All correctional facilities contract out for those services.
"We are not doctors," he said.
Screeners review the questionnaire, "triage it, and get them to a provider" if the inmate is on prescription medications when they enter jail, said Geoffrey Archambeau, CEO of Correctional Health Partners, a Denver, Colorado-based company that contracts with the Penobscot County Jail, the Kennebec County Jail and other facilities throughout the country.
If an undiagnosed person is in crisis, they are directed to a medical provider who can prescribe medications, if warranted, according to jail officials from across the state.
"Usually they have committed a crime due to not taking their medication," Knox County Sheriff Donna Dennison said in an email.
One reason the state has no current count of inmates with mental health diagnoses is because "it's not a searchable thing" since each jail uses a different computer management system, Archambeau said.
"Here's the problem: Nobody has real numbers," Morton said.
While the state has one centralized administrative system for all its facilities, called CORIS, it does not allow prison or Department of Corrections officials to query inmates' mental health records because of medical privacy laws, according to Deputy Commissioner Jody Breton.
Only the department's contracted medical provider, Correct Care Solutions, can search those records. John Newby, Correct Care regional vice president, found that in 2015, around 48 percent of juveniles and 34 percent of adult inmates were prescribed psych medications.
"For the State of Maine, we are actually below the national averages on prescribing of psychotropic medication," Newby said in an email to Breton that she forwarded to the Bangor Daily News.
Many inmates diagnosed with mental illness also have developed drug dependency from "self-medicating," according to Morton.
That often leaves jails serving as their region's largest detox and mental illness crisis centers, he said.
"My question is: Is that what corrections is supposed to be about?" said Morton, who started as a corrections officer in 1988. "Is that really how we should be treating people with mental illness and substance abuse? To me, this is really an expensive way to do it."
Cost pressures
Jails and prisons often fail to identify inmates with mental illness, according to an April 2014 report by two Texas doctors. Published in the American Journal of Public Health, the study examined a nationally representative sample of U.S. prisoners, finding that more than half who were taking medications for mental health conditions upon arrival failed to receive the drugs after incarceration.
"This lack of treatment continuity is partially attributable to screening procedures that do not result in treatment by a medical professional in prison," the report states. "This treatment discontinuity has the potential to affect both recidivism and health care costs on release from prison."
Joseph Jackson, who formed the Maine Prisoner Advocacy Coalition upon his release from prison two years ago, says many inmates go without drugs they need or receive "cheaper" substitutes.
When he was arrested for shooting another man in 1995 and locked up in county jail, Jackson was taking medication for depression.
"I was on one treatment going in and they got rid of that," said Jackson, who was the triggerman in a drug-related slaying in Lewiston on Easter morning 20 years ago that left one man dead. "It doesn't matter if you've been on one [prescription] for 20 years and it's been working well. They say it's because doctors on the outside are manipulated."
When he was eventually convicted of manslaughter later that year, Jackson entered the state prison system. Again, his prescription for depression changed.
"They gave me amitriptyline," Jackson said. "That is how, mostly, they dealt with us. They gave it away back then."
But today, the cost of medications has changed how correctional facilities dispense them.
"It depends on what those pills cost," said Jackson, who started a chapter of the NAACP and earned a college degree while behind bars. "They're going to give you the cheapest pills."
Providing substitute medications may help county and state pocketbooks, but Jackson describes that approach as an injustice against inmates.
At the Cumberland County Jail in Portland, inmates formerly received psychiatric medications upon request. But in 2011, the jail changed its policy "to only giving the medications when the inmate comes into the jail taking the medications and after being verified," Cumberland County Sheriff Kevin Joyce said in a recent email. "Or, when the doctors and/or psychologist believes that the medication is necessary."
That change saved the jail thousands of dollars per year on medication costs, he said. Other jails have instituted the same policy.
For his part, Archambeau, the medical contractor for the Penobscot County Jail, disputes the contention that cost drives decisions on which drugs are dispensed. PCJ spends about $40,000 a year close to 8 percent of its $525,000 annual medical budget on psychotropic medications.
Yet costs can vary by facility. What jail and prison leaders say they have in common is that they're doing all they can to accommodate inmates with mental illness.
Capt. Jeff Chute, Androscoggin County Jail administrator, said he has witnessed the transformation of county jails over the years. He started in law enforcement in 1984, joining the jail in 1995.
"We are de facto mental health facilities," Chute said. "Sometimes we're there to stabilize them. In order to prevent recidivism, we try to get them back on their meds."
The costs go beyond prescription drugs, according to Dennison, the Knox County sheriff. When hospitals are full, jail officials pull double duty.
"We have to have a guard sit one-on-one with this person," Dennison said. "Sad situation all around, not only for mental health folks but also for jails and officers."
Fewer beds
The housing of Maine's mentally ill in correctional facilities may be making headlines today, but the problem dates back decades, according to Sharon Sprague, superintendent of Dorothea Dix Psychiatric Center in Bangor.
Many of the country's psychiatric institutions downsized or closed starting in the 1950s, under a process known as deinstitutionalization. States intended to care for psychiatric patients in their local communities, but often failed to set up adequate services.
"When you consider we had 1,200 patients in 1970 and are down to 40 patients today, it says a lot," Sprague said of Dorothea Dix, which opened in 1901 as the Eastern Maine Insane Hospital. "Our capacity, if we were to fill all the units, is 51. That has been a huge change."
Riverview opened in 2004, replacing the Augusta Mental Health Institute, which began in 1840 as the Maine Insane Hospital. Riverview has dual roles: to treat violent offenders and to assess those charged with crimes to determine whether they understand the charges and are competent to stand trial.
Among the patients housed there today is Leroy Smith, who made headlines earlier this month after Kennebec County Superior Court Justice Donald Marden issued an order authorizing the state to medicate him for six months against his will in an attempt to restore his competency to stand trial.
Smith was charged on May 6, 2014, with killing and dismembering his father, 56-year-old Leroy Smith II, and initially was found not competent to stand trial. He is now receiving psychotropic medication and will return to court in April.
Meanwhile, Riverview is fighting a 2013 decertification for poor patient care, which resulted in $20 million in forfeited federal Medicaid funding.
LePage has said his plan to modify the Windham prison for mental health patients will help get Riverview recertified.
At its peak, Riverview had a capacity of 1,500.
Today, Maine has just a fraction of that number, with about 270 psychiatric beds statewide. Riverview accounts for 92 and Dorothea Dix has 51. The other 127 beds are split between Acadia Hospital in Bangor, Spring Harbor Hospital in Westbrook, and eight community hospitals that all limit patient stays to 30 days.
That's rarely enough to accommodate the need, experts say, even with Spring Harbor planning to reopen a dozen psychiatric beds after the recent award of $420,000 in state money. Such shortages are a problem in Maine and throughout the country, said Jenna Mehnert, executive director of National Alliance on Mental Illness in Maine, who came to Maine after working in Pennsylvania and New York.
"There aren't enough psychiatric beds. And sometimes when officers need to divert a person to the hospital there is no room, and they end up back on the streets in jail or the emergency room," she said.
Just compare the number of people in mental health institutions back in the 1970s to the populations in homeless shelters today, said Shawn Yardley, Bangor's former director of health and community services.
"It's an incredible correlation it's the same number of people. What we've done is move the need for that comprehensive service from mental institutions to homeless shelters, not very successfully and not in the best interest of anybody," he said.
Changing philosophies
In the past, the philosophy in prisons was to keep inmates with mental illness quiet until they completed their sentence, according to Dr. Dan Bannish, a psychologist at the state prison's Intensive Mental Health Unit. Now prisons are treating the illness, he said at the unit's opening in February 2014.
"It's not a hospital. It's an intensive mental health unit," Corrections Commissioner Joe Fitzpatrick said in December. "We really did want this for treatment purposes, not for management purposes. It's a critical piece and it's probably the most challenging piece."
A total of 70 inmates 39 from the Department of Corrections, 29 referred by county jails from across the state, and two from Riverview had been treated in the unit as of the end of January.
The number of suicidal behaviors has dropped considerably and self-abusive incidents among inmates in the program have fallen dramatically, he said.
Maine's county jails also have made changes.
Aroostook County has a mental health nurse practitioner to screen every inmate's case, said Sheriff Darrell Crandall.
Penobscot County Jail works with Acadia Hospital, which provides clinical services, including two hours of psychiatric services, each week.
Cumberland County Jail has two social workers and Androscoggin County Jail added a full-time social worker who helps inmates transition back into society in an effort to prevent recidivism, Chute said.
"We had to give up some positions for that," he said. "It was extremely necessary."
Chute, Crandall and Morton said law enforcement officers also have learned new ways to deal with people suffering from mental health problems.
The Portland Police Department has developed a specialized behavioral health response program, employing a special liaison who goes out on calls whenever mental illness is identified. The liaison also follows up with patients, conducts referrals and serves as a conduit between the department and behavioral health providers.
Mehnert said other departments should follow Portland's lead.
"We expect [law enforcement] to be social workers, and it's really not fair, and when they fail we demonize them," Mehnert said.
The National Alliance on Mental Illness Maine has spent years offering crisis intervention training to law enforcement and emergency responders from all over the state. Every police academy cadet in Maine also goes through that training, along with mental health first aid.
"A lot of this is educating the officers on the street trying to make sure [they can] identify if somebody is in mental health crisis or needs to be incarcerated for a crime," Mehnert said. "I think that is a crucial thing."
A smooth transition back into society is key to preventing criminals from reoffending, experts said. But those who are prescribed medication often struggle to pay for their drugs without a job or insurance coverage.
Most jails have transition programs in place, but funding for them often falls short of addressing the multiple factors that affect inmates' success on the outside, Morton said.
"It's crucial because if we only set up the mental health part of it, yet they don't have housing, or they don't have food or transportation, we're setting them up for failure," the Penobscot sheriff said.
"This is not a county jail issue," Morton said. "It's a societal issue."

Zachary Titus
WARREN, MAINE (AP) —  An 
inmate has pleaded not guilty to killing his cellmate at a minimum security prison in 
Maine
.
Zachary Titus made a brief appearance in court on Monday. A separate hearing will be held within five days to determine whether Titus will be eligible for bail in 18 months when he completes his current prison term for theft.
Dana Bartlett died June 24 at the Bolduc Correctional Facility, a minimum security facility in Warren. His fiancée says he was having issues with another inmate and had asked to be moved.
Defense lawyer Jeremy Pratt said Monday that he couldn't comment because the state had provided no information about the killing, including the autopsy or affidavits.
24 January 2019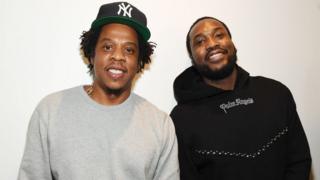 Jay-Z, Meek Mill and sport and business leaders have pledged $50m (£38m) to reform the US criminal justice system.
The Reform Alliance, which was inspired by Meek Mill's recent stint in prison for a minor probation violation, hopes to free one million prisoners in five years.
The owners of the New England Patriots and Philadelphia 76ers, Robert Kraft and Michael Rubin, are co-founders.
Reform says it wants to help people who are "trapped in the system".
The group's "mission" is to "dramatically reduce the number of people who are unjustly under the control of the criminal justice system, starting with probation and parole".
"To win, we will leverage our considerable resources to change laws, policies, hearts and minds," it says.
More than six million people can currently count themselves as part of the "correctional population" of the USA – which includes people in prisons and local jails, but is mostly made up of the more than four million people on probation or parole, according to Bureau of Justice statistics.
Probation is often given as a sentence instead of time in prison and can include conditions like being on a curfew or going to rehab.
Parole is when an inmate is released early from prison with similar conditions to probation.
Meek Mill has experienced all three: probation, parole and jail.
The Reform Alliance says his case is an example of the "devastating and long-lasting effects" that can occur after one interaction with the criminal justice system.
The rapper was arrested in 2007 – he says wrongfully – for drug and gun charges, aged 19.
He was sentenced in 2009 to between 11 and 23 months in county prison, but was released on parole after five months and put on house arrest.
It was during this time he started to make his name nationally as a rapper, signing to Rick Ross's label and releasing a string of hugely successful mixtapes.
Before long he was a platinum-selling artist.
But a parole violation for suspected cannabis use resulted in a ban on touring, and then after failing to get his travel plans approved by the court Meek was sentenced to prison again in 2014.
Examples of parole violations that can land people back in prison range from being late to appointments with parole officers or missing a curfew, to things more specific to the crime that was committed – like failing to attend an Alcoholics Anonymous meeting.
"When you talk about these so-called technical violations, it's not technical to the kid who can never see her mum again because she showed up late for a meeting. That's not technical, that's devastating for that individual child," Reform Alliance CEO Van Jones said.
Violations over the next few years resulted in his probation period being extended – it now lasts up until 2023 – as well as the five months in prison which ended in April 2018 and birthed the #FreeMeek movement.
It's people with a similar story to Meek's, that have been "caught up on probation and parole", that Reform says it wants to focus on first.
'If someone commits a crime they should go to jail'
"Being from the environment I'm from, I don't even think it's possible for you to be an angel," Meek said as the organisation was announced in New York.
"You grow up around murder on a daily basis, you grow up in drug-infested neighbourhoods.
"And every time I started to further my life with the music industry, there was always something that brought me back to ground zero," he said.
Pennsylvania Governor Tom Wolf, who attended the event, said he was a supporter of criminal justice reforms that are "fair, help our system work better and smarter, and save crucial taxpayer dollars while balancing public safety and victim concerns".
Across the US, roughly a third of people on parole are black, according to Bureau of Justice statistics – something Jay-Z raised at the event.
"We want to be very clear. If someone commits a crime they should go to jail. But these things are just disproportionate and the whole world knows it," he said.
Jay-Z has been vocal about Meek's case, writing in the New York Times while he was imprisoned.
"On the surface, this may look like the story of yet another criminal rapper who didn't smarten up and is back where he started," he wrote.
"What's happening to Meek Mill is just one example of how our criminal justice system entraps and harasses hundreds of thousands of black people every day.
"I saw this up close when I was growing up in Brooklyn during the 1970s and 1980s. Instead of a second chance, probation ends up being a land mine, with a random misstep bringing consequences greater than the crime. A person on probation can end up in jail over a technical violation like missing a curfew."
The death of Dana Bartlett, 28, who died in Bolduc Correctional Facility in Warren last June has been ruled a homicide.
28-year-old Dana Bartlett died on June 24, 2018 while serving a 16-month sentence stemming from charges of theft and driving with a revoked license.
Police acknowledged Friday, Jan. 4, 2019, that someone killed the inmate while he was at the Bolduc Correctional Facility in Warren. This is the first detail made known of his Bartlett's death investigation in more than half a year.
Bolduc Correctional Facility is a minimum-security prison.
Maine Public Safety spokesman, Steve McCausland said the death was classified as a homicide in December.
McCausland says State Police are working with the Attorney General's Office to find the person responsible for Bartlett's death.
[Dana crossed over; but it hurt.  Poor kid. :- (  God bless you, Dana, and your grieving family.  Be well.)
According to this Newscenter Maine broadcast, he was afraid of his cellmates and begged to be moved.  He was ignored:
https://www.newscentermaine.com/video/news/crime/inmates-death-at-bolduc-correctional-facility-classified-as-homicide/97-e17ba1ed-955b-4122-b0cf-bacfa01b89a4?
The death of Dana Bartlett, 28, who died in Bolduc Correctional Facility in Warren last June has been ruled a homicide.
WARREN, Maine — The death of an inmate who died in a Maine prison in Warren last June has been ruled a homicide.
28-year-old Dana Bartlett died on June 24, 2018 while serving a 16-month sentence stemming from charges of theft and driving with a revoked license.
Police acknowledged Friday, Jan. 4, 2019, that someone killed the inmate while he was at the Bolduc Correctional Facility in Warren. This is the first detail made known of his Bartlett's death investigation in more than half a year.
Bolduc Correctional Facility is a minimum-security prison.
Maine Public Safety spokesman, Steve McCausland said the death was classified as a homicide in December.
McCausland says State Police are working with the Attorney General's Office to find the person responsible for Bartlett's death.