You are currently browsing the category archive for the 'Former Prisoners' category.
What is the definition of Correction? Hmmm… lets consult the trust worthy Webster's dictionary.
Correction: N. 1)Something given, done, or proposed as a substitute for what is wrong or inaccurate. 2) The act of correcting. 3) Punishment or chastisement. 4) (Usually Corrections) the various methods, as incarceration parole, and probation by which society deals with convicted offenders.
Now that's out of the way I guess Maine Correctional Center has done something right. Part 4 of the above definition states incarceration that is about all this place does, oh – almost forgot they do know how to punitively punish. They tend to mass punish, and only punish you for breaking rules if you're not one of the elite prisoners. Yes! They do have favorites. I believe Part two of the definition is something MCC staff and administration needs to improve on. How can a prisoner with a drug conviction fail a drug test while incarcerated and not automatically get enrolled in a substances abuse program? I have just the answer for you. MCC's administration and staff Act part  of caring individuals they want you to feel all warm and fuzzy (like that extended warranty you buy with your new car). All is well and life is good until something fails, after that you're FUCKED! Everything was just an illusion, no one will help you because "It's you own fault you deal with it" I know the first step to recovery is yourself but how can anyone do it alone. Prisoners are here because when thinking on their own they made poor decisions. Where are all the support staff that our tax dollars pay for? Well almost non-existent! How can this place consider themselves a correctional institution without proper programs, support, and caring staff to help guide and encourage inmates to improve themselves. Without the proper tools and knowledge how will someone succeed? They most likely won't and are being set up for failure. MCC has a 70% success rate of non repeating offenders which is fairly respectable. My question to the Commissioner and Superintendent is why stop at 70% why not go for 85-90%? Are you afraid you will run out of clientele? MDOC and MCC administration continue to cut programs, jobs, and services for inmates. Whether they realize it or not, or even care they are doing more harm than good. I would like to make a suggestion to you administrations, why not take a few days and meet with your inmates, find out their needs, wants and goals are and then find some meaningful, helpful way, programs and services to HELP you prisoners better themselves. The art of corrections is to help whomever made the mistakes see the problem, what was wrong with it, and then help find a solution. It's not very complicated Mr. Commissioner. It's just takes a leader with a strong will to lead the way. Once you and your staff figure it out and everyone is consistent across the board will you start seeing better results. It's not about the quantity of corrections. It's about the quality of corrections.
Thank You
Mr. Hopeful
"That's the thing about suicide. Try as you might to remember how a person lived his life, you always end up thinking about how he ended it."
– Anderson Cooper

Ten years and a month ago, give or take a few days, I graduated, with little fanfare (a poinsettia and a chocolate orange) from Justice Nancy Mills' Kennebec County Co-Occurring Disorders Court. We called it C.O.D.C. But that's a prequel which, at the moment, exists only in outline, Bodhisattva.
Ten years and a month ago, give or take a few more days, I got arrested. Oh, yes! But then, isn't that how most of my best adventures end?
In this case, after graduating this strict alternative-to-sentencing court program, after nearly two years of participation with ever-clean urine tests and breathalyzers, no legal trouble, and without Nancy finding out about my twenty year old live in girl friend, I graduated, and days later, I started drinking. At night, of course. One night, I got into a fight with aforementioned girlfriend and we got a bit loud (she threw me down the stairs, hit me over the head with a guitar, bit my arm when I tried to restrain her.) Our fat, expatriate British neighbor, (was the fucker's name "Ted?") banged on the door (after calling the cops) and the girlfriend opens it, ends up scurrying next door to his apartment. And I was, well, drunk, so when the fat fuck told me to "GO TO YOUR APARTMENT!" I did. And the fuzz showed up, during this major snowstorm / shitstorm. Six deep.
Now, I may have been drunk, but I'd been through this before. I wasn't gonna say shit, although I apparently did agree with one of the cops when he called me "Kristopher." But then, it was one of my names, just not a legal one.
I never imagined that my girlfriend at the time would throw me under the bus. She did. It was like a twist of an ending.. the person you least expected is the one to bring the hero down. Off I went, at the request of my Rhode scholar probation officer, Mark Fortin, down to Kennebec County Correctional Facility (it was probably the same person who named the jail a correctional facility as the one who named a small, local college the "University" of Augusta. Sorry.)
I sat in holding and I remember thinking, this is it. I'm done. The president of the Holistic Recovery Project, drunk, and I was informed, in jail on a domestic!
That whore!
Ah, I thought. I'm screwed. Windham Prison bound.
But I wasn't, of course. Soldiers of the nation came in droves; some put money on the phone for me; Don Anton from Krypton generously put money on my books. And after repeatedly threatening suicide, one of my best friends ended up in the holding cell beside me, co-founder of the Project, Arthur Brian Traweek. Truedogg.
~
"The thought of suicide is a great consolation: by means of it one gets through many a dark night." 
― Nietzsche
~
Truedogg was a street survivor with borderline personality disorder, and he played the court team like a game of "Go Fish," his favorite card game. He had graduated a year before me and, never wanting to graduate in the first place, he had re-offended. He had a six months sentence for allegedly robbing some watches from a friend. Apparently, he'd been screaming suicide since arriving at the jail.
When they finally put me in a cell block, they put Truedogg with me. Karen, the porcine mental health worker at the jail told me: "We're gonna put him with you. That way, I know he'll be okay." He wasn't; none of us were. We were put into one of the classrooms which I later found was filthy with sex offenders; it wasn't your stereotypical cell block. This was more like a barracks – a classroom with one bathroom and shower filled with bunk beds. And skinners and peeps who threatened suicide; it was easier to watch everyone in a barracks style operation, and it's true – it they are actually watching.
My cousin Glen "Hawkeye" Bartlett ended up there too, and he and Truedogg and I passed the time, of course, playing cards. Or pantsing other convicts. Tired of constantly playing the prison favorite, "spades," out of boredom and desperation we began to play other card games, games from childhood like "Crazy Eights," "Concentration," "Old Maid," and "Go Fish." Truedogg's favorite game, I think I wrote a moment ago, was "Go Fish."
Truedogg was depressed, or playing depressed and we couldn't figure out why, I mean, he was doing six months, he'd be out in two, and being the Court favorite, he was going to be allowed back into the court program that he loved, or pretended to love, so much. We had the same lawyer, the mighty N. Seth Levy, and we had the same spiritual leader, also a member of the court team, soberati and zen-master, Peter Wohl. Seth of course visited both of us. Other members of the court team, only visited the Dogg. I wouldn't' find out why for years.
Peter later told me that Justice Mills (whom my probation officer Mark Fortin has assured me was quite pissed at me) had ordered the court team not to visit me.
Truedogg's girlfriend Whitney (who he'd met in a Crisis unit, of course,) was visiting him regularly as well; sometimes we'd both go down and see her at the same time, if Truedogg needed support. Truedogg was in the pokey, I don't know if I've told you, for stealing from a friend of his, a doctor whom he'd met one time in county. The dogg had apparently stolen some watches; there was an article about the crime in the paper, but our lawyer, Seth didn't want him looking at it. So, of course, Whitney mailed a copy to him anyway. It disturbed him.
In the article, the victim had claimed that, not only did Truedogg steal from him, but he also tried to hang him, something which the dog denied. I didn't know what to believe, but the Dogg was my friend, and making light of the situation, Whitney and I started calling him, "Hangman."
Foreshadowing.
Now, soon to rejoin the court program that he loved, the Dogg was required to go before Justice Mills on Mondays again, this time in chains. One Monday, he returned from court more down than usual. Justice Mills had asked him how he was doing, and the Dogg replied that he hated himself. And I forget what the answer was that she gave him, but it wasn't very nice. As I remember it, he was a bit teared up as we talked about it, over jailhouse decaf coffee. We'd had many talks since coming together in jail about God and Hell and sin and courts and love. I remember him asking me once if I thought that suicides go straight to Hell, and I told him that I didn't understand God, but I was quite sure that he wasn't so black and white.
I told him about my friends who'd successfully faked hangings.
That day, we talked about Court and how bad he felt for disappointing Justice Mills. I remember reassuring him, and praying with him. He said that he was gonna take a shower and I believe I told him that God loved him and so did I. Then, I sat down to watch "Law and Order" which happened every afternoon at 2pm. Truedogg wedged a streamer of toilet paper in the door-jam, something I hadn't seen him do before, but I assumed that it was just to let people know that he was in there. So people let him be; a guard, Guererra, I believe, checked the bathroom during his hourly checks. He overlooked what I would see.
Not long after, someone screamed. Bobby had gone into the bathroom to use the toilet, and now he was screaming and then another convict went in and then I heard Father Matthew bellow and then I went in and the Dogg was in the shower, fully clothed, hanging from a sheet he'd wrapped around the shower gear.
Hangman.
We took him down, me and this other kid, and pulled him out into the common area while someone else hit the button to alert the turnkeys.
The cops came running quickly (including Guererra, who'd pretended, apparently, to check the bathroom earlier.) The convicts were all ordered to stay on our cots. The cops started chest compressions, but I noticed they weren't doing rescue breaths. Later, maybe eleven minutes later, the prison doc shows up with a breath bag. No one had given Truedogg a rescue breath because they no one had the 75 cent plastic "seperater" which prevented lips from touching. I guess it was procedure – no separator, no rescue breaths. The sheriff himself came up as they worked on the dog, but, I mean, damn, when I pulled him out of the shower and lay him on the floor he was so cold, and his skin was already so pale.
Why didn't I start doing rescue breathing on the Dogg?
Why didn't I offer to? And I don't know and I've thought about that forever.
They moved us all down to the library while they did their thing at the crime scene. I don't remember much, except that it was cold, and we were left alone, and I remember freaking out on some kid because he'd remarked that all suicides go to Baptist Hell.
A young guard popped in at some point and casually told us that Truedogg was dead. A while later and some quacks connected with Crisis and Counseling and ergo the Court Team came in and tried to council us for ten minutes. Then they left and we were lead back to the classroom.
I don't remember what I felt; I remember Father Matthew reading to me from Sirach.. thank you, Father. One thing I did do was to write down what had happened, and to have all of the convicts sign it. ( You can find a copy of the letter at:
http://holisticrecoveryproject.org/truedogg.htm)
My cousin had been gone at the time of the self-crime and had a meltdown when he found out what had occurred. I'm trying to encourage him to write something about the Dogg, but hell, man, this guy took over what had been the Dogg's bunk and freaked out whenever a guard tried to reassign him. I think that one of the mental health workers got fired over some sort of confrontation with Hawk about the Dogg.
~
"What's wrong, Bob? Not enough twang in it for you?"
– Truedogg, on a negative comment concerning house music by Bob Fortin
~
Arthur Brian "Truedogg" Traweek and I met while in C.O.D.C. We also both had rooms at the same rooming house, but it took a while for us to warm up to each other. He seemed unfriendly, even kind of shady.
He wasn't. I'm not sure exactly how or when it happened, but we became close friends at some point. Every evening at around seven, Truedogg would come up to my room to discuss Christianity or the courts or the various programs we were mandated to attend. Truedogg admitted to me quite early that he suffered from borderline personality disorder, and that everything he was he'd learned by watching others. Watching.
Brian had a bad childhood. Bad. Abuse. He ended up in an orphanage, where other kids called him "Gomez." He was a racketeer though, even then, and sold other orphans contraband which he kept in behind a broken panel in the wall. At some point he became a runner; he chose the name "Wanderer" for himself; we started calling him Truedogg after hearing a song of the same name by Toby Mac. But, he was a wanderer. He got in trouble with the law, ans somehow ended up at a christian halfway house down south, "Love-Action Ministry" run by Miss Polly. Raised a Catholic, it was here that he became a Catholic hating extremist of a Protestant. It was also here that he was introduced to Miss Polly's "Twelve Steps to Wholeness." ("Wholeness," the Dogg explained, "Comes from the word 'Holiness'.") a christian twelve step format.
Brian was released at some point from Miss Polly's, although knowing him, I'm pretty sure that he didn't want to go. Once back up north, he actually did his best to get arrested. He would go into Hotels (the same ones where he slept, in the boiler rooms) steal a checkbook and then head to the bank to try to get caught cashing it. It took quite a long time, and of course, Brian gave most of the money away. It was while in Cumberland county jail that he would become good friends with his final victim.
Eventually, Truedogg made it up to Kennebec County and C.O.D.C. And he was able to play them like a game of crazy eights, but then, that's how he was made. He did a classic BPD game of being distant for a bit, then having a great "breakthrough" of opening up to the very person or persons he'd previously been so distant from. Justice Mills bought right into it, as did Zen-master Peter Wohl and the rest of the team. He convinced them (and maybe himself, although he was so good, it was impossible to tell) that he considered them his family, that he loved coming to court and never wanted to leave.
Awww…
By the time we became good friends, Truedogg had secured a job as a peer support specialist at the state mental hospital. He wouldn't drink any coffee but Starbucks, smoked basic lights, and once explained to me how to scrub your shoes clean. He loved house music and could go on and on about it – Chicago Swing, Boston Beat, Japtronic, etc. He and one of his brothers (a hip-hop DJ) went to a house party in Philly or Boston, and ended up getting chased out by some brothers who'd gotten viscous, the Dogg said, because they were listening to something like, "Jungle House" or something. Whatever it was he claimed that they were quite violent. The Dogg also introduced me to Christian House music, while spinning about in his car, the mini Jamaican flag hanging from the rear view.
Now, don't think that the dogg was a saint, because he wasn't, and his troubles usually involved women.
The "Jen" situation, the "Belinda" situation. Holy, Dogg! But despite his quirks, admittedly due to the abuse he'd suffered as a child, ( back when his friends called him "Nipsy,") he always brought a good message to our nighttime dharma talks. For the sake of brevity I'll stick to the wisdom he added to the Project.
~
"Step 13: Love was there all along. We realized that we had a spiritual relationship even when we didn't know it. We've always been worthy." – Recovery through Wholeness
~
When I started C.O.D.C. There was an A.A. Meeting held at Crisis and Counseling, the courts puppet mental health facility. When they moved locations, another member of the program, Jamie, wanted to start an A.A. Meeting in the vacated space. Jamie dropped out, but Truedogg picked up his slack. It was Truedogg who'd first introduced me to duel recovery anonymous, a 12-step program which focuses on both a persons addiction and their mental illness, and I was soon running two D.R.A. Groups a week. At first, we decided to make (coordinating with Mark "the worm-man" Rosenberg) it a D.R.A. Meeting, until one day the Dogg (who didn't trust the worm-man) suggested: "Why not make it all-recovery?" We received permission to start our own twelve step group from Justice Mills, and thanks to the Dogg it was to become Maine's first all-recovery program. I wrote most of the material on the floor of my room at the rooming house, working some stuff the Dogg had written into something a little more secular/humanistic. We used Miss Polly's twelve steps to Wholeness at our first group (Circle) and then, again, came up with our own on the floor of my boarding house room.
All that we knew, really, was A.A., and like N.A. We were coming really close to Bill W's twelve steps, with a word substituted here or there. I wanted us to be different, to have our own, unique twelve steps. To this end, it was the Dogg who came up with the term "Spiritual Relationship" instead of the hackneyed "higher power," "reconciliation" instead of "amends," and "parameters" instead of "traditions." Our version of the steps went from the banal (Step One: "We realized that things were fucked up." ) to the sacred: we had a thirteenth step. This too, I'd come up with on the floor of the room, but I got it from a conversation between Truedogg and one of my ex's. She was talking about a girl in the court program in a very denigrating way and they got into it about "worthiness." I remember the Dogg saying: "She's worthy. We are ALL worthy. Because we're born we're worthy." This has become one of the most important tenets of the Project and our step thirteen: "..we have always been worthy." or as I paraphrase it to peeps: "You've always been worthy. And anyone who's ever told you differently is a liar." And it's from the Dogg.
Eventually, the Dogg got into a relationship with a woman, and he was terrified about the possibility of sex, due to his abuse. We talked him through it, but, alas, the woman, after using him for his money, dumped him, and it killed him. Soon after he lost his job, went to stay with his friend from Cumberland County, stole his watches, maybe tried to hang him. I don't know.
But Truedogg's dead.
~
"Where there is a corpse, the vultures will gather." – Jesus Christ
~
I was told by various people that Justice Mills was pissed at me. I'd never made a connection with her; it was hard for me, developing a rapport with her so far away and so high up. It was like going to see the king. Furthermore, despite the fact that I was a major success in the program, I knew that Nancy didn't much care for me, and someone on the team, Peter told me, had been keeping me from graduating the program. I went in front of the bench one day after I'd given the team a letter listing my accomplishments and asking why I hadn't graduated. Justice Mills told me that I was arrogant and needed to learn some humility. It was then that I realized that, no matter what I did, how I dressed, how far I climbed, Nancy and the rest of the team would never think of me as any more than a common thug.
Really?
I know that Peter presided over a zen funeral for Truedogg. I wasn't there. The week previous it looked as though I'd be bailed out. We'd gone to court to get bail set and as luck would have it, my ex came and admitted her part in the whole thing. Bail was set a $1500, which my peeps could do. Then, mysteriously, I was told that it wasn't a lump sum, it was
$1500 per each of my two charges, and my peeps couldn't afford $3000. Whatever happened, the team successfully kept me away from the funeral.
There was a candle light vigil, but no action. We got to watch this crowd outside drinking real coffee and smoking cigarettes and none of them had come to see the dogg when he was alive. No action was taken against the jail; I believe Guererra was transferred as fast as a child molesting priest back in the 70s.
~
"You know me, from back in school, I'm White Rose, I'ma kill you. Razor blades, queen of spades,hangman's noose from Robin Rage…"
– Robin Raged, "I'ma kill You."
~
It is insanely difficult to write this.
When I got out, I was crazy with survivors guilt. I was seeing Truedogg in crowds in the light of day, dreaming of the ordeal at night. And the thing about suicide is that no one really wants to talk about it. And no one did. So, neither did I. The death of the dogg did something to me and it was bad to the point where, when I returned to jail en route to prison back in '09, I was relieved.
I still haven't' fully processed the Dogg's death. The closest I ever got was a song that I wrote for him while at Windham Prison, "the Executioners Song." Perhaps I'll play it for you in the next. No, I just carried whatever it caused with me, and sought out distractions from it and the way I felt, ghosts and everything. My last year in the ghetto, I knew more people, personally, who died from opiate addiction then I should even talk about, but, my friend, I haven't shed a tear for them, or anyone since the dogg.
Yes, of course I'll see someone abut this. I will. Swear.
I met with his family once, and for a while kept in touch with the Dogg's brother, Daniel, and I've spoken with the Dogg's son Justin about it. Once.
Okay, I'm just starting to spit out nonsense now, so I'm gonna close.. I just want y'all to remember my brother TrueDogg, okay.
I've asked my cousin Hawk to write something, but I'm sure he's as fucked in the head about the whole thing as I am, we'll see.
More next time, swear.
I love you all, okay, so, be safe, please.
Love and love and love and love,
Papa Rage
Truedogg, I miss you, man.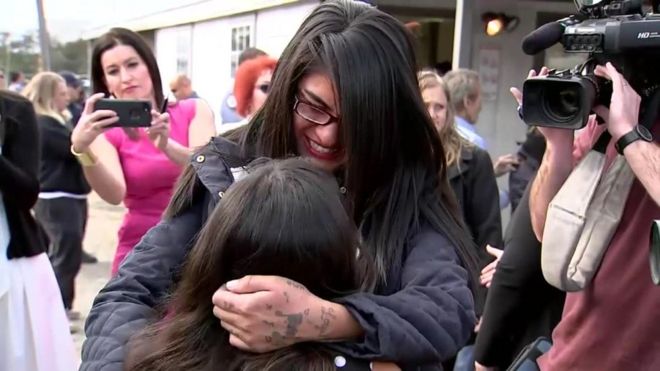 Nearly 500 prisoners have been freed in the US state of Oklahoma in what is said to be the largest such release in US history.
The 462 inmates – jailed for low-level, non-violent crimes – had their sentences commuted.
Oklahoma residents voted in 2016 to reduce simple drug possession and minor property crimes to misdemeanours.
The state's incarceration rate is one of the highest in the US, which leads the world in number of jailed citizens.
Earlier this year, Oklahoma lawmakers passed a measure with bipartisan support to make it easier to review the sentences of inmates whose crimes would be classified as lesser offenses if charged today.
How did families react?
Scenes from the mass release on Monday showed people embracing amid tearful reunions outside the prisons.
Brody Whisenhunt – whose mother Robin Whisenhunt was among those released – sobbed as he told NBC News: "I miss my mom more than anything, and just to have her back is great."
Like many of those released, Whisenhunt had been jailed for simple drug possession.
Before 2016, simple drug possession and minor property crimes were classified as felonies in Oklahoma.
Governor Kevin Stitt, a Republican, told about 70 women freed at one prison that it was "the first day of the rest of your life."
How many sentences were commuted?
Sentences were commuted on Friday for a total of 527 inmates.
On average, those who have had their sentences commuted were incarcerated for three years, with 25% of them women.
Oklahoma has also taken measures to help the freed inmates with re-entry into society, including ensuring they are released with a state-issued driver's licence or identification card.
The state's Department of Corrections also held transition fairs to connect inmates with social services they might need upon release.
There have been bipartisan efforts across the US to send fewer citizens to prison for non-violent, low-level offences.
Last year, the US Senate passed a sweeping criminal justice reform bill that included reducing mandatory penalties for some drug-related crimes.
"This is the day that the Lord hath made; let us be glad and rejoice in it." Well actually it is the day that the commissioner of the DOC is supposed to be at Maine Correctional Center (MCC) is shaking in their britches… Why all the fear and trembling amongst the staff you ask? Well it seems his holiness the "Commissioner of Ponte" has been wielding his ax at the State prison like he has been farming in South America; using the old Brazilian Jungle slash and burn technique. Yes, it is true, his holiness Ponte axed nine people according to news reports and that has people here at MCC feeling less than secure (to say the least…)
The funny thing is that here at MCC the inmate population has been saying the axe was going to fly for months and three MCC organizations conducted an unofficial poll and came up with their picks for the "Heads Will Roll" axing.
The three groups are the Windham National Association Against Cruelty to Prisoners (WNAACP,) the Club the Easter Seals Foundation (CESF) and Gay Maine (the MCC Chapter.) This is how the polling fell out. At the top of the list was that CO who likes to pass out all the extra food to inmates (as the inmates; CAW, CAW.) According to their press release the WNAACP said if that CO does not know how potential dangerous (Thru the spreading of disease) it is to have 20, 30, or 40 inmates with nasty filthy hands dipping in buckets of food and then passing it out, he does not deserve to be employed. Next on the list was quiet a surprise to many people. The second chosen to be canned was the "Red Headed Dorm Dad" because (and I quote :) "He has lied to the inmates so many times that any capital he had to spend on credibility was gone years ago…"
That's it, the top two picked by the people who pick people here at MCC… There was one individual who just squeezed out of the "big two" and that was someone named Henry (Quoting once again :) "he's useless…"
Well that it from ole' Bob Wire for now… Stay tuned, because this story is not going away anytime soon….
Bob Wire
As an amateur writer and storyteller I often start my writings with a cute, humorous or even dramatic beginning in the hopes it might catch the readers attention. This is commonly referred to as a "hook". As an inmate at the Maine Correctional Center (MCC) in Windham, I will skip the fucking hook and get right to the point. The point is: that, in this day and age, inmates at MCC are regularly and openly abused! That's right, I said abused.
On any given day in which the waters pour down from the heavens in buckets, inmates often have to choose between meals, medication, recreation and a host of other things and a "good-old fashion" soaking.
You see, inmates at MCC are not allowed any protective rain gear (not even an altered trash bag). This fact is not likely known by the general public (who wouldn't give a shit anyway), but it is certainly known by the State of Maine Department of Corrections (DOC). Also not well known is this: the vast majority of inmates (700 or so) have to move from building to building for chow, meds, dental, rec, visits and more. In the case of meds inmates often have to stand in line outside in the driving rain. To make matters worse, inmates are not allowed to run, but must walk. HELLO! IT'S 2010 FOLKS!
It is simply not acceptable that in this day and age that even "low-life" criminals can be abused this way; and though most inmates have less than 600-800 feet between buildings, they can be outside a dozen or more times a day.
All across our nation people are in places like this (prison) for abuse of others, children, adults and the elderly.
Here at MCC, abuse is State Sanctioned and has been for years. No one should have to choose between a meal or getting drenched with no way to dry one's clothes. No one should have to choose between getting their meds and standing in a  god-damned line in the driving rain or fucking snow storm.
Let me end with this: if this fucking place were a nursing home and the patients were treated like the inmates here are, the place would be shut down by the State in a heart-beat and the operators would be sitting in prison for abuse! It is a good thing for the State that this place is just filled with "low-life" criminals.
– Bob-Wire
Former offenders face enormous obstacles once they leave prison. John Oliver sits down with Bilal Chatman to discuss the challenges of reentering society.
It's Thursday night, 4-22-10, at York County Jail; sorry I'm late. I always have so, so much to say, so much spinning about inside my black box, and of course I think that it's all so important that of course you'll wanna hear it / read it too! So, I wasn't sure what to let spill out first – me, or the Revolution. Let's start with the Revolution & then maybe I'll let some Rage spill out.
Y'all know I love quotes & here's one that's quite apprypos. It's the first line of Allen Ginsberg's "Howl" (something we should all read, at least once), a poem touching upon the themes of both addiction and mental illenss.
This first line reminds me of all of us, those of us still here, & those of us long, long gone:
"I saw the best minds of my generation
destroyed by madness, starving, hysterical, naked
dragging themselves through the negro streets at dawn
looking for an angry fix."
We have always been the lowest of the low, the last chosen, the last considered. We are truly seen as "children of a lesser God," for whatever other situation might be seen as limiting a person, be that race or religion, sexual preference or physical deformity, add mental illness or addiction to that person's "limiting situation," and they become beyond the limit, the underclass of an underclass.
Long before Adolph Hitler began murdering Jews, he was ordering the mass executions of the mentally ill – an even easier target than the ever-persecuted Jews. The attempted extermination of our spiritual ancentors with mental illness receives little attention by historians. In a footnote, they may call it "unfortunate," but not "tragic" in the way it was for the Jews, Gypsies, the J-Witnesses or the Queers – after all, they were mentally ill. Anyway, but the Holocaust of our people began long before the third Reich, & has not ended. We don't have a descriptive word such as "Holocaust" to describe the age-old socially sanctioned degradation, neglect, rape & murder of our people, although† in the bible, our people were seen as demon-possessed. Even in the Big Book of Alcoholics Anonymous, founder Bill Wilson in "Bill's Story" speaks of one of us: "a poor chap committed suicide in our home. He could not or would not accept our way of life."
Today, They know what we've always known – that "poor chap" was one of us, mentally ill. With no alcohol & no proper medication to take its place, his symptons returned with a ferocity he could not live with.
Dual Recovery Anonymous states that we have "two no-fault illnesses," meaning that we did nothing to intentionally cause our illness, or our addiction, or the situations which follow, from poverty to criminal recividism. Since the advent of the Betty Ford Clinic, & the public recovery of the rich & famous, & then the Big Sur "feel good" recovery surge of the 80s & 90s, addiction has become more understood and, if recovered from successfully, even tolerated. Mental illness, though, from the strictly psychological to the outright behavioral, is still considered by Them, even the most liberal, to be an excuse, a personal weakness and a line on the sand between the worthy humans, & the flawed subhumans.
What follows is the tale of my own big "moment of clarity," as a person living with both mental illness and addiction, trying to work my way to respectability.
From April of 1997 to December of 1998, I was a participant in the Kennebec County Co-Occurring Disorders Court Program. CODC, of course, is a wonderful alternative to jail time for those of us in the system with the co-occurring disorders of mental illness and chemical addiction. If the money spent on housing our people in the states correctional facilities (the latest I'd heard was $39,000 a year per inmate) was instead channelled into appropriate programs such as CODC, our state would indeed be a healthier (both socially & fiscally) safer place to live.
The standard time int he program, the baseline, so to speak, was one year. I had been in the program for around a year and 1/2. During that time, I had passed every urine screen, every breath test. I had complied with all of the strict conditions of release normally imposed upon CODC clients, and more. I ran two Alcoholics Anonymous meetings. I had taken over Dual Recovery Anonymous in the area & was so successful that we now had more DRA meetings than any other part of the state. I had co-founded a new recovery practice, the Holistic Recovery Project (http://holistix.atspace.com), Recovery-Through-Wholeness, which had grown to such an extent that we were holding board meetings & working on the paperwork to become a non-profit corporation. Thanks to the rigid structure of the COPC Program, my accomplishments seem to have no end.
We were required to appear before the judge every Monday, although I had been in the program long enough that I was only required to appear every two weeks. I had just written two letters to the Judge & to the CODC team – one (which I'd been invited to submit) my ideas on improve the court program (many which, since my graduation, were in fact implemented). The other letter presented my case for graduating. ‡ I went before the Judge one Monday, supremely confident. I felt that I had absolutely exceeded the expectations of the program – I'd certainly exceeded my own. I asked Justice Mills when I would be graduating, and she told me:
"You need to learn some humility."
Humility? Was that a requirement for graduating from the Program? I was later told by the CODC case manager that the team found me "arrogant."
I realized at that moment, standing before Justice Mills that neither she, nor the establishment she representative would ever see me, no matter how far I progressed, as anything more than a drunk, an "iller" and a criminal. If it were the old South, she would have called me an "uppity nigger." I was told later that certain members of teh Court thought that the program was "too easy" for me, that I would have been easier to take if I'd actually had a relapse or two.
So – the establishment found the shuffling, needy "Uncle Toms" of Co-Occurring Disorders easier to stomach than an empowered, "arrogant," enlightened one.
The problem was, I "didn't know my place." I wasn't acting helpless enough, troubled enough.
Uppity.
Now again – it was the Court Program that allowed me to grow to that level of potential, that re-parented me to success. As I said when I started, there should be more such courts, hospitals, out-patient programs, and community supports.
But – to be really offensive, let's again use the analogy of the Old South & its treatment of African Americans. Right now in Maine, there's a movement by the Powers that Be – the white coats (doctors, mental health workers, &c), the black coats (judgese, lawers, politicians, also referring to but not in this particular case undertakers), & the red coats (bleeding hearts) to empower our people. We were released from the tortures of the state hospitals some years back, but that never really worked out, of course due to the money They didn't want to spend. Now, they want to teach us a pseudo-empowerment, to help us set up a sort of mirror-culture which satires their own. There are lots of consumer councils no one listens to, and the social clubs are peer centers – it's all a sort of separate but equal.
Of course, you get the connection, true believers, to the Old South. Pseudo-empowered – but not in their neighborhoods, right? Some of us "field hands," are actually selected to work in the "big house," so to speak. They give us jobs on these councils or put us in front of TV cameras to show how well They take care of Their illers, &c. In my own case, I was always the kind of holistic soldier / iller-swiller-criminal easier for Them to stomach. I was well educated, well spoken, charming – much akin to the light-skinned black of the Old South. I allowed members of the establishment to be able to say, "Oh, I know one of THEM, he's not like what you usually think of when you think of THEM. He's quite enjoyable, actually."
And when you work in the big house and become a gray-coat (which is the Uncle Tom or Flava Flav of the dually disordered), you can easily convince yourself, as I once did, that they accept you as one of them. That you've moved across special borders to become a real Citizen! Yee hee!
Don't be fooled.
Begging for scraps at the master's table will only get you scraps. That's not what They eat.
We deserve more, but they're not going to give it to us – the poor, the iller, the piller, the swiller.
I am more than just a drunk, the cutter.
More than just an iller, more than
just a criminal.
I AM a patriot, and I am a soldier.
I am worthy, & so are you.
And I could keep going, but Hell – I already have.
Let me leave you with one more thing to Grok on. At Windham – throughout corrections, none of us with mental illness are on our normal regimen of medications. But – most of us have jobs – in the kitchens, cutting lumber, doing upholstery, fixing computers – for just $0.75 an hour – if we're lucky.
On the outside, we get lots of meds, and we're told that we can't work too much or we'll lose our benefits. We're taught to be happy getting a check for $700 a month, another $200 in food stamps, and a piece of shit one-bedroom apartment in the shittiest part of town. Thank god we have cable!
Does that make sense?
Okay, my next entry will be more personal – I'll try to lighten up. I'll focus on weight-lifting, and sodomy, and trying to bum teabags off of the wealthier inmates.
"Dear ones – it's here now or it never comes. It's here now."
– Bo Lozoff
– Rage
As spring rapidly approaches, I once again find myself in the mood for a good spring-cleaning.  However, inasmuch as I am a guest a the "Little Hilton on the Hill" (M.C.C.) and have little to clean of my own, I have decided to do spring cleaning for others.  Yep, ol' Bob Wire has decided to clean the skeletons out of the closet of M.C.C.  Further, in the tradition of the great gossip columnists I will clean out the closet in the form of "Ask Bob Wire" (I am, after all, a man-in-the-know, here at the Hilton.)
Disclaimer:  I cannot say with 1000% certainty that what follows is actually true, but this I can say:  a rumor is not a rumor that will not die!
Dear Bob Wire:  Is it true that a female C.O. here at M.C.C. made a sex video for the Internet off her getting the shit fucked out of her by a dog? Sincerely, Inmate X
Dear Inmate X:  That rumor is patently FALSE… it was vaginal sex.
Dear Bob W:  I was told that there was an inmate in here who actually once saw a female C.O. do a strip act at Pure Platinum in Portland.  Is there any truth to that rumor?  Thanks, Inmate Y.
Dear Y: That rumor is false!  All one has to do is look at the C.O. in question to know that can't be true, for the C.O. is less than 300lbs and has her teeth.  What kind of strip act would that be?  Duh!
Dear Bob Wire:  Is there any truth to the rumor that in 2007 a staff member here was caught with child porn on their computer?  Thanks, Inmate Geek.
Dear Geek:  It is true!  But, in the defense of the individual involved the pictures were rumored not to be for him, but for a calendar in a couple of dorms here at M.C.C.  Good question.  Keep sending them.
Dear BW:  Is it true that from time to time that C.O.'s   h  ave been inclined to bang female inmates at M.C.C.?  Thanks again, Bob Enzyte.
Dear Chubby:  That is a very good question indeed.  Yes!  In 2007, a couple of C.O.s were fired for having sex with female inmates.  It is a fetish sweeping the nation.  It's called captive sex!
Dear Bob:  Is it true that one time a member of the medical staff was fired for possession of cocaine and other narcotics while on duty?  Thank you, Ted Blow
Dear TB: Yes!  2007 was a very good year for C.O.'s thinking they are "all that" and above everybody else.  Ooooops!!
Dear BW:  Who is watching the watchers here at M.C.C.?  John
Dear John:  Beats the shit out of me!  I guess there are things that even the gods cannot understand!
Well, that is it for this months "Ask Bob Wire."  Keep the questions coming, because if ol' Bob here can't find out (or make up) the good answers, nobody can!
Readers of my blogging often write me and say (actually, they write these things, not say them, just for the record) things like: "Bob Wire you're a pretty negative dude."  Yet others write "Who stuck a stick up your ass to get you so pissed off at M.C.C.?"  Still others write:  "Bob, I could so do you in the ass right now!"  Okay, okay, the last one I made up, but it is lonely here!  However the point is this: people think I am a negative kind of guy!!
HELLO!!!  ME??? NEGATIVE???
Okay, I can be a bit negative, but I also have a positive side.  To show the world the wonderfully positive Bob Wire, I will expose Super Positive Bob to the blogging world.  I am going to make Norman Vincent Peale look like a prophet of doom.  To expose my positive outlook in the blogging world I thought I might offer MCC suggestions for the better operation of the facility.  Pissing and moaning aside, Here I Go!
To the medical department:  read the labels on the inmate's prescription cards.  I think you will find that they do not prescribe taking the medication at 7:30 am, 10:30 am and 10 pm.  see the problem here?  Three fucking hours between the first and second taking and 12 HOURS TIL THE THIRD… Hello!  Is it that hard to give the inmates their meds on a schedule that has the semblance of sanity attached to it?
To the administration:  in an attempt to save money, I suggest the following:  get rid of the C.O.(s) at Sally Port; leave the gates wide open.  What are you afraid of anyway?  That an inmate might escape from one fenced-in area with razor wire to another fenced-in area with razor wire?  The money saved on not having one C.O. could provide bologna sandwiches one day a week at chow…
To the Chow Hall:  Keep you know who (J.R. – dorm 5) last in line at chow.  No one likes his nose dripping all over everything including the food in the salad bar, the tables, the food line… nasty… you guys know his nose drips everywhere; do something about it… fucking nasty.
To the guys that plow snow:  try to put the fucking snow plow down on the ground when plowing.  It is fucking bad enough that we have to walk everywhere improperly dressed for the weather; we should not have to use our sneakers to pack the fucking snow down…
To those in charge of the living quarters:  Stand up to the punks, for God's sake.  Who is running this shit hole anyway?
Well, that was fun.  I got to be Mr. Positive and if the powers to be are like me (and I would like to think they are), they will take these suggestions to heart and we can all live happier, healthier lives together.
Bob Wire