You are currently browsing the category archive for the '#freedannyfortune' category.
Yea, there have been some crazy things up here. Somebody just got killed the other Day.
They're finally starting to give more programs, however, they are forcing us to take them, rather than offering them to us.
The last six months have been something else.
However, there has been a bright spot.
I would like to say a few words to C-Square Circle, of the Southern Tribe of RTW, Holistic Recovery Project: thank you for all the cards that you've sent to me. It means a lot to me to get them. It reminds me that I'm not forgotten. How are you guys? I hope that this letter finds yo healthy, wealthy and wise.. HaHaHa or at least as close to them as possible.
Is there anything I can do to help your Circle? I would like to send some love, support and good will back towards you all. Please don't hesitate to ask. My help might be limited, but whatever I can do I will. Your work matters and you are making a difference. So please stay safe on the outside. There is nothing fun, smart or cool about being locked up. Recognize and appreciate the joys of physical freedom. Hug and kiss your loved ones and tell them how much they mean to you.
As I am,
Prince
Write to Prince via:
Maine State Prison – Daniel Fortune – MDOC #86753
807 Cushing Road – Warren, Maine 04864-4600
How's Circle? It's always good to hear from y'all.
These last couple of months have been hard. I lost everything that I had worked for in one hour. I'm starting over at the bottom It's been a crazy couple months. The Warden came down to see me. He told me that if I didn't behave I was getting in a lot of trouble. They (I.P.S.) had been fucking with me for 2+ years, with no write-ups or charges. I was removed from the L.T.R. Board, placed in a disciplinary pod. I can't go to Rec. It's crazy. They kept treating me like I was acting up, so I started acting up. The Warden noticed and we had a hard talk. Now I'm starting from the bottom, but I'm in a way better place mentally, emotionally and spiritually. I had lost my way but I'm better now.
I want y'all to be better, because I'm doing better.
As I am,
Love,
Your brother, Prince.
Write to Danny via:
Maine State Prison – Daniel Fortune – MDOC #86753
807 Cushing Road – Warren, Maine 04864-4600
So, as I'm sure you can tell by the paper and the pen, I'm in the Box again.
So, yeah, Friday the 13th.  So it was a regular day and I was supposed to take my college readiness final.  Actually, I was supposed to take it last Tuesday, but I wasn't ready, so I pushed it back to Friday.
So, I'm up at the yard, and I see somebody who had done something he shouldn't have the last time I'd seen him.  So I looked at him.  He saw me.  I walked over to him, and we started shaking.  (When you shake, it's a really good fight.  If it's just so-so, it's just a fight.)  So,  mind you, this is right out in the middle of the gym.  He was standing 15-20 feet from a c/o, but he, the inmate, wasn't gonna move away from the c/o, so we got it on right there.  It was bloody.  He gave me my first-ever bloody nose (those are a bitch.  It bleeds a lot.)  and I split his eye, nose and lips.  Plus, his tooth got in the way of my hand, and split my knuckle to the bone.  It took stitches to close it.  Should've been more, but the doctor just pulled until it closed.  His eye got ten stitches.
We got maced with the big riot-fog cans.  They are about the size of a can of tennis balls.  That was unpleasant, to say the least.  I felt like I was on fire.
So, as you can imagine, I got lugged.  Now, they're saying I can go back to population sometime next week, but I have to be on a behavior plan.  I can't go to the yard for 30 days, except for school or religious purposes.  I have to have a room by the c/o's desk.
Just some juvenile bullshit.  It is  what it is, though.  I bought it, and I'ma pay for it.  It was something I felt I had to do, so I did it.  I'm not saying I'm right, but it's over now, and time only moves in one direction.
To change the subject, I just had the MOST AMAZING conversation I've ever had since I've been up here.  The person I was talking to was X.  He is one of the smartest people I've ever met.  I could write pages on him, but I won't.  I'ma just give you just one point of the convo.  He asks: What is a human, and what separates us from the animals.  Me, I don't know.  Answer:  the ability to dream.  Then we talked about the difference between dreams and ambitions.  Ambitions are something you want to do, have, and see (and get this, b/c it's mind-boggling.)  A dream is God talking to you.
A dream is God talking to you.
As I am,
Prince
Write to Prince via:
Maine State Prison – Daniel Fortune – MDOC #86753
807 Cushing Road – Warren, Maine 04864-4600
Write to Danny via:
Maine State Prison – Daniel Fortune – MDOC #86753
807 Cushing Road – Warren, Maine 04864-4600
There are things I thought I knew, and it turns out that my ideas and knowledge are that of a sheltered little boy.  Yeah, I know, I wouldn't have classified myself as sheltered either, but there is so much out there beyond me and the little I know.  Right now, my head is a mess.  I am battling the pain and horror of learning that childhood beliefs in the world and myself are false.  I am evolving, becoming so much smarter and stronger, but it is not easy.  I do not wish/want to return to the ignorance and naivety that defined me but I do recognize how ignorance is bliss.  I have had to learn some very painful truth about my abilities or lack of them in the last month or so.  It is all worth it though.  I am becoming the best I can be.  Which is doubly important so that when I come home I will be able to be successful and no, I am not trying to become a better criminal, even though knowledge is power.  Hahaha.
As I am,
Prince
Write Prince via:
Maine State Prison – Daniel Fortune  MDOC #86753
807 Cushing Road – Warren, Maine 04864-4600
What's really good?
Things have been kinda hectic  here lately.  Long story short: people don't realize that "real" muhfuckers live and die behind/over words.  Somebody said something and it had to be dealt with.  The person who said it was not prepared for the level of violence that the words caused.  So their friends stepped in so I stepped in for my man.  It was a bad situation for a while.  God forgive me but the adrenaline made me feel so alive.  Everything seems so much, well, "more: when you're on that tightrope between life and peace on one side, and bloodshed and pain on the other.
Racial tensions here are sky-high.  I imagine it's only a matter of time before there's a race riot.  There is so much ignorance and prejudice here.  There's prejudice on both sides, but in defense of the brothers, most of the whites they come in contact with are either outright racist or so ignorant of black culture that their comments and actions seem racist.  I have been blessed to have met so many amazing white people that I have been unpleasantly surprised about half the population up here.  Anyway, that's neither here not there, just the events of the past week have brought it all back into the spotlight.
As I am,
Prince
Write to Danny via:
Maine State Prison – Daniel Fortune – MDOC #86753
807 Cushing Road – Warren, Maine 04864-4600
Dear Peeps:
Mama-love always told me that nothing worth having is ever easy, and while that makes a lot of sense, it has also lead to a lot of spurned gifts.  Who knows how many blessings that I have undeserved or cheapened because I didn't have to work for them, not knowing that if they were given to me by the grace of God, then I could never earn them?
Hmm.  Food for thought.
No wonder why I usually fuck up my relationships with women.  It has always been so easy to get women.  So I work a little to make them fall in love with me.  I mind-fuck them 'til they love me.  Plus, my dick game (excuse the vulgarity) is something else – HaHaHa!
But then, when I have their love, two things happen:  I get bored because the challenge is gone and my inner insecurities start to emerge so I drive the women away so I don't get hurt when they leave.  Pretty stupid, huh?
I have my close male friends and then I couldn't care less about the rest of the guys in the world.  But women are a different story.  It seems like every woman I am close to, I try to seduce.  I need their love and to me, the ultimate proof of that is them giving me their bodies.  I make it worth it.  I've slept with 95 women and every one has come back for more.  Making love is a gift and a talent which through hard work (HaHaHa!) and lots of reading upon and practice I have become quite good.  Yet, to me, it can be and is most of the time as casual as shaking hands.  I'll fuck a woman before I kiss her – for some reason kissing implies more intimacy.  Anywayz, though, I'm starting to ramble.  I was starting this to tell you about my own problems with women so that maybe y'all could find something to help you.
I remain,
Prince
Write to Danny via:
Maine State Prison – Daniel Fortune – MDOC #86753
807 Cushing Road – Warren, Maine 04864-4600
As I am,
Prince
Write to Prince via:
Maine State Prison – Daniel Fortune – MDOC #86753
807 Cushing Road – Warren, Maine 04864-4600
24 January 2019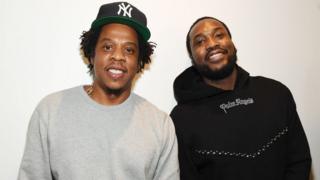 Jay-Z, Meek Mill and sport and business leaders have pledged $50m (£38m) to reform the US criminal justice system.
The Reform Alliance, which was inspired by Meek Mill's recent stint in prison for a minor probation violation, hopes to free one million prisoners in five years.
The owners of the New England Patriots and Philadelphia 76ers, Robert Kraft and Michael Rubin, are co-founders.
Reform says it wants to help people who are "trapped in the system".
The group's "mission" is to "dramatically reduce the number of people who are unjustly under the control of the criminal justice system, starting with probation and parole".
"To win, we will leverage our considerable resources to change laws, policies, hearts and minds," it says.
More than six million people can currently count themselves as part of the "correctional population" of the USA – which includes people in prisons and local jails, but is mostly made up of the more than four million people on probation or parole, according to Bureau of Justice statistics.
Probation is often given as a sentence instead of time in prison and can include conditions like being on a curfew or going to rehab.
Parole is when an inmate is released early from prison with similar conditions to probation.
Meek Mill has experienced all three: probation, parole and jail.
The Reform Alliance says his case is an example of the "devastating and long-lasting effects" that can occur after one interaction with the criminal justice system.
The rapper was arrested in 2007 – he says wrongfully – for drug and gun charges, aged 19.
He was sentenced in 2009 to between 11 and 23 months in county prison, but was released on parole after five months and put on house arrest.
It was during this time he started to make his name nationally as a rapper, signing to Rick Ross's label and releasing a string of hugely successful mixtapes.
Before long he was a platinum-selling artist.
But a parole violation for suspected cannabis use resulted in a ban on touring, and then after failing to get his travel plans approved by the court Meek was sentenced to prison again in 2014.
Examples of parole violations that can land people back in prison range from being late to appointments with parole officers or missing a curfew, to things more specific to the crime that was committed – like failing to attend an Alcoholics Anonymous meeting.
"When you talk about these so-called technical violations, it's not technical to the kid who can never see her mum again because she showed up late for a meeting. That's not technical, that's devastating for that individual child," Reform Alliance CEO Van Jones said.
Violations over the next few years resulted in his probation period being extended – it now lasts up until 2023 – as well as the five months in prison which ended in April 2018 and birthed the #FreeMeek movement.
It's people with a similar story to Meek's, that have been "caught up on probation and parole", that Reform says it wants to focus on first.
'If someone commits a crime they should go to jail'
"Being from the environment I'm from, I don't even think it's possible for you to be an angel," Meek said as the organisation was announced in New York.
"You grow up around murder on a daily basis, you grow up in drug-infested neighbourhoods.
"And every time I started to further my life with the music industry, there was always something that brought me back to ground zero," he said.
Pennsylvania Governor Tom Wolf, who attended the event, said he was a supporter of criminal justice reforms that are "fair, help our system work better and smarter, and save crucial taxpayer dollars while balancing public safety and victim concerns".
Across the US, roughly a third of people on parole are black, according to Bureau of Justice statistics – something Jay-Z raised at the event.
"We want to be very clear. If someone commits a crime they should go to jail. But these things are just disproportionate and the whole world knows it," he said.
Jay-Z has been vocal about Meek's case, writing in the New York Times while he was imprisoned.
"On the surface, this may look like the story of yet another criminal rapper who didn't smarten up and is back where he started," he wrote.
"What's happening to Meek Mill is just one example of how our criminal justice system entraps and harasses hundreds of thousands of black people every day.
"I saw this up close when I was growing up in Brooklyn during the 1970s and 1980s. Instead of a second chance, probation ends up being a land mine, with a random misstep bringing consequences greater than the crime. A person on probation can end up in jail over a technical violation like missing a curfew."