You are currently browsing the category archive for the 'inmate suicide' category.
I need to find a darkened corner,
A boundless corner,
Where I feel safe.
Where I'll feel warmer.
I'm crawling away.
Away from the hate, away from the storm.
I'm running away.
Away from the pain, away from the rage.
I'm flying away.
Away from the games, away from the dark,
The circumstances of a world so cold.
– Ember McLain
"That's the thing about suicide. Try as you might to remember how a person lived his life, you always end up thinking about how he ended it."
– Anderson Cooper

Ten years and a month ago, give or take a few days, I graduated, with little fanfare (a poinsettia and a chocolate orange) from Justice Nancy Mills' Kennebec County Co-Occurring Disorders Court. We called it C.O.D.C. But that's a prequel which, at the moment, exists only in outline, Bodhisattva.
Ten years and a month ago, give or take a few more days, I got arrested. Oh, yes! But then, isn't that how most of my best adventures end?
In this case, after graduating this strict alternative-to-sentencing court program, after nearly two years of participation with ever-clean urine tests and breathalyzers, no legal trouble, and without Nancy finding out about my twenty year old live in girl friend, I graduated, and days later, I started drinking. At night, of course. One night, I got into a fight with aforementioned girlfriend and we got a bit loud (she threw me down the stairs, hit me over the head with a guitar, bit my arm when I tried to restrain her.) Our fat, expatriate British neighbor, (was the fucker's name "Ted?") banged on the door (after calling the cops) and the girlfriend opens it, ends up scurrying next door to his apartment. And I was, well, drunk, so when the fat fuck told me to "GO TO YOUR APARTMENT!" I did. And the fuzz showed up, during this major snowstorm / shitstorm. Six deep.
Now, I may have been drunk, but I'd been through this before. I wasn't gonna say shit, although I apparently did agree with one of the cops when he called me "Kristopher." But then, it was one of my names, just not a legal one.
I never imagined that my girlfriend at the time would throw me under the bus. She did. It was like a twist of an ending.. the person you least expected is the one to bring the hero down. Off I went, at the request of my Rhode scholar probation officer, Mark Fortin, down to Kennebec County Correctional Facility (it was probably the same person who named the jail a correctional facility as the one who named a small, local college the "University" of Augusta. Sorry.)
I sat in holding and I remember thinking, this is it. I'm done. The president of the Holistic Recovery Project, drunk, and I was informed, in jail on a domestic!
That whore!
Ah, I thought. I'm screwed. Windham Prison bound.
But I wasn't, of course. Soldiers of the nation came in droves; some put money on the phone for me; Don Anton from Krypton generously put money on my books. And after repeatedly threatening suicide, one of my best friends ended up in the holding cell beside me, co-founder of the Project, Arthur Brian Traweek. Truedogg.
~
"The thought of suicide is a great consolation: by means of it one gets through many a dark night." 
― Nietzsche
~
Truedogg was a street survivor with borderline personality disorder, and he played the court team like a game of "Go Fish," his favorite card game. He had graduated a year before me and, never wanting to graduate in the first place, he had re-offended. He had a six months sentence for allegedly robbing some watches from a friend. Apparently, he'd been screaming suicide since arriving at the jail.
When they finally put me in a cell block, they put Truedogg with me. Karen, the porcine mental health worker at the jail told me: "We're gonna put him with you. That way, I know he'll be okay." He wasn't; none of us were. We were put into one of the classrooms which I later found was filthy with sex offenders; it wasn't your stereotypical cell block. This was more like a barracks – a classroom with one bathroom and shower filled with bunk beds. And skinners and peeps who threatened suicide; it was easier to watch everyone in a barracks style operation, and it's true – it they are actually watching.
My cousin Glen "Hawkeye" Bartlett ended up there too, and he and Truedogg and I passed the time, of course, playing cards. Or pantsing other convicts. Tired of constantly playing the prison favorite, "spades," out of boredom and desperation we began to play other card games, games from childhood like "Crazy Eights," "Concentration," "Old Maid," and "Go Fish." Truedogg's favorite game, I think I wrote a moment ago, was "Go Fish."
Truedogg was depressed, or playing depressed and we couldn't figure out why, I mean, he was doing six months, he'd be out in two, and being the Court favorite, he was going to be allowed back into the court program that he loved, or pretended to love, so much. We had the same lawyer, the mighty N. Seth Levy, and we had the same spiritual leader, also a member of the court team, soberati and zen-master, Peter Wohl. Seth of course visited both of us. Other members of the court team, only visited the Dogg. I wouldn't' find out why for years.
Peter later told me that Justice Mills (whom my probation officer Mark Fortin has assured me was quite pissed at me) had ordered the court team not to visit me.
Truedogg's girlfriend Whitney (who he'd met in a Crisis unit, of course,) was visiting him regularly as well; sometimes we'd both go down and see her at the same time, if Truedogg needed support. Truedogg was in the pokey, I don't know if I've told you, for stealing from a friend of his, a doctor whom he'd met one time in county. The dogg had apparently stolen some watches; there was an article about the crime in the paper, but our lawyer, Seth didn't want him looking at it. So, of course, Whitney mailed a copy to him anyway. It disturbed him.
In the article, the victim had claimed that, not only did Truedogg steal from him, but he also tried to hang him, something which the dog denied. I didn't know what to believe, but the Dogg was my friend, and making light of the situation, Whitney and I started calling him, "Hangman."
Foreshadowing.
Now, soon to rejoin the court program that he loved, the Dogg was required to go before Justice Mills on Mondays again, this time in chains. One Monday, he returned from court more down than usual. Justice Mills had asked him how he was doing, and the Dogg replied that he hated himself. And I forget what the answer was that she gave him, but it wasn't very nice. As I remember it, he was a bit teared up as we talked about it, over jailhouse decaf coffee. We'd had many talks since coming together in jail about God and Hell and sin and courts and love. I remember him asking me once if I thought that suicides go straight to Hell, and I told him that I didn't understand God, but I was quite sure that he wasn't so black and white.
I told him about my friends who'd successfully faked hangings.
That day, we talked about Court and how bad he felt for disappointing Justice Mills. I remember reassuring him, and praying with him. He said that he was gonna take a shower and I believe I told him that God loved him and so did I. Then, I sat down to watch "Law and Order" which happened every afternoon at 2pm. Truedogg wedged a streamer of toilet paper in the door-jam, something I hadn't seen him do before, but I assumed that it was just to let people know that he was in there. So people let him be; a guard, Guererra, I believe, checked the bathroom during his hourly checks. He overlooked what I would see.
Not long after, someone screamed. Bobby had gone into the bathroom to use the toilet, and now he was screaming and then another convict went in and then I heard Father Matthew bellow and then I went in and the Dogg was in the shower, fully clothed, hanging from a sheet he'd wrapped around the shower gear.
Hangman.
We took him down, me and this other kid, and pulled him out into the common area while someone else hit the button to alert the turnkeys.
The cops came running quickly (including Guererra, who'd pretended, apparently, to check the bathroom earlier.) The convicts were all ordered to stay on our cots. The cops started chest compressions, but I noticed they weren't doing rescue breaths. Later, maybe eleven minutes later, the prison doc shows up with a breath bag. No one had given Truedogg a rescue breath because they no one had the 75 cent plastic "seperater" which prevented lips from touching. I guess it was procedure – no separator, no rescue breaths. The sheriff himself came up as they worked on the dog, but, I mean, damn, when I pulled him out of the shower and lay him on the floor he was so cold, and his skin was already so pale.
Why didn't I start doing rescue breathing on the Dogg?
Why didn't I offer to? And I don't know and I've thought about that forever.
They moved us all down to the library while they did their thing at the crime scene. I don't remember much, except that it was cold, and we were left alone, and I remember freaking out on some kid because he'd remarked that all suicides go to Baptist Hell.
A young guard popped in at some point and casually told us that Truedogg was dead. A while later and some quacks connected with Crisis and Counseling and ergo the Court Team came in and tried to council us for ten minutes. Then they left and we were lead back to the classroom.
I don't remember what I felt; I remember Father Matthew reading to me from Sirach.. thank you, Father. One thing I did do was to write down what had happened, and to have all of the convicts sign it. ( You can find a copy of the letter at:
http://holisticrecoveryproject.org/truedogg.htm)
My cousin had been gone at the time of the self-crime and had a meltdown when he found out what had occurred. I'm trying to encourage him to write something about the Dogg, but hell, man, this guy took over what had been the Dogg's bunk and freaked out whenever a guard tried to reassign him. I think that one of the mental health workers got fired over some sort of confrontation with Hawk about the Dogg.
~
"What's wrong, Bob? Not enough twang in it for you?"
– Truedogg, on a negative comment concerning house music by Bob Fortin
~
Arthur Brian "Truedogg" Traweek and I met while in C.O.D.C. We also both had rooms at the same rooming house, but it took a while for us to warm up to each other. He seemed unfriendly, even kind of shady.
He wasn't. I'm not sure exactly how or when it happened, but we became close friends at some point. Every evening at around seven, Truedogg would come up to my room to discuss Christianity or the courts or the various programs we were mandated to attend. Truedogg admitted to me quite early that he suffered from borderline personality disorder, and that everything he was he'd learned by watching others. Watching.
Brian had a bad childhood. Bad. Abuse. He ended up in an orphanage, where other kids called him "Gomez." He was a racketeer though, even then, and sold other orphans contraband which he kept in behind a broken panel in the wall. At some point he became a runner; he chose the name "Wanderer" for himself; we started calling him Truedogg after hearing a song of the same name by Toby Mac. But, he was a wanderer. He got in trouble with the law, ans somehow ended up at a christian halfway house down south, "Love-Action Ministry" run by Miss Polly. Raised a Catholic, it was here that he became a Catholic hating extremist of a Protestant. It was also here that he was introduced to Miss Polly's "Twelve Steps to Wholeness." ("Wholeness," the Dogg explained, "Comes from the word 'Holiness'.") a christian twelve step format.
Brian was released at some point from Miss Polly's, although knowing him, I'm pretty sure that he didn't want to go. Once back up north, he actually did his best to get arrested. He would go into Hotels (the same ones where he slept, in the boiler rooms) steal a checkbook and then head to the bank to try to get caught cashing it. It took quite a long time, and of course, Brian gave most of the money away. It was while in Cumberland county jail that he would become good friends with his final victim.
Eventually, Truedogg made it up to Kennebec County and C.O.D.C. And he was able to play them like a game of crazy eights, but then, that's how he was made. He did a classic BPD game of being distant for a bit, then having a great "breakthrough" of opening up to the very person or persons he'd previously been so distant from. Justice Mills bought right into it, as did Zen-master Peter Wohl and the rest of the team. He convinced them (and maybe himself, although he was so good, it was impossible to tell) that he considered them his family, that he loved coming to court and never wanted to leave.
Awww…
By the time we became good friends, Truedogg had secured a job as a peer support specialist at the state mental hospital. He wouldn't drink any coffee but Starbucks, smoked basic lights, and once explained to me how to scrub your shoes clean. He loved house music and could go on and on about it – Chicago Swing, Boston Beat, Japtronic, etc. He and one of his brothers (a hip-hop DJ) went to a house party in Philly or Boston, and ended up getting chased out by some brothers who'd gotten viscous, the Dogg said, because they were listening to something like, "Jungle House" or something. Whatever it was he claimed that they were quite violent. The Dogg also introduced me to Christian House music, while spinning about in his car, the mini Jamaican flag hanging from the rear view.
Now, don't think that the dogg was a saint, because he wasn't, and his troubles usually involved women.
The "Jen" situation, the "Belinda" situation. Holy, Dogg! But despite his quirks, admittedly due to the abuse he'd suffered as a child, ( back when his friends called him "Nipsy,") he always brought a good message to our nighttime dharma talks. For the sake of brevity I'll stick to the wisdom he added to the Project.
~
"Step 13: Love was there all along. We realized that we had a spiritual relationship even when we didn't know it. We've always been worthy." – Recovery through Wholeness
~
When I started C.O.D.C. There was an A.A. Meeting held at Crisis and Counseling, the courts puppet mental health facility. When they moved locations, another member of the program, Jamie, wanted to start an A.A. Meeting in the vacated space. Jamie dropped out, but Truedogg picked up his slack. It was Truedogg who'd first introduced me to duel recovery anonymous, a 12-step program which focuses on both a persons addiction and their mental illness, and I was soon running two D.R.A. Groups a week. At first, we decided to make (coordinating with Mark "the worm-man" Rosenberg) it a D.R.A. Meeting, until one day the Dogg (who didn't trust the worm-man) suggested: "Why not make it all-recovery?" We received permission to start our own twelve step group from Justice Mills, and thanks to the Dogg it was to become Maine's first all-recovery program. I wrote most of the material on the floor of my room at the rooming house, working some stuff the Dogg had written into something a little more secular/humanistic. We used Miss Polly's twelve steps to Wholeness at our first group (Circle) and then, again, came up with our own on the floor of my boarding house room.
All that we knew, really, was A.A., and like N.A. We were coming really close to Bill W's twelve steps, with a word substituted here or there. I wanted us to be different, to have our own, unique twelve steps. To this end, it was the Dogg who came up with the term "Spiritual Relationship" instead of the hackneyed "higher power," "reconciliation" instead of "amends," and "parameters" instead of "traditions." Our version of the steps went from the banal (Step One: "We realized that things were fucked up." ) to the sacred: we had a thirteenth step. This too, I'd come up with on the floor of the room, but I got it from a conversation between Truedogg and one of my ex's. She was talking about a girl in the court program in a very denigrating way and they got into it about "worthiness." I remember the Dogg saying: "She's worthy. We are ALL worthy. Because we're born we're worthy." This has become one of the most important tenets of the Project and our step thirteen: "..we have always been worthy." or as I paraphrase it to peeps: "You've always been worthy. And anyone who's ever told you differently is a liar." And it's from the Dogg.
Eventually, the Dogg got into a relationship with a woman, and he was terrified about the possibility of sex, due to his abuse. We talked him through it, but, alas, the woman, after using him for his money, dumped him, and it killed him. Soon after he lost his job, went to stay with his friend from Cumberland County, stole his watches, maybe tried to hang him. I don't know.
But Truedogg's dead.
~
"Where there is a corpse, the vultures will gather." – Jesus Christ
~
I was told by various people that Justice Mills was pissed at me. I'd never made a connection with her; it was hard for me, developing a rapport with her so far away and so high up. It was like going to see the king. Furthermore, despite the fact that I was a major success in the program, I knew that Nancy didn't much care for me, and someone on the team, Peter told me, had been keeping me from graduating the program. I went in front of the bench one day after I'd given the team a letter listing my accomplishments and asking why I hadn't graduated. Justice Mills told me that I was arrogant and needed to learn some humility. It was then that I realized that, no matter what I did, how I dressed, how far I climbed, Nancy and the rest of the team would never think of me as any more than a common thug.
Really?
I know that Peter presided over a zen funeral for Truedogg. I wasn't there. The week previous it looked as though I'd be bailed out. We'd gone to court to get bail set and as luck would have it, my ex came and admitted her part in the whole thing. Bail was set a $1500, which my peeps could do. Then, mysteriously, I was told that it wasn't a lump sum, it was
$1500 per each of my two charges, and my peeps couldn't afford $3000. Whatever happened, the team successfully kept me away from the funeral.
There was a candle light vigil, but no action. We got to watch this crowd outside drinking real coffee and smoking cigarettes and none of them had come to see the dogg when he was alive. No action was taken against the jail; I believe Guererra was transferred as fast as a child molesting priest back in the 70s.
~
"You know me, from back in school, I'm White Rose, I'ma kill you. Razor blades, queen of spades,hangman's noose from Robin Rage…"
– Robin Raged, "I'ma kill You."
~
It is insanely difficult to write this.
When I got out, I was crazy with survivors guilt. I was seeing Truedogg in crowds in the light of day, dreaming of the ordeal at night. And the thing about suicide is that no one really wants to talk about it. And no one did. So, neither did I. The death of the dogg did something to me and it was bad to the point where, when I returned to jail en route to prison back in '09, I was relieved.
I still haven't' fully processed the Dogg's death. The closest I ever got was a song that I wrote for him while at Windham Prison, "the Executioners Song." Perhaps I'll play it for you in the next. No, I just carried whatever it caused with me, and sought out distractions from it and the way I felt, ghosts and everything. My last year in the ghetto, I knew more people, personally, who died from opiate addiction then I should even talk about, but, my friend, I haven't shed a tear for them, or anyone since the dogg.
Yes, of course I'll see someone abut this. I will. Swear.
I met with his family once, and for a while kept in touch with the Dogg's brother, Daniel, and I've spoken with the Dogg's son Justin about it. Once.
Okay, I'm just starting to spit out nonsense now, so I'm gonna close.. I just want y'all to remember my brother TrueDogg, okay.
I've asked my cousin Hawk to write something, but I'm sure he's as fucked in the head about the whole thing as I am, we'll see.
More next time, swear.
I love you all, okay, so, be safe, please.
Love and love and love and love,
Papa Rage
Truedogg, I miss you, man.
WARREN (BDN) — Three inmates have died within weeks at Maine State Prison, but officials there say the deaths aren't suspicious.
The Maine Department of Corrections is limited in what it can disclose publicly after an inmate dies in custody, but officials say the lack of information can lead to questions about the circumstances of those deaths.
"People's imaginations can run a little bit. But my hands are tied because we want to protect their privacy," Maine Department of Corrections Commissioner Randall Liberty said. "As commissioner, [medical privacy laws] make it difficult to indicate that a death was due to natural causes or a terminal illness. A lot of people assume that there was some sort of suspicious death."
On Dec. 3, a state inmate died just one month short of his scheduled release. Two days later an inmate serving a 75-year sentence for murder died. Then on Dec. 13 another inmate serving a sentence for murder died.
In all, eight state inmates died in custody in 2019 — the same number of inmate deaths as the previous year. All were in custody at Maine State Prison. Since 2014, the majority of inmate deaths have been from natural causes, Liberty said, though one is attributed to suicide. Another was killed at Bolduc Correctional Facility in June 2018 when an inmate allegedly strangled him in a fight over cigarettes. The inmate accused of the murder is slated to go on trial in May.
Following an inmate's death, DOC officials issue a public release that details the incident, including the inmate's name, age, time of death, former residence and information about their prison sentence. The cause of death is typically omitted. While the notifications might seem oversimplified, prison officials say they follow a robust protocol that involves numerous state agencies every time an inmate dies in custody.
Most inmate deaths within the DOC system occur at the Maine State Prison, according to Liberty, because the facility is the only one in the state that offers a hospice program for inmates with terminal illnesses. At that facility, Maine State Prison Det. Andrew Ames is responsible for investigating deaths that occur.
While the majority of deaths occur under staff supervision in the prison's infirmary, medical staff is immediately notified about deaths that happen in other parts of the facility. When an unresponsive inmate is found in their cell, for example, the corrections officer who found the individual will begin lifesaving procedures, such as CPR.
"If they can try to save that life, they absolutely try," Ames said. "We've had staff here perform CPR for more than 40 minutes in some cases."
If they're unable to revive the inmate, officials at the state medical examiner's office are notified, along with the Maine State Police and the Maine Attorney General's Office.
"A thorough and robust investigation is being conducted [when an inmate dies], there are checks and balances in place and we are doing everything we can to make sure the right thing is being done," Ames said.
Even if the inmate dies from natural causes in the infirmary and state police decline to investigate, the medical examiner always reviews the body to determine the cause of death, Ames said, and multiple agencies file reports with the attorney general's office.
Within an hour of an inmate's death, the individual's next of kin is contacted.
"It can be pretty contentious," Liberty said. "Sometimes the family member will say 'Thanks for the notification but please don't contact me again.'"
Once the medical examiner finishes a review, the body is released to the family. If they do not have the means for burial or cremation, the DOC has a budget to cremate the body and provide the remains to the family.
About 15 volunteer inmates support the hospice program at Maine State Prison, and provide care for terminally ill prisoners who are nearing the end of life.
"What I've seen happen often, for people who have been incarcerated for long periods of time, their community is the prison. That becomes almost family to them," Liberty said. "When someone passes in hospice care at the prison, there is a lot of nurturing, a lot of fellowship and a lot of humanity."

Write to Dirty via:
Maine State Prison – Michael McQuade – MDOC #82448
807 Cushing Road – Warren, Maine 04864-4699
University of New England students have created a program for jail staff and correction officers to help them deal with stress and other wellness issues
PORTLAND, Maine — Students at the University of New England are spending time at the Cumberland County Jail this week.
The students have created a program for jail staff and correction officers to help them deal with several issues. The biggest one…stress.
They're doing it not only for class credit, but because they say it's the right the thing to do.
All week UNE students, studying to be nurses, occupational therapists and trainers, will help the staff with nutrition, exercise and stress management.
In the stress management session there were all kind of sensory activities like making slime and stress balls, by stuffing flour into a balloon.
It's a  tool that will come in handy for corrections officer Chelsea Moore.
"There's a lot of stress looking over your shoulder. There's a lot of not knowing what's going to happen at any given second. That's probably the most tiring part of it" Moore says.
This is not the first time UNE students have been in the jail. They were there last year working with inmates, helping them with all kinds of wellness issues.
While there, they noticed the jail staff and correction officers could use some of the same services.
Kelly Pitre, who is studying occupational therapy at UNE, and will graduate next month, is spearheading this program, which is all volunteer.
"I feel like it's our turn to take care of them" Pitre says. "I'm passionate about it, it's a great way to put my skills to the test and help implement stress, well being, health and wellness."
Libby Alvin, who is set to graduate from UNE's nursing program next month says while she is busy with her school work, she looks forward to getting out in the community.
"It brings you back to why you're doing school and why you're working your butt off everyday in the library, to work with people and help make things better."
A kind gesture that's greatly appreciated.
"It's nice to know somebody thought of us. There's all this work, put into a whole week of them coming in and spending time with all shifts" says Moore.
Last year Cumberland County Sheriff Kevin Joyce awarded UNE students a Volunteer Appreciation Award for their work with inmates.
Desiree Fischer, a med tech at the Androscoggin County Jail in Auburn, wheels a medication cart down the hall on Wednesday. Between 30 and 61 percent of Maine?s 1,774 county jail inmates were prescribed at least one psychiatric medication, according to a survey conducted by the Bangor Daily News in August (Troy R. Bennett | BDN).
STATEWIDE (BDN) — A Maine judge makes the unprecedented decision to forcibly medicate a murder suspect with antipsychotic drugs. A violent, severely mentally ill patient is shipped to state prison after twice attacking staff members at Riverview Psychiatric Center.
Now Gov. Paul LePage, besieged with troubles at Riverview, has plans to send even more violent patients to prison, and proposes to spend millions to convert the prison facility in Windham to house mentally ill inmates.
These headlines point to a much deeper crisis in Maine. After a well-intentioned move decades ago to shift the care of the mentally ill away from psychiatric institutions, many Mainers can't find adequate care in their communities. They still end up institutionalized but now it's behind bars.
The ranks of inmates taking psychiatric medications in Maine's jails and prisons today once would have filled the state's largest hospitals for the mentally ill.
Between 30 and 61 percent of Maine's 1,774 county jail inmates were prescribed at least one psychiatric medication, according to a survey conducted by the Bangor Daily News in August. About a third of the 2,223 inmates in state prisons were taking drugs to manage their mental illness. At the Intensive Mental Health Unit at the state prison in Warren, all inmates were medicated at the time of the survey.
The figures are even higher at Maine's now consolidated youth corrections facility. More than half of all juvenile offenders, or 79 of the 127, took medications. Many of them are at high risk of returning to the prison system as adults, still in need of mental health treatment.
As high as those percentages are, they underrepresent the real population of inmates with mental illness, because the figure is nearly impossible to nail down.
County jail and corrections officials broadly agree that the rising volume of mentally ill patients is untenable. But counting prescriptions offers only a point-in-time snapshot of the problem. It also fails to account for offenders who are undiagnosed or have mental illnesses that don't require medication, or varying, facility-to-facility policies for dispensing medications.
Inmate advocates also contend that budget cuts have spurred jails and prisons to crack down on taxpayer-funded prescription drugs, leaving some prisoners unmedicated.
Penobscot County Sheriff Troy Morton said many of the people walking through his jail's doors are undoubtedly experiencing a mental health crisis, whether they have an official diagnosis or not. The need burdens everyone it touches from the sick individual to the law enforcement official apprehending them, from the jail taking custody to the taxpayer picking up the tab.
"There was a day when if a person was on the street yelling and screaming, [police] didn't know what to do with them, so they were charged with disorderly conduct, end of problem," Morton said. "But it wasn't the end of the problem. It was a temporary delay."
A moving target
After an arrest, inmates typically are asked about their mental health. Most correctional facilities follow National Commission on Correctional Health Care guidelines for initial screenings, which include a questionnaire that asks about current medications and thoughts of suicide.
Jail and prison staff do not make decisions about medical care, including for mental health problems, Morton said. All correctional facilities contract out for those services.
"We are not doctors," he said.
Screeners review the questionnaire, "triage it, and get them to a provider" if the inmate is on prescription medications when they enter jail, said Geoffrey Archambeau, CEO of Correctional Health Partners, a Denver, Colorado-based company that contracts with the Penobscot County Jail, the Kennebec County Jail and other facilities throughout the country.
If an undiagnosed person is in crisis, they are directed to a medical provider who can prescribe medications, if warranted, according to jail officials from across the state.
"Usually they have committed a crime due to not taking their medication," Knox County Sheriff Donna Dennison said in an email.
One reason the state has no current count of inmates with mental health diagnoses is because "it's not a searchable thing" since each jail uses a different computer management system, Archambeau said.
"Here's the problem: Nobody has real numbers," Morton said.
While the state has one centralized administrative system for all its facilities, called CORIS, it does not allow prison or Department of Corrections officials to query inmates' mental health records because of medical privacy laws, according to Deputy Commissioner Jody Breton.
Only the department's contracted medical provider, Correct Care Solutions, can search those records. John Newby, Correct Care regional vice president, found that in 2015, around 48 percent of juveniles and 34 percent of adult inmates were prescribed psych medications.
"For the State of Maine, we are actually below the national averages on prescribing of psychotropic medication," Newby said in an email to Breton that she forwarded to the Bangor Daily News.
Many inmates diagnosed with mental illness also have developed drug dependency from "self-medicating," according to Morton.
That often leaves jails serving as their region's largest detox and mental illness crisis centers, he said.
"My question is: Is that what corrections is supposed to be about?" said Morton, who started as a corrections officer in 1988. "Is that really how we should be treating people with mental illness and substance abuse? To me, this is really an expensive way to do it."
Cost pressures
Jails and prisons often fail to identify inmates with mental illness, according to an April 2014 report by two Texas doctors. Published in the American Journal of Public Health, the study examined a nationally representative sample of U.S. prisoners, finding that more than half who were taking medications for mental health conditions upon arrival failed to receive the drugs after incarceration.
"This lack of treatment continuity is partially attributable to screening procedures that do not result in treatment by a medical professional in prison," the report states. "This treatment discontinuity has the potential to affect both recidivism and health care costs on release from prison."
Joseph Jackson, who formed the Maine Prisoner Advocacy Coalition upon his release from prison two years ago, says many inmates go without drugs they need or receive "cheaper" substitutes.
When he was arrested for shooting another man in 1995 and locked up in county jail, Jackson was taking medication for depression.
"I was on one treatment going in and they got rid of that," said Jackson, who was the triggerman in a drug-related slaying in Lewiston on Easter morning 20 years ago that left one man dead. "It doesn't matter if you've been on one [prescription] for 20 years and it's been working well. They say it's because doctors on the outside are manipulated."
When he was eventually convicted of manslaughter later that year, Jackson entered the state prison system. Again, his prescription for depression changed.
"They gave me amitriptyline," Jackson said. "That is how, mostly, they dealt with us. They gave it away back then."
But today, the cost of medications has changed how correctional facilities dispense them.
"It depends on what those pills cost," said Jackson, who started a chapter of the NAACP and earned a college degree while behind bars. "They're going to give you the cheapest pills."
Providing substitute medications may help county and state pocketbooks, but Jackson describes that approach as an injustice against inmates.
At the Cumberland County Jail in Portland, inmates formerly received psychiatric medications upon request. But in 2011, the jail changed its policy "to only giving the medications when the inmate comes into the jail taking the medications and after being verified," Cumberland County Sheriff Kevin Joyce said in a recent email. "Or, when the doctors and/or psychologist believes that the medication is necessary."
That change saved the jail thousands of dollars per year on medication costs, he said. Other jails have instituted the same policy.
For his part, Archambeau, the medical contractor for the Penobscot County Jail, disputes the contention that cost drives decisions on which drugs are dispensed. PCJ spends about $40,000 a year close to 8 percent of its $525,000 annual medical budget on psychotropic medications.
Yet costs can vary by facility. What jail and prison leaders say they have in common is that they're doing all they can to accommodate inmates with mental illness.
Capt. Jeff Chute, Androscoggin County Jail administrator, said he has witnessed the transformation of county jails over the years. He started in law enforcement in 1984, joining the jail in 1995.
"We are de facto mental health facilities," Chute said. "Sometimes we're there to stabilize them. In order to prevent recidivism, we try to get them back on their meds."
The costs go beyond prescription drugs, according to Dennison, the Knox County sheriff. When hospitals are full, jail officials pull double duty.
"We have to have a guard sit one-on-one with this person," Dennison said. "Sad situation all around, not only for mental health folks but also for jails and officers."
Fewer beds
The housing of Maine's mentally ill in correctional facilities may be making headlines today, but the problem dates back decades, according to Sharon Sprague, superintendent of Dorothea Dix Psychiatric Center in Bangor.
Many of the country's psychiatric institutions downsized or closed starting in the 1950s, under a process known as deinstitutionalization. States intended to care for psychiatric patients in their local communities, but often failed to set up adequate services.
"When you consider we had 1,200 patients in 1970 and are down to 40 patients today, it says a lot," Sprague said of Dorothea Dix, which opened in 1901 as the Eastern Maine Insane Hospital. "Our capacity, if we were to fill all the units, is 51. That has been a huge change."
Riverview opened in 2004, replacing the Augusta Mental Health Institute, which began in 1840 as the Maine Insane Hospital. Riverview has dual roles: to treat violent offenders and to assess those charged with crimes to determine whether they understand the charges and are competent to stand trial.
Among the patients housed there today is Leroy Smith, who made headlines earlier this month after Kennebec County Superior Court Justice Donald Marden issued an order authorizing the state to medicate him for six months against his will in an attempt to restore his competency to stand trial.
Smith was charged on May 6, 2014, with killing and dismembering his father, 56-year-old Leroy Smith II, and initially was found not competent to stand trial. He is now receiving psychotropic medication and will return to court in April.
Meanwhile, Riverview is fighting a 2013 decertification for poor patient care, which resulted in $20 million in forfeited federal Medicaid funding.
LePage has said his plan to modify the Windham prison for mental health patients will help get Riverview recertified.
At its peak, Riverview had a capacity of 1,500.
Today, Maine has just a fraction of that number, with about 270 psychiatric beds statewide. Riverview accounts for 92 and Dorothea Dix has 51. The other 127 beds are split between Acadia Hospital in Bangor, Spring Harbor Hospital in Westbrook, and eight community hospitals that all limit patient stays to 30 days.
That's rarely enough to accommodate the need, experts say, even with Spring Harbor planning to reopen a dozen psychiatric beds after the recent award of $420,000 in state money. Such shortages are a problem in Maine and throughout the country, said Jenna Mehnert, executive director of National Alliance on Mental Illness in Maine, who came to Maine after working in Pennsylvania and New York.
"There aren't enough psychiatric beds. And sometimes when officers need to divert a person to the hospital there is no room, and they end up back on the streets in jail or the emergency room," she said.
Just compare the number of people in mental health institutions back in the 1970s to the populations in homeless shelters today, said Shawn Yardley, Bangor's former director of health and community services.
"It's an incredible correlation it's the same number of people. What we've done is move the need for that comprehensive service from mental institutions to homeless shelters, not very successfully and not in the best interest of anybody," he said.
Changing philosophies
In the past, the philosophy in prisons was to keep inmates with mental illness quiet until they completed their sentence, according to Dr. Dan Bannish, a psychologist at the state prison's Intensive Mental Health Unit. Now prisons are treating the illness, he said at the unit's opening in February 2014.
"It's not a hospital. It's an intensive mental health unit," Corrections Commissioner Joe Fitzpatrick said in December. "We really did want this for treatment purposes, not for management purposes. It's a critical piece and it's probably the most challenging piece."
A total of 70 inmates 39 from the Department of Corrections, 29 referred by county jails from across the state, and two from Riverview had been treated in the unit as of the end of January.
The number of suicidal behaviors has dropped considerably and self-abusive incidents among inmates in the program have fallen dramatically, he said.
Maine's county jails also have made changes.
Aroostook County has a mental health nurse practitioner to screen every inmate's case, said Sheriff Darrell Crandall.
Penobscot County Jail works with Acadia Hospital, which provides clinical services, including two hours of psychiatric services, each week.
Cumberland County Jail has two social workers and Androscoggin County Jail added a full-time social worker who helps inmates transition back into society in an effort to prevent recidivism, Chute said.
"We had to give up some positions for that," he said. "It was extremely necessary."
Chute, Crandall and Morton said law enforcement officers also have learned new ways to deal with people suffering from mental health problems.
The Portland Police Department has developed a specialized behavioral health response program, employing a special liaison who goes out on calls whenever mental illness is identified. The liaison also follows up with patients, conducts referrals and serves as a conduit between the department and behavioral health providers.
Mehnert said other departments should follow Portland's lead.
"We expect [law enforcement] to be social workers, and it's really not fair, and when they fail we demonize them," Mehnert said.
The National Alliance on Mental Illness Maine has spent years offering crisis intervention training to law enforcement and emergency responders from all over the state. Every police academy cadet in Maine also goes through that training, along with mental health first aid.
"A lot of this is educating the officers on the street trying to make sure [they can] identify if somebody is in mental health crisis or needs to be incarcerated for a crime," Mehnert said. "I think that is a crucial thing."
A smooth transition back into society is key to preventing criminals from reoffending, experts said. But those who are prescribed medication often struggle to pay for their drugs without a job or insurance coverage.
Most jails have transition programs in place, but funding for them often falls short of addressing the multiple factors that affect inmates' success on the outside, Morton said.
"It's crucial because if we only set up the mental health part of it, yet they don't have housing, or they don't have food or transportation, we're setting them up for failure," the Penobscot sheriff said.
"This is not a county jail issue," Morton said. "It's a societal issue."

Watch Full Show
The former chief medical officer of New York City jails has just published a remarkable new book about the health risks of incarceration. The book is titled "Life and Death in Rikers Island." Dr. Homer Venters offers unprecedented insight into what happens inside prison walls to create new health risks for incarcerated men and women, including neglect, blocked access to care, physical and sexual violence, and brutality by corrections officers. Venters further reveals that when prisoners become ill, are injured or even die in custody, the facts of the incident are often obscured. We speak to Dr. Venters and Jennifer Gonnerman, staff writer for The New Yorker magazine.
---
Transcript
This is a rush transcript. Copy may not be in its final form.
AMY GOODMAN: This is Democracy Now! I'm Amy Goodman. His name is synonymous with all that's wrong with the prison system: Kalief Browder. Kalief spent three years at Rikers Island jail in New York without charge. He was a 16-year-old high school sophomore when he was detained on suspicion of stealing a backpack. Browder never pleaded guilty, was never convicted. He maintained his innocence and requested a trial, but was only offered plea deals while the trial was repeatedly delayed. He was held at Rikers Island jail for three years, beaten by guards and prisoners alike. After enduring nearly 800 days in solitary confinement and abuses, Browder was only released when the case was dismissed. He committed suicide on June 6, 2015, at his home in the Bronx. He was 22 years old. Nearly four years later, the question remains: Why did Kalief have to die? Is there something inherently wrong with incarceration that makes it a health risk, sometimes with deadly consequences?
Well, a remarkable new book attempts to answer those questions as it shines a light on the health risks of imprisonment. The book is titled Life and Death in Rikers Island. Its author, Dr. Homer Venters, the former chief medical officer of New York City jails. He offers unprecedented insight into what happens inside prison walls to create new health risks for incarcerated men and women, including neglect, blocked access to care, physical and sexual violence, and brutality by corrections officers. Venters further reveals that when prisoners become ill or injured, or even die in custody, the facts of the incident are often obscured. He writes, quote, "[W]e work in settings that are designed and operated to keep the truth hidden. Detainees are beaten and threatened to prevent them from telling the truth about how they are injured, health staff are pressured to lie or omit details in their own documentation, and families experience systematic abuse and humiliation during the visitation process," unquote. The risks of jail are disproportionately harmful for people with behavioral health problems and for people of color, Venters explains. He concludes Rikers Island must close, and suggests how that should be done.
Well, Dr. Homer Venters joins us now, physician and former chief medical officer for New York City's Correctional Health Services. Again, his book, Life and Death in Rikers Island. He's currently senior health and justice fellow at Community Oriented Correctional Health Services and associate professor at New York University's College of Global Public Health. Also with us, Jennifer Gonnerman, staff writer for The New Yorker magazine. Her most recent piece is a review of Dr. Venters' book. It's called Life and Death in Rikers Island. "Do Jails Kill People?" is the name of her article.
Welcome you both to Democracy Now! OK, Dr. Venters, start off talking about why you wrote this book and how Kalief Browder's death relates to all of this.
DR. HOMER VENTERS: Well, early on in my time overseeing the health system in the New York City jails, it became clear that our job was not just to take care of people who were injured or address the medical problems people had, but that this system was conferring new health risks to our patients. So, our patients were getting hurt because of the way the jails were set up and run. And so, it was clear to my team and I that part of our mission had to be to use our tools as public health and epidemiology folks, as well as doctors and nurses, to document just what these health risks were and to report those out. And one of the things that over the years became clear is that those health risks, as you just stated, aren't meted out in a uniform fashion. People with behavioral health problems, people of color, our data show, were more likely to find themselves on the wrong end of these health risks.
AMY GOODMAN: Talk about why prisons are lethal. Talk about Rikers Island, for example.
DR. HOMER VENTERS: Well, we can start with the first and most serious health risk, which is death. It's clear that there are many preventable, or what we would call jail-attributable, deaths that happen. We worked hard to document those while I was leading the health service in the New York City jails, but there are many others. So, for instance, people that we know who are coming in with very serious health problems—diabetes or hepatitis C or needing dialysis—who then are denied those services, despite the fact that we have them available; people who are exposed to solitary confinement, not just the isolation, but the brutality and violence associated with it, who do take extreme measures to get away from the distress that that setting causes—those are things that were conferred to those people.
AMY GOODMAN: Tell us the story of Carlos Mercado and Angel Ramirez.
DR. HOMER VENTERS: So, those are two patients who, as have been publicly reported, entered into the jail system with clearly identified health problems, one with diabetes and one undergoing withdrawal. And as has been reported in the press, they both, despite having clearly communicated their problems and even having their problems elicited and understood by quite a few people in the jails, received a punishment response and a neglect response that led to their death, even though they were in a system that was able to provide them the healthcare they needed.
AMY GOODMAN: So what happens to a prisoner when they're sick? You also talk about the tension between the doctors, the nurses—the health professionals—and the guards.
DR. HOMER VENTERS: In the best of circumstances, the correctional officers, who are with our patients all the time—you know, they see and interact with people much more than we do in the health service—they determine that somebody is ill and they need help, or somebody just reports, "I don't feel well," then they're taken to medical care, and they get the appropriate level of medical care. They're transferred to the hospital if they need something that the jails can't provide.
In the worst circumstance—and there are some situations that actually hardwire in this less ideal response—people aren't able to say that they're sick or that they feel well, or when they do, they're not believed, and so they're kept in a chaotic intake pen, or they're kept in a solitary confinement cell, even though they're saying, clearly, "I need insulin," or "I'm sick," or "I've just swallowed something that could kill me," and then they're denied access to healthcare.
And then, finally, I would say that because of the pressure of dual loyalty, this really crushing and very omnipresent ethical problem, human rights problem, in correctional health, that even when they do make it to the health service, sometimes the doctor or nurse or social worker in front of them is acting more as an agent of the security service than as a healthcare provider.
AMY GOODMAN: Talk about your own experiences. You entered the jails in what? 2008?
DR. HOMER VENTERS: Yes.
AMY GOODMAN: About a decade ago?
DR. HOMER VENTERS: Yes.
AMY GOODMAN: What did you find there? What shocked you most?
DR. HOMER VENTERS: I believe that what—one of the things that shocked me the most was the high level of injury and injury associated with violence. Certainly, all physicians and healthcare people, we have experience taking care of injuries. But so many of our patients were coming to us with injuries, and so many of them were saying that these injuries were from things called slip and falls. So, you know, patients that come with a fracture to the jaw, a very—you know, very serious injury, or a fracture of the upper arm or the leg, and then saying that they had slipped and fallen—things that just did not—you know, we didn't believe. But also, it was clear, when you interacted with these patients, that they were terrified and that they, actually, in that moment, were thinking very clearly about their survival and their preservation. And so, it makes a very difficult proposition for a doctor or nurse.
AMY GOODMAN: So, you set up an injury surveillance system?
DR. HOMER VENTERS: That's right. Shortly before I arrived, Christopher Robinson, another young man who died in that same jail that Kalief Browder was held in, he had been beaten to death. And so, when I did arrive and started with the Correctional Health Service, we set about understanding how many other people were injured, especially adolescents. And we saw lots of jaw fractures and hand fractures. And so, at first we were dealing with paper records, but then we quickly implemented in the New York City jail system an electronic medical record. But we were able to modify that in really major ways, so that we could capture data not just about the type of injury people had, but about whether or not it was intentional. Did it happen during a use of force? Was there a blow to the head? Then we could use that data to report out to others, not just in the correctional service or the city, but outside parties that might be interested, what the rates of injury were, so that we had empirical data to show that brutality and injury was in fact a real crisis for our patients.
AMY GOODMAN: Describe what would happen when you would send an email to the DOC, to the Department of Corrections, to upgrade an injury, to upgrade what you saw.
DR. HOMER VENTERS: Well, the injury reporting system on the health side, as I mentioned, we built a pretty sophisticated electronic medical record system. On the security side, it required paper, pieces of paper, injury reports, to be updated and amended actually on an individual piece of paper. So, when I would find a patient, as I often would, who had an injury that was more serious than initially reported, or that the circumstances of the injury were different than was originally reported, unlike in healthcare, where we want all information to lead us to the quickest, best outcome for the patient, these paper forms then would be put back in my face, and people would say, "Listen, you have to find the original doctor or go to the original jail. Go find this piece of paper"—that nobody can find. "That's the proper way to get this addressed, not simply to tell us that, just because you're a doctor or a health administrator, you think something else happened."
AMY GOODMAN: Why is there so little transparency? Talk about the silent complicity you describe.
DR. HOMER VENTERS: You know, these are paramilitary settings. And so, the health service, in most of these places, even when we have an independent health authority, we still rely on the correctional staff for our safety and security. And so, as such, because there isn't a lot of mandated transparency about health outcomes, about the true characteristics of injuries, for instance, at the time we were doing this work, most of the system is designed to keep information on the inside, so that anybody who wants to change the original account, whether it's a patient or a doctor or a nurse, faces a real gauntlet of challenges, that not only are bureaucratic and administrative, but actually could put their own personal safety at risk.
AMY GOODMAN: We're going to break and then come back to this discussion and bring in Jennifer Gonnerman, who wrote the review of your piece for The New Yorker—the review of your book. Dr. Homer Venters' book is called Life and Death in Rikers Island. Stay with us.
[break]
AMY GOODMAN: "Blue Prelude" by Ethel Ennis, Baltimore's "First Lady of Jazz." She passed away February 17th at the age of 86. This is Democracy Now!, democracynow.org, The War and Peace Report.
I want to turn to Kalief Browder in his own words. Kalief Browder, of course, is the—well, was 16 when he was arrested and sent to Rikers Island. He ended up being there for three years, much of that time in solitary confinement, without charge. He was arrested when he was a high school sophomore. Police believed—they said that he stole a backpack, but could never come up with the person who made the accusation, who they drove around a neighbor, and the person pointed out Kalief walking on the street. And then that person just disappeared. Kalief would not plead in prison, because he said he was taught not to lie, and he said he was innocent. Held for three years, much of that time in solitary confinement. He said that while he was in solitary confinement at Rikers, the guards often refused to give him his meals.
KALIEF BROWDER: If you say anything that could tick them off any type of way, some of them, which is a lot of them, what they do is they starve you. They won't feed you. And it's already hard in there, because if you get the three trays that you get every day, you're still hungry, because I guess that's part of the punishment. So, if they starve you one tray, that could really make an impact on you. And—
MARC LAMONT HILL: How much were you starved?
KALIEF BROWDER: I was starved a lot. I can't even—I can't even count.
AMY GOODMAN: So, that was Kalief Browder speaking on HuffPost Live, when it was around. He died within two years after this interview. He took his own life. He went on to say he was once starved four times in a row—no breakfast, lunch, dinner or breakfast again. After enduring nearly 800 days in solitary, Browder was only released when the case was dismissed. Browder took his own life June 6, 2015, at his home in the Bronx. He was 22 years old. He was a student at Bronx Community College.
Jennifer Gonnerman wrote a lot about his case for The New Yorker and exposed videos that were gotten from the inside of Rikers showing him being beaten by guards and prisoners alike.
Jennifer, you have covered the prison system a lot. And you were really taken with this book, Life and Death in Rikers Island, and wrote a review of it for The New Yorker.
JENNIFER GONNERMAN: Yeah, you know, I saw an early copy of this book in December. And a lot of books come in. You know, as a reporter, you get a lot of—often get a lot of books and people who want publicity. I started reading this book, and I really couldn't put it down. I thought it was so important, crucially important. And I feel like it covers one of the most overlooked aspects of mass incarceration. I mean, mass incarceration has gotten a lot of attention in recent years. But what—the health risks that folks endure when they go inside is something that I feel needs much more attention. And I think, as a society, we've sort of grown numb to these headlines, like an individual died in prison or jail, and we don't really follow up with the necessary questions. And what Dr. Venters' book does is really pushes us to ask those harder questions, like: Did this death have to happen? Was it preventable? Did something happen in the jail that led to this individual's death? And those are the kind of questions the public—and journalists, in particular—really need to be asking.
AMY GOODMAN: Tell us the case of Ronald Spear.
JENNIFER GONNERMAN: Ronald Spear is one of the gentlemen in the book. He was in Rikers Island. He was in his fifties. He was a kidney dialysis patient. In 2012, one night, he felt very ill and tried to get the attention of the doctor. He was housed in the infirmary on Rikers Island. There was a medical office next door to his dorm. He snuck out of the dorm to get into the hall to get to the medical office, and the doctor told him—you know, a guard stopped him, and the doctor said, "You have to keep waiting." He had been waiting for hours. The officer, the correction officer, and Mr. Spear got into an altercation, which ended with two other guards coming in and restraining him on the floor. And that would have been the end of the situation, but then the first officer, whose name is Brian Coll, came in and kicked Mr. Spear in the head repeatedly, and he died right there on the floor. This case was covered up, lied about for years, until, finally, federal prosecutors in the Southern District in Manhattan brought a prosecution against the officer. And he went on trial in 2016. So I sat through the trial. And obviously the focus was on what this officer did and didn't do.
But one of the subtexts of that court case was what the medical staff was doing at the time. So, this crime took place in the hallway right outside the medical offices, and the nurse got on the stand and said, when she heard the altercation in the hallway, she opened her door, and then she shut her door, and that she had sort of been taught to do that. It's almost like an unofficial rule on Rikers Island. And the doctor who was on duty and hears all of this commotion going on in the hallway, he was sitting in his office and never looked out the window, never opened the door, testified to all of this, and only opened his door after the whole thing was over, and somebody knocked on the door—I believe it was a captain—and said, "Can you come out here and, you know, help?" And at that point, Mr. Spear is on the floor, in handcuffs, face down and no pulse. And so, essentially, this homicide took place within feet of the medical staff. And that always stuck with me. And, you know, this idea of an unofficial rule of averting your eyes when there's an altercation between correction officers and inmates is something that actually shows up in Dr. Venters' book also.
AMY GOODMAN: You say that 112 people died in New York City jails between 2010 and 2016. That's like almost what? Twenty a year.
JENNIFER GONNERMAN: More, probably, in some years, right? Yeah.
DR. HOMER VENTERS: Some years, yes.
AMY GOODMAN: So, what is society's responsibility here?
DR. HOMER VENTERS: I think that there are really very large policy decisions that have been made to keep these deaths and injuries hidden. And so, to undo these problems is not simply a matter of a little bit of training for one group of staff or another. It is that we have to establish medical systems that work not only to care for the patients and their health problems, but also to collect the data we do in the rest of the country, and report it out. We also need independent oversight. We're fortunate in New York City to have the Board of Correction, an incredibly vital institution that really doesn't exist in most of the other 3,000 counties in the States. But they need to be supported and the independence to make sure that the health service and the correctional service adhere to rules.
AMY GOODMAN: Dr. Venters, you also say Rikers should be closed.
DR. HOMER VENTERS: Absolutely.
AMY GOODMAN: Is it happening fast enough?
DR. HOMER VENTERS: Well, so, the Mayor's Office of Criminal Justice, led by Liz Glazer, is doing an amazing amount of work to come up with the actual planning that can make it happen. But this is a political question. To close Rikers Island, one of the—
AMY GOODMAN: How many people does it imprison?
DR. HOMER VENTERS: The jail system today has about—has under 9,000. But we really need to get down to 5,000 or so, which means building at least another borough jail.
AMY GOODMAN: You write, the health risks that are faced, particularly by people with behavioral problems, in prison—talk about that.
DR. HOMER VENTERS: Yeah, I think that the most extreme example, that's really an obscenity, is the notion that people who exhibit symptoms of mental health problems would be then put into solitary confinement, where we know that they'll get worse and often die. And so, the idea that we had a solitary confinement unit for people with mental illness in the New York City jails until 2014 is horrific. It's not—that's not a lack of resources. That's not a lack of thought. Thought went into it. And so, where Jason Echevarria and others died, you know, that was an affirmative decision. So, undoing those bad decisions, coming up with a more clinically appropriate, a therapeutic model, in most cases, means not having people in jail. It means having people in a community setting, that's an actual healthcare setting. We built alternative models in the New York City jails, these units, the CAPS and PACEunits, these very therapeutic units, but they're incredibly expensive—couple million dollars a year for 20 patients. And every aspect of those units would be more effective if they were not in the jails.
AMY GOODMAN: Mass incarceration in this country has been taken on by grassroots activists now for years. And it's certainly reading, I think, a—reaching a tipping point, where you have people across the political spectrum saying we have the largest prison population in the world. How can this be changed?
DR. HOMER VENTERS: I think that one of—there's an important voice that needs to be brought to this, which is healthcare systems, health insurance companies, because keep in mind that while most people don't die in jail or prison, many people are coming home with physical and psychological damage from these settings. And the care they need—which they may have struggle to access, but the care they need is going to be provided by community hospitals. Just take the example of traumatic brain injury. We documented all of the hidden traumatic brain injury just in the New York City jail systems. That increases the risk of those people for dementia and CTEdown the road, that is incredibly costly to them and their families.
AMY GOODMAN: How do people on the outside get access to this information on the inside, particularly families of people who are in prison?
DR. HOMER VENTERS: So, I think that it is—these systems are designed to keep the truth from—certainly from families, who are, you know, lied to all the time. And from—but I think that it's incredibly important to have aggressive journalism. But also, I think that some of the structures that exist in New York City should be replicated elsewhere, so having a board of correction or an oversight agency that demands data. Having investigative journalists that dig into individual deaths is incredibly important.
AMY GOODMAN: Steve Coll just wrote a new piece in The New Yorker, "The Jail Health-Care Crisis," talking about the opioid epidemic, among other things.
DR. HOMER VENTERS: Yeah, I think that that's a—that is also a very good example, that most jails and prisons, people don't have access to evidence-based addiction care. So, many people end up incarcerated because of an addiction problem. Then, because they're denied access to buprenorphine and methadone, they leave, and, we know—we have documented, here in New York City—their risk of death when they leave is much higher. Now, in New York City, we have a methadone program and a buprenorphine program for people who are incarcerated, but very few jails around the country have that.
AMY GOODMAN: And, Jennifer Gonnerman, what gives you the most hope as you continue to cover the prison-industrial complex?
JENNIFER GONNERMAN: Well, you know, as you were mentioning, there's a lot of activists that have taken up this cause, which is fantastic, because, you know, back in the '90s, the 2000s, you just didn't see that level of interest or enthusiasm in activism for taking on these really challenging topics. That gives me hope. And also folks like Dr. Venters, people who have been on the inside, who have witnessed horrific things, and then have the wherewithal and the courage and take the time to really record them, so the rest of us can really, truly get a much better understanding of what's going on behind bars.
AMY GOODMAN: And the access to information you, as a journalist, have, getting—for example, you leaked these videos of what was taking place with Kalief being beaten, the videos that are taken, the surveillance system within prison?
JENNIFER GONNERMAN: Right. You know, that was very unusual. You know, there is very little video footage that has come out of—from prisons around the country, despite there being a number of surveillance cameras. You know, like Dr. Venters said, the truth is hidden. It's intentionally hidden. It's very difficult—you know, reporting on what's going on inside of jails and prisons is very difficult. But, obviously, the more journalists who are taking on the challenge, the more we're going to get to the heart of what the truth is.
AMY GOODMAN: I want to thank you both for being with us. Dr. Homer Venters, former chief medical officer for New York City's Correctional Health Services. His new book, Life and Death in Rikers Island. And Jennifer Gonnerman, staff writer for The New Yorker magazine. We'll link to her piece, "Do Jails Kill People?"
24 January 2019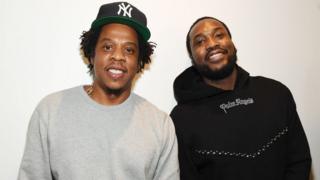 Jay-Z, Meek Mill and sport and business leaders have pledged $50m (£38m) to reform the US criminal justice system.
The Reform Alliance, which was inspired by Meek Mill's recent stint in prison for a minor probation violation, hopes to free one million prisoners in five years.
The owners of the New England Patriots and Philadelphia 76ers, Robert Kraft and Michael Rubin, are co-founders.
Reform says it wants to help people who are "trapped in the system".
The group's "mission" is to "dramatically reduce the number of people who are unjustly under the control of the criminal justice system, starting with probation and parole".
"To win, we will leverage our considerable resources to change laws, policies, hearts and minds," it says.
More than six million people can currently count themselves as part of the "correctional population" of the USA – which includes people in prisons and local jails, but is mostly made up of the more than four million people on probation or parole, according to Bureau of Justice statistics.
Probation is often given as a sentence instead of time in prison and can include conditions like being on a curfew or going to rehab.
Parole is when an inmate is released early from prison with similar conditions to probation.
Meek Mill has experienced all three: probation, parole and jail.
The Reform Alliance says his case is an example of the "devastating and long-lasting effects" that can occur after one interaction with the criminal justice system.
The rapper was arrested in 2007 – he says wrongfully – for drug and gun charges, aged 19.
He was sentenced in 2009 to between 11 and 23 months in county prison, but was released on parole after five months and put on house arrest.
It was during this time he started to make his name nationally as a rapper, signing to Rick Ross's label and releasing a string of hugely successful mixtapes.
Before long he was a platinum-selling artist.
But a parole violation for suspected cannabis use resulted in a ban on touring, and then after failing to get his travel plans approved by the court Meek was sentenced to prison again in 2014.
Examples of parole violations that can land people back in prison range from being late to appointments with parole officers or missing a curfew, to things more specific to the crime that was committed – like failing to attend an Alcoholics Anonymous meeting.
"When you talk about these so-called technical violations, it's not technical to the kid who can never see her mum again because she showed up late for a meeting. That's not technical, that's devastating for that individual child," Reform Alliance CEO Van Jones said.
Violations over the next few years resulted in his probation period being extended – it now lasts up until 2023 – as well as the five months in prison which ended in April 2018 and birthed the #FreeMeek movement.
It's people with a similar story to Meek's, that have been "caught up on probation and parole", that Reform says it wants to focus on first.
'If someone commits a crime they should go to jail'
"Being from the environment I'm from, I don't even think it's possible for you to be an angel," Meek said as the organisation was announced in New York.
"You grow up around murder on a daily basis, you grow up in drug-infested neighbourhoods.
"And every time I started to further my life with the music industry, there was always something that brought me back to ground zero," he said.
Pennsylvania Governor Tom Wolf, who attended the event, said he was a supporter of criminal justice reforms that are "fair, help our system work better and smarter, and save crucial taxpayer dollars while balancing public safety and victim concerns".
Across the US, roughly a third of people on parole are black, according to Bureau of Justice statistics – something Jay-Z raised at the event.
"We want to be very clear. If someone commits a crime they should go to jail. But these things are just disproportionate and the whole world knows it," he said.
Jay-Z has been vocal about Meek's case, writing in the New York Times while he was imprisoned.
"On the surface, this may look like the story of yet another criminal rapper who didn't smarten up and is back where he started," he wrote.
"What's happening to Meek Mill is just one example of how our criminal justice system entraps and harasses hundreds of thousands of black people every day.
"I saw this up close when I was growing up in Brooklyn during the 1970s and 1980s. Instead of a second chance, probation ends up being a land mine, with a random misstep bringing consequences greater than the crime. A person on probation can end up in jail over a technical violation like missing a curfew."