You are currently browsing the category archive for the 'Kennebec County Correctional Facility' category.
"That's the thing about suicide. Try as you might to remember how a person lived his life, you always end up thinking about how he ended it."
– Anderson Cooper

Ten years and a month ago, give or take a few days, I graduated, with little fanfare (a poinsettia and a chocolate orange) from Justice Nancy Mills' Kennebec County Co-Occurring Disorders Court. We called it C.O.D.C. But that's a prequel which, at the moment, exists only in outline, Bodhisattva.
Ten years and a month ago, give or take a few more days, I got arrested. Oh, yes! But then, isn't that how most of my best adventures end?
In this case, after graduating this strict alternative-to-sentencing court program, after nearly two years of participation with ever-clean urine tests and breathalyzers, no legal trouble, and without Nancy finding out about my twenty year old live in girl friend, I graduated, and days later, I started drinking. At night, of course. One night, I got into a fight with aforementioned girlfriend and we got a bit loud (she threw me down the stairs, hit me over the head with a guitar, bit my arm when I tried to restrain her.) Our fat, expatriate British neighbor, (was the fucker's name "Ted?") banged on the door (after calling the cops) and the girlfriend opens it, ends up scurrying next door to his apartment. And I was, well, drunk, so when the fat fuck told me to "GO TO YOUR APARTMENT!" I did. And the fuzz showed up, during this major snowstorm / shitstorm. Six deep.
Now, I may have been drunk, but I'd been through this before. I wasn't gonna say shit, although I apparently did agree with one of the cops when he called me "Kristopher." But then, it was one of my names, just not a legal one.
I never imagined that my girlfriend at the time would throw me under the bus. She did. It was like a twist of an ending.. the person you least expected is the one to bring the hero down. Off I went, at the request of my Rhode scholar probation officer, Mark Fortin, down to Kennebec County Correctional Facility (it was probably the same person who named the jail a correctional facility as the one who named a small, local college the "University" of Augusta. Sorry.)
I sat in holding and I remember thinking, this is it. I'm done. The president of the Holistic Recovery Project, drunk, and I was informed, in jail on a domestic!
That whore!
Ah, I thought. I'm screwed. Windham Prison bound.
But I wasn't, of course. Soldiers of the nation came in droves; some put money on the phone for me; Don Anton from Krypton generously put money on my books. And after repeatedly threatening suicide, one of my best friends ended up in the holding cell beside me, co-founder of the Project, Arthur Brian Traweek. Truedogg.
~
"The thought of suicide is a great consolation: by means of it one gets through many a dark night." 
― Nietzsche
~
Truedogg was a street survivor with borderline personality disorder, and he played the court team like a game of "Go Fish," his favorite card game. He had graduated a year before me and, never wanting to graduate in the first place, he had re-offended. He had a six months sentence for allegedly robbing some watches from a friend. Apparently, he'd been screaming suicide since arriving at the jail.
When they finally put me in a cell block, they put Truedogg with me. Karen, the porcine mental health worker at the jail told me: "We're gonna put him with you. That way, I know he'll be okay." He wasn't; none of us were. We were put into one of the classrooms which I later found was filthy with sex offenders; it wasn't your stereotypical cell block. This was more like a barracks – a classroom with one bathroom and shower filled with bunk beds. And skinners and peeps who threatened suicide; it was easier to watch everyone in a barracks style operation, and it's true – it they are actually watching.
My cousin Glen "Hawkeye" Bartlett ended up there too, and he and Truedogg and I passed the time, of course, playing cards. Or pantsing other convicts. Tired of constantly playing the prison favorite, "spades," out of boredom and desperation we began to play other card games, games from childhood like "Crazy Eights," "Concentration," "Old Maid," and "Go Fish." Truedogg's favorite game, I think I wrote a moment ago, was "Go Fish."
Truedogg was depressed, or playing depressed and we couldn't figure out why, I mean, he was doing six months, he'd be out in two, and being the Court favorite, he was going to be allowed back into the court program that he loved, or pretended to love, so much. We had the same lawyer, the mighty N. Seth Levy, and we had the same spiritual leader, also a member of the court team, soberati and zen-master, Peter Wohl. Seth of course visited both of us. Other members of the court team, only visited the Dogg. I wouldn't' find out why for years.
Peter later told me that Justice Mills (whom my probation officer Mark Fortin has assured me was quite pissed at me) had ordered the court team not to visit me.
Truedogg's girlfriend Whitney (who he'd met in a Crisis unit, of course,) was visiting him regularly as well; sometimes we'd both go down and see her at the same time, if Truedogg needed support. Truedogg was in the pokey, I don't know if I've told you, for stealing from a friend of his, a doctor whom he'd met one time in county. The dogg had apparently stolen some watches; there was an article about the crime in the paper, but our lawyer, Seth didn't want him looking at it. So, of course, Whitney mailed a copy to him anyway. It disturbed him.
In the article, the victim had claimed that, not only did Truedogg steal from him, but he also tried to hang him, something which the dog denied. I didn't know what to believe, but the Dogg was my friend, and making light of the situation, Whitney and I started calling him, "Hangman."
Foreshadowing.
Now, soon to rejoin the court program that he loved, the Dogg was required to go before Justice Mills on Mondays again, this time in chains. One Monday, he returned from court more down than usual. Justice Mills had asked him how he was doing, and the Dogg replied that he hated himself. And I forget what the answer was that she gave him, but it wasn't very nice. As I remember it, he was a bit teared up as we talked about it, over jailhouse decaf coffee. We'd had many talks since coming together in jail about God and Hell and sin and courts and love. I remember him asking me once if I thought that suicides go straight to Hell, and I told him that I didn't understand God, but I was quite sure that he wasn't so black and white.
I told him about my friends who'd successfully faked hangings.
That day, we talked about Court and how bad he felt for disappointing Justice Mills. I remember reassuring him, and praying with him. He said that he was gonna take a shower and I believe I told him that God loved him and so did I. Then, I sat down to watch "Law and Order" which happened every afternoon at 2pm. Truedogg wedged a streamer of toilet paper in the door-jam, something I hadn't seen him do before, but I assumed that it was just to let people know that he was in there. So people let him be; a guard, Guererra, I believe, checked the bathroom during his hourly checks. He overlooked what I would see.
Not long after, someone screamed. Bobby had gone into the bathroom to use the toilet, and now he was screaming and then another convict went in and then I heard Father Matthew bellow and then I went in and the Dogg was in the shower, fully clothed, hanging from a sheet he'd wrapped around the shower gear.
Hangman.
We took him down, me and this other kid, and pulled him out into the common area while someone else hit the button to alert the turnkeys.
The cops came running quickly (including Guererra, who'd pretended, apparently, to check the bathroom earlier.) The convicts were all ordered to stay on our cots. The cops started chest compressions, but I noticed they weren't doing rescue breaths. Later, maybe eleven minutes later, the prison doc shows up with a breath bag. No one had given Truedogg a rescue breath because they no one had the 75 cent plastic "seperater" which prevented lips from touching. I guess it was procedure – no separator, no rescue breaths. The sheriff himself came up as they worked on the dog, but, I mean, damn, when I pulled him out of the shower and lay him on the floor he was so cold, and his skin was already so pale.
Why didn't I start doing rescue breathing on the Dogg?
Why didn't I offer to? And I don't know and I've thought about that forever.
They moved us all down to the library while they did their thing at the crime scene. I don't remember much, except that it was cold, and we were left alone, and I remember freaking out on some kid because he'd remarked that all suicides go to Baptist Hell.
A young guard popped in at some point and casually told us that Truedogg was dead. A while later and some quacks connected with Crisis and Counseling and ergo the Court Team came in and tried to council us for ten minutes. Then they left and we were lead back to the classroom.
I don't remember what I felt; I remember Father Matthew reading to me from Sirach.. thank you, Father. One thing I did do was to write down what had happened, and to have all of the convicts sign it. ( You can find a copy of the letter at:
http://holisticrecoveryproject.org/truedogg.htm)
My cousin had been gone at the time of the self-crime and had a meltdown when he found out what had occurred. I'm trying to encourage him to write something about the Dogg, but hell, man, this guy took over what had been the Dogg's bunk and freaked out whenever a guard tried to reassign him. I think that one of the mental health workers got fired over some sort of confrontation with Hawk about the Dogg.
~
"What's wrong, Bob? Not enough twang in it for you?"
– Truedogg, on a negative comment concerning house music by Bob Fortin
~
Arthur Brian "Truedogg" Traweek and I met while in C.O.D.C. We also both had rooms at the same rooming house, but it took a while for us to warm up to each other. He seemed unfriendly, even kind of shady.
He wasn't. I'm not sure exactly how or when it happened, but we became close friends at some point. Every evening at around seven, Truedogg would come up to my room to discuss Christianity or the courts or the various programs we were mandated to attend. Truedogg admitted to me quite early that he suffered from borderline personality disorder, and that everything he was he'd learned by watching others. Watching.
Brian had a bad childhood. Bad. Abuse. He ended up in an orphanage, where other kids called him "Gomez." He was a racketeer though, even then, and sold other orphans contraband which he kept in behind a broken panel in the wall. At some point he became a runner; he chose the name "Wanderer" for himself; we started calling him Truedogg after hearing a song of the same name by Toby Mac. But, he was a wanderer. He got in trouble with the law, ans somehow ended up at a christian halfway house down south, "Love-Action Ministry" run by Miss Polly. Raised a Catholic, it was here that he became a Catholic hating extremist of a Protestant. It was also here that he was introduced to Miss Polly's "Twelve Steps to Wholeness." ("Wholeness," the Dogg explained, "Comes from the word 'Holiness'.") a christian twelve step format.
Brian was released at some point from Miss Polly's, although knowing him, I'm pretty sure that he didn't want to go. Once back up north, he actually did his best to get arrested. He would go into Hotels (the same ones where he slept, in the boiler rooms) steal a checkbook and then head to the bank to try to get caught cashing it. It took quite a long time, and of course, Brian gave most of the money away. It was while in Cumberland county jail that he would become good friends with his final victim.
Eventually, Truedogg made it up to Kennebec County and C.O.D.C. And he was able to play them like a game of crazy eights, but then, that's how he was made. He did a classic BPD game of being distant for a bit, then having a great "breakthrough" of opening up to the very person or persons he'd previously been so distant from. Justice Mills bought right into it, as did Zen-master Peter Wohl and the rest of the team. He convinced them (and maybe himself, although he was so good, it was impossible to tell) that he considered them his family, that he loved coming to court and never wanted to leave.
Awww…
By the time we became good friends, Truedogg had secured a job as a peer support specialist at the state mental hospital. He wouldn't drink any coffee but Starbucks, smoked basic lights, and once explained to me how to scrub your shoes clean. He loved house music and could go on and on about it – Chicago Swing, Boston Beat, Japtronic, etc. He and one of his brothers (a hip-hop DJ) went to a house party in Philly or Boston, and ended up getting chased out by some brothers who'd gotten viscous, the Dogg said, because they were listening to something like, "Jungle House" or something. Whatever it was he claimed that they were quite violent. The Dogg also introduced me to Christian House music, while spinning about in his car, the mini Jamaican flag hanging from the rear view.
Now, don't think that the dogg was a saint, because he wasn't, and his troubles usually involved women.
The "Jen" situation, the "Belinda" situation. Holy, Dogg! But despite his quirks, admittedly due to the abuse he'd suffered as a child, ( back when his friends called him "Nipsy,") he always brought a good message to our nighttime dharma talks. For the sake of brevity I'll stick to the wisdom he added to the Project.
~
"Step 13: Love was there all along. We realized that we had a spiritual relationship even when we didn't know it. We've always been worthy." – Recovery through Wholeness
~
When I started C.O.D.C. There was an A.A. Meeting held at Crisis and Counseling, the courts puppet mental health facility. When they moved locations, another member of the program, Jamie, wanted to start an A.A. Meeting in the vacated space. Jamie dropped out, but Truedogg picked up his slack. It was Truedogg who'd first introduced me to duel recovery anonymous, a 12-step program which focuses on both a persons addiction and their mental illness, and I was soon running two D.R.A. Groups a week. At first, we decided to make (coordinating with Mark "the worm-man" Rosenberg) it a D.R.A. Meeting, until one day the Dogg (who didn't trust the worm-man) suggested: "Why not make it all-recovery?" We received permission to start our own twelve step group from Justice Mills, and thanks to the Dogg it was to become Maine's first all-recovery program. I wrote most of the material on the floor of my room at the rooming house, working some stuff the Dogg had written into something a little more secular/humanistic. We used Miss Polly's twelve steps to Wholeness at our first group (Circle) and then, again, came up with our own on the floor of my boarding house room.
All that we knew, really, was A.A., and like N.A. We were coming really close to Bill W's twelve steps, with a word substituted here or there. I wanted us to be different, to have our own, unique twelve steps. To this end, it was the Dogg who came up with the term "Spiritual Relationship" instead of the hackneyed "higher power," "reconciliation" instead of "amends," and "parameters" instead of "traditions." Our version of the steps went from the banal (Step One: "We realized that things were fucked up." ) to the sacred: we had a thirteenth step. This too, I'd come up with on the floor of the room, but I got it from a conversation between Truedogg and one of my ex's. She was talking about a girl in the court program in a very denigrating way and they got into it about "worthiness." I remember the Dogg saying: "She's worthy. We are ALL worthy. Because we're born we're worthy." This has become one of the most important tenets of the Project and our step thirteen: "..we have always been worthy." or as I paraphrase it to peeps: "You've always been worthy. And anyone who's ever told you differently is a liar." And it's from the Dogg.
Eventually, the Dogg got into a relationship with a woman, and he was terrified about the possibility of sex, due to his abuse. We talked him through it, but, alas, the woman, after using him for his money, dumped him, and it killed him. Soon after he lost his job, went to stay with his friend from Cumberland County, stole his watches, maybe tried to hang him. I don't know.
But Truedogg's dead.
~
"Where there is a corpse, the vultures will gather." – Jesus Christ
~
I was told by various people that Justice Mills was pissed at me. I'd never made a connection with her; it was hard for me, developing a rapport with her so far away and so high up. It was like going to see the king. Furthermore, despite the fact that I was a major success in the program, I knew that Nancy didn't much care for me, and someone on the team, Peter told me, had been keeping me from graduating the program. I went in front of the bench one day after I'd given the team a letter listing my accomplishments and asking why I hadn't graduated. Justice Mills told me that I was arrogant and needed to learn some humility. It was then that I realized that, no matter what I did, how I dressed, how far I climbed, Nancy and the rest of the team would never think of me as any more than a common thug.
Really?
I know that Peter presided over a zen funeral for Truedogg. I wasn't there. The week previous it looked as though I'd be bailed out. We'd gone to court to get bail set and as luck would have it, my ex came and admitted her part in the whole thing. Bail was set a $1500, which my peeps could do. Then, mysteriously, I was told that it wasn't a lump sum, it was
$1500 per each of my two charges, and my peeps couldn't afford $3000. Whatever happened, the team successfully kept me away from the funeral.
There was a candle light vigil, but no action. We got to watch this crowd outside drinking real coffee and smoking cigarettes and none of them had come to see the dogg when he was alive. No action was taken against the jail; I believe Guererra was transferred as fast as a child molesting priest back in the 70s.
~
"You know me, from back in school, I'm White Rose, I'ma kill you. Razor blades, queen of spades,hangman's noose from Robin Rage…"
– Robin Raged, "I'ma kill You."
~
It is insanely difficult to write this.
When I got out, I was crazy with survivors guilt. I was seeing Truedogg in crowds in the light of day, dreaming of the ordeal at night. And the thing about suicide is that no one really wants to talk about it. And no one did. So, neither did I. The death of the dogg did something to me and it was bad to the point where, when I returned to jail en route to prison back in '09, I was relieved.
I still haven't' fully processed the Dogg's death. The closest I ever got was a song that I wrote for him while at Windham Prison, "the Executioners Song." Perhaps I'll play it for you in the next. No, I just carried whatever it caused with me, and sought out distractions from it and the way I felt, ghosts and everything. My last year in the ghetto, I knew more people, personally, who died from opiate addiction then I should even talk about, but, my friend, I haven't shed a tear for them, or anyone since the dogg.
Yes, of course I'll see someone abut this. I will. Swear.
I met with his family once, and for a while kept in touch with the Dogg's brother, Daniel, and I've spoken with the Dogg's son Justin about it. Once.
Okay, I'm just starting to spit out nonsense now, so I'm gonna close.. I just want y'all to remember my brother TrueDogg, okay.
I've asked my cousin Hawk to write something, but I'm sure he's as fucked in the head about the whole thing as I am, we'll see.
More next time, swear.
I love you all, okay, so, be safe, please.
Love and love and love and love,
Papa Rage
Truedogg, I miss you, man.
It's the end of April, and I'm seeing flowers and green grass. A lot of seagulls are flying around as well. I'm doing pretty good in here, and no one's giving me any problems. Tell old Hawkeye that I said hello and that I'm doing a lot better than I was doing in 2009 and 2010. Was wondering if you could send me any information on a frog species that I read about. It's called the "fanged frog" and they have been finding them in Asia. I read about it and would love to find out more about them. They sound kind of cool. Well, I have to go and God bless you.
Who, Who, Who.
Kenneth McDonald, Aka: Owl, Malibu
Write to Kenny via:




Maine State Prison – Kenneth McDonald – MDOC #114427




807 Cushing Road – Warren, Maine 04864-4600

 
If you have…..
INTEGRITY  COURAGE  COMMITMENT
Let's talk!!  The Department of Corrections is currently seeking applicants for Correctional Officers.  View a list of our current openings below or call (207) 287-4498 to find out how to join our team and begin an exciting career in Corrections!
Watch the video below to see what the job is all about and to find out what we're looking for in applicants.  Do you have what it takes?
https://player.vimeo.com/video/82035562
Correctional Officers have many opportunities for career diversity and advancement.
Click here for more information.
If you are interested in a challenging career in the Maine Department of Corrections, the following positions are now open for recruitment.The links below will give you the job postings and information on how to apply.
Click here for medical, mental health and substance abuse opportunities
Paperwork to get the process started
Direct Hire Career Opportunities
Search Jobs
Search Jobs  Reset
Becoming a Correctional Officer
The Maine Department of Corrections is recruiting for tomorrow's Correctional Leaders!  We are looking for ethical, dependable, career-oriented men and women.  We provide interesting, hands-on training to provide you with the skills and abilities you need to do your job effectively and ensure your professional success.  Correctional Officers attend a six-week training academy covering all aspects of correctional work.  Correctional Officers receive continuous reinforcement, which highlights the Department of Corrections' Core Values – INTEGRITY, COURAGE, and COMMITMENT.
Benefits as a Correctional Officer
A career as a Correctional Officer offers competitive pay and benefits that include:
A 25-year retirement system, with age 55.  Correctional Officers contribute 1.15% of their gross salary with a generous State contribution.
Night and Weekend shift differentials
Paid sick leave
Paid vacation leave
12 paid Holidays per year
Uniforms
On-site fitness centers
Overtime opportunities
Requirements
MINIMUM QUALIFICATIONS
Age:  Applicants must be at least 18 years of age prior to date of hire.
Education:  Applicants must be a high school graduate or hold an equivalency certificate (GED).
Conduct:  Applicants must have no serious criminal or extensive motor vehicle records.  See Automatic Disqualifiers for details.
Physical:  Applicants must be in adequate physical condition to perform the duties of a Correctional Officer. A valid, State of Maine Driver's License is required upon employment.
Hiring Process
APPLICATION EVALUATION: Applications are reviewed to verify that each candidate meets the established Minimum Qualifications/Requirements. Applicants who do not meet these requirements are disqualified from further consideration.
PHYSICAL AGILITY TEST (PAT):  Standards for successful completion of the PAT are available upon request.
ORAL BOARD INTERVIEW: Applicants successfully meeting the Minimum Requirements and who have passed PAT will be scheduled for an Oral Board Interview. The Oral Board is a structured interview that evaluates applicants' skills in the areas of Commitment & Independence; Judgment & Logic; Decision Making Decisiveness; Tact & Diplomacy; and Communication Skills. The Oral Board is a pass/fail component of the applicant process.
BACKGROUND INVESTIGATION:  Applicants who successfully pass the Oral Board Interview will have a finger-print based criminal history record check along with a prior employment reference check.
ALERT TEST: Applicants must pass the ALERT test prior to being hired as a Correctional Officer.  The Alert Test will be set up upon completion of all previous steps. This test must meet the Maine Criminal Justice Academy's minimum passing score for entrance into basic corrections training. Test questions are multiple choice and fall within the categories of Writing Skills and Reading Comprehension.
You should be aware before starting the application process that the following are disqualifiers for this position.
If you:
Have been convicted of murder or any crime classified in Maine law as a Class A, Class B, or Class C crime (i.e., any crime with a maximum term of imprisonment of one year or more), or of any substantially similar crime in another jurisdiction outside the State of Maine;
Have been convicted of any crime classified in Maine law as a Class D crime (i.e., any crime with a maximum possible term of imprisonment of less than one year), or of any substantially similar crime in another jurisdiction outside the State of Maine;
Have been convicted of any of the following provisions of the Maine Criminal Code (Title 17-A of the Maine Revised Statutes Annotated), or of any substantially similar crime in another jurisdiction outside the State of Maine;

Theft, including, but not limited to: Theft by deception; Insurance deception; Theft by extortion; Theft of lost, mislaid or mistakenly delivered property; Theft of services; Theft by misapplication of property; Unauthorized use of property;
Chapter 19, Falsification in Official Matters, including, but not limited to:  Perjury; False swearing; Unsworn falsification; Tampering with a witness, informant, juror, or victim; Falsifying physical evidence; Tampering with public records or information; Impersonating a public servant;
Bribery and Corrupt Practices, including, but not limited to: Bribery in official and political matters; Improper influence; Improper compensation for past action; Improper gifts to public servants; Improper compensation for services; Purchase of public office; Official oppression; Misuse of information; or
Chapter 45, Drugs, including, but not limited to: Unlawful or Aggravated trafficking in scheduled drugs; Unlawfully furnishing scheduled drugs; Unlawful possession of scheduled drugs; Acquiring drugs by deception; Stealing drugs; Cultivating marijuana; Illegal importation of scheduled drugs; Unlawful possession, unlawful trafficking, or unlawful furnishing of synthetic hallucinogenic drugs;

Have engaged in any conduct described in paragraphs 1, 2, and/or 3, above;
Have been convicted of any crime that is a violation of any domestic abuse law of any State or Federal jurisdiction;
Have been convicted of operating under the influence (O.U.I.) of intoxicating liquor and/or drugs within the ten (10) years preceding the date of your application;
Are currently abusing drugs or alcohol; or
Falsify or misrepresent a material fact by signing this document, or when you are/were interviewed during the background investigation phase of the application process.
HOW TO APPLY:
We require the State of Maine Direct Hire Application and the DOC Supplemental Application.  Submit both to:
Department of Corrections Service Center
Attn: Clint Peebles, HR Recruiter
doc.jobs@maine.gov or fax to (207)287-4310
Or mail to:
Department of Corrections Service Center
Attn: Clint Peebles, HR Recruiter
25 Tyson Drive
SHS 111
Augusta, ME  04333-0111
In the list of Direct Hire Career Opportunities above, click on the YES in the "Supplemental Required" column.  Direct Hire Application Forms may also be obtained from the State Bureau of Human Resources, a local branch of the Maine Career Center, or any of our facilities.
For More Information – Thank you for considering a career with the Maine Department of Corrections.  For more information about the hiring process or about employment opportunities, please contact Clint Peebles at doc.jobs@maine.gov or (207)287-4498.
For all other Human Resources inquiries, please contact the Human Resource Business Partner below.
Mountain View Correctional Facility / Downeast Correctional Facility, Contact: Darlene Sage
Long Creek Youth Development Center, Contact Charlene Gamage
Maine Correctional Center/Southern Maine Reentry Center, Contact: Michelle Senence
Maine State Prison / Bolduc Correctional Facility, Contact: Jeanne Fales
Adult Community Corrections/Juvenile Community Corrections, Contact: Rhonda Hutchinson-Peaslee
Maine Department of Corrections, Come for the Job….Stay for the Challenge!
The Maine Department of Corrections is an Equal Employment Opportunity/Affirmative Action Employer.  Women and minorities are encouraged to apply.  We provide reasonable accommodations to qualified individuals with disabilities upon request.

Write to Dirty via:
Maine State Prison – Michael McQuade – MDOC #82448
807 Cushing Road – Warren, Maine 04864-4600
Write to Kenny via:
Maine State Prison – Kenneth McDonald – MDOC #114427
807 Cushing Road – Warren, Maine 04864-4600
24 January 2019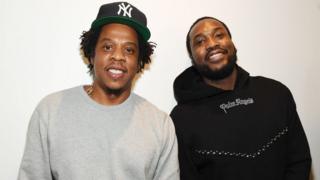 Jay-Z, Meek Mill and sport and business leaders have pledged $50m (£38m) to reform the US criminal justice system.
The Reform Alliance, which was inspired by Meek Mill's recent stint in prison for a minor probation violation, hopes to free one million prisoners in five years.
The owners of the New England Patriots and Philadelphia 76ers, Robert Kraft and Michael Rubin, are co-founders.
Reform says it wants to help people who are "trapped in the system".
The group's "mission" is to "dramatically reduce the number of people who are unjustly under the control of the criminal justice system, starting with probation and parole".
"To win, we will leverage our considerable resources to change laws, policies, hearts and minds," it says.
More than six million people can currently count themselves as part of the "correctional population" of the USA – which includes people in prisons and local jails, but is mostly made up of the more than four million people on probation or parole, according to Bureau of Justice statistics.
Probation is often given as a sentence instead of time in prison and can include conditions like being on a curfew or going to rehab.
Parole is when an inmate is released early from prison with similar conditions to probation.
Meek Mill has experienced all three: probation, parole and jail.
The Reform Alliance says his case is an example of the "devastating and long-lasting effects" that can occur after one interaction with the criminal justice system.
The rapper was arrested in 2007 – he says wrongfully – for drug and gun charges, aged 19.
He was sentenced in 2009 to between 11 and 23 months in county prison, but was released on parole after five months and put on house arrest.
It was during this time he started to make his name nationally as a rapper, signing to Rick Ross's label and releasing a string of hugely successful mixtapes.
Before long he was a platinum-selling artist.
But a parole violation for suspected cannabis use resulted in a ban on touring, and then after failing to get his travel plans approved by the court Meek was sentenced to prison again in 2014.
Examples of parole violations that can land people back in prison range from being late to appointments with parole officers or missing a curfew, to things more specific to the crime that was committed – like failing to attend an Alcoholics Anonymous meeting.
"When you talk about these so-called technical violations, it's not technical to the kid who can never see her mum again because she showed up late for a meeting. That's not technical, that's devastating for that individual child," Reform Alliance CEO Van Jones said.
Violations over the next few years resulted in his probation period being extended – it now lasts up until 2023 – as well as the five months in prison which ended in April 2018 and birthed the #FreeMeek movement.
It's people with a similar story to Meek's, that have been "caught up on probation and parole", that Reform says it wants to focus on first.
'If someone commits a crime they should go to jail'
"Being from the environment I'm from, I don't even think it's possible for you to be an angel," Meek said as the organisation was announced in New York.
"You grow up around murder on a daily basis, you grow up in drug-infested neighbourhoods.
"And every time I started to further my life with the music industry, there was always something that brought me back to ground zero," he said.
Pennsylvania Governor Tom Wolf, who attended the event, said he was a supporter of criminal justice reforms that are "fair, help our system work better and smarter, and save crucial taxpayer dollars while balancing public safety and victim concerns".
Across the US, roughly a third of people on parole are black, according to Bureau of Justice statistics – something Jay-Z raised at the event.
"We want to be very clear. If someone commits a crime they should go to jail. But these things are just disproportionate and the whole world knows it," he said.
Jay-Z has been vocal about Meek's case, writing in the New York Times while he was imprisoned.
"On the surface, this may look like the story of yet another criminal rapper who didn't smarten up and is back where he started," he wrote.
"What's happening to Meek Mill is just one example of how our criminal justice system entraps and harasses hundreds of thousands of black people every day.
"I saw this up close when I was growing up in Brooklyn during the 1970s and 1980s. Instead of a second chance, probation ends up being a land mine, with a random misstep bringing consequences greater than the crime. A person on probation can end up in jail over a technical violation like missing a curfew."
Advise from Murderers and Lifers imprisoned in the State of Maine!
True Believers:
A while ago we sent all of the prisoners we communicate with three requests for advice gathered from various advice columns.  We received advice back from Daniel 'Prince' Fortune (M.S.P./serving two life sentences for home invasion,)Michael 'Dirty' McQuade (M.S.P./ serving 12 years for murder,) and Arline Lawless (M.C.C./serving 35 years for murder.)
As a counterpoint, we also requested and received advice from two of our law-abiding citizens, Maine writer and educator Kate Miller, and her cohort Peaceful, Maine mystic and holistic life coach (Peaceful also comments on the responses from our inmates.)
Ready?  Here we go:
Problem 1:
I work part-time in a small sales office of about 10 people. About a month ago, one of my coworkers approached me about doing a project for his graduate program at a local university. It was for some sort of anatomy textbook or similar: it would be a photo of my breasts with my face not in the photo for the textbook. I would be compensated for the photos.
There were some red flags in his proposition — the photos would be taken by him, in my home, and he never presented me with official paperwork about it. I called the university and they assured me that whatever "project" he was working on was not through their university, as there would have been extensive paperwork, screening, photos professionally taken, etc., which was what I had figured in the first place, particularly for such a large university and for a master's program.  My question is this: Is this a matter that I should bring up to my boss? Is this something that she needs to know about?
Sincerely, A.
---
Killer Advice
Danny Fortune:
Dear A,
First of all my deepest apologies that you had to deal with an incident like this. Especially at work. Yes, I believe that this is a matter you should bring to your boss's attention. I say this for several reasons. First, from what you said, he approached you at work so it is a workplace issue. Now, sexual assault, abuse and harassment – the workplace should be an area of your life where you do not have to worry about any kind of sexual misconduct. You should be able to have a conversation with your boss concerning this individual. As he said it was for a "public" textbook, he should have no problem with it being discussed in public.
I would also like to commend you for trusting your intuition and doing due diligence; because of his scheme – saying it was for school when the school had no idea – he crossed lines and the fact that he wanted to do it at your home moved him into predator status. His behavior is not okay. I understand that you might not want to make waves at work but what he did is beyond inappropriate; it is borderline if not outright criminal. While you might not have fallen for it who knows how many others have or will. Tell your boss.
[Comment by Peaceful: "That's more or less what I said."]
Michael McQuade:
Dear A,
It's too bad you can't set up a photo shoot that he shows up at to find an overweight, middle-aged gay man setting up to photograph his genitals for a "textbook." You could later explain there was a big misunderstanding. As for going to the boss, I guess it depends on the degree of creepiness he's emitting. Definitely keep an eye on this guy at the least. Chances are he'll try it again with another attractive co-corker (or something just as weird.) If the situation arises again then go to the boss with both stories. If he's obviously a degenerate that no one likes, go to the boss. Present dates, times, places, witnesses. Document everything. Get him on video and post it. Creepy people suck.
[Comment:by Peaceful: "Umm.. I don't know. I'll have to ponder on that one for a while."]
Arline Lawless:
Dear A,
This could've been his way of telling you that he likes you but didn't have the guts to come right out and say it. I know that this is a bit of an extreme way to say it but, you know how people can get sometimes. It also could've also been a tip that he is just a bit of an odd duck that might need to go to sex anonymous. If this is something that he kept on harping you about repeatedly then yes, you should definitely bring it up to your boss. But if he just lets it go after one time of asking, what is the sense of ruining someone's career, just because he might no have known how to tell you that he liked you? But, if you hear from another co-worker that he did something similar to them then, yes, you should definitely inform your boss about this. You could be working with someone that is a sexual predator or who knows, maybe worse.
[Comment by Peaceful: "That was unique because she realizes that some men don't know how to relate to women very well."]
---
Kate and Peaceful
Kate Miller:
Dear A,
I am so glad you called the University and asked if this was legitimate. Smart move.
If you ever question that something seems off or you feel in your gut that something is wrong it is always a good policy to check it out with a reliable source. I am not sure of your relationship with this coworker.  I would first go to the coworker and confront him with the seriousness of what he has done. I would tell him that you checked with the University and found out that what he wanted you to do was not sanctioned by them. I would let him know that this is considered sexual harassment and if you hear of any more of this nonsense from him that you will immediately report him to his boss. I am not sure of your relationship with him. If you feel uncomfortable in any way with him I would tell your boss and not wait.
Trust your gut. – Kate
Peaceful:
Dear A,
I would tell your boss because he is liable to do it to someone else in the future. – Peaceful
---
Problem 2. "Do I Have To Tell The Daughter I Abandoned At Birth That I Trash-Talked Her Late Mom For Years?"
When I was about 20, I got my girlfriend pregnant. She was 23 and wanted the baby whereas I was not ready to be a father, so she broke up with me and had the baby pretty much on her own. Her family helped her and she didn't ask me for child support until I graduated college and had a steady job. Still, it was a burden on my entry-level salary and I resented both her and my daughter, so I wasn't an involved father. To explain myself to my family and others who knew I had a daughter I hardly saw, I made up stories about how horrible and crazy my ex was and how it was all her fault…
My ex contacted me last year to let me know she had a terminal illness. As a new father to a year-old son, I saw I couldn't let my 18-year-old daughter, "Lynn," go through that alone, so I reconnected with her, made peace with my ex and have been trying to make amends.  Lynn naturally resents and distrusts me, but she is slowly becoming a part of my life. The problem is that my wife, my parents and my friends think the worst of her late mother…
Must I confess, or can I just make it up to Lynn by being the best dad I can now? The truth could really ruin our fragile relationship.
Signed "Bad Dad."
---
Killer Advice
Danny Fortune:
Dear Bad Dad,
First off if you do not tell the truth there is no way you can be the best dad you can be. There is no way you can avoid telling your daughter. She is going to find out and you need it to be from you or your relationship will be over. You need to step up to the plate; you have run from responsibility for 18 years. Do not continue. Your actions have been completely about you and here is a chance to change that.
You ex has done nothing to you; she got you off the hook when you didn't want the job of a father. Apparently you were grown enough to conceive a child, but not enough to raise one. She was kind enough to wait until you were done with college for child support. That says so much about her character. To which you showed your character by resenting that your child had to eat and wear clothes; you showed her how much she meant to you by being an absentee father and to top it off, instead of just staying out of her life, you lied to your family about her mother. There is no way that Lynn will not hear one or more of your "stories," about how horrible and crazy your ex, her mother was. What do you think will happen when she hears how you lied to save face?
She doesn't need a friend, she needs a father who shows her what it means to admit mistakes or bad choices, just like anybody. It is infinitely harder and thus infinitely more important to do so when your actions have caused pain. You have absolutely nothing to gain from not telling her the truth, and everything to lose. So Bad Dad, show her what it means to be human – to fail, make mistakes and bad choices, and to own them to become better than we were in the past, because those are the lessons she needs from her father.
[Comment by Peaceful: "I don't see it that way. because some people they haven't reached a play where they judge you where you are now."]
Michael McQuade:
Dear Bad Dad,
From one bad dad to another I think it's best to cover it up for now. Tell all your family to not mention all the trash talk out of respect for the deceased. And for the sake of your daughter. Do everything within your power to be the best dad that you can be to this kid. You owe her mother and her at least that. If at some point in the future your daughter approaches you and wants to know, tell her the truth. You were young and you were and asshole and you've spent every moment since trying to make amends for your mistakes. From there it's up to her. Good luck!
[Comment by Peaceful: "That was interesting. That means you've got to be careful. You don't wanna mess up the relationship before your daughter has a chance to realize where you are right now."]
Arline Lawless:
Dear Bad Dad,
Yes, you should clear your conscience. You don't want any of your family thinking ill of someone that has passed on, especially when they did nothing. That guilt will eat you up, knowing that you were the one making up everything about your innocent ex-girlfriend. Just because you weren't ready to accept the responsibilities of being a father doesn't mean that you need to sully someone else's name along with it. You needed to learn how to accept that you helped make that child and you weren't ready to be a father. Also, your ex-girlfriend raised your child on her own and didn't ask you for a dime until you graduated college and had a steady job. You shouldn't have had resented either one – your ex or your daughter. You helped create the child. She didn't ask to be created. Children don't ask to be born.
You should tell your family the truth about you not being ready to be a father and that you panicked and didn't want your family to think any less of you. Which in any case, blood is thicker than water. they would've understood and if they didn't then they have issues of their own. If they really cared about you then they would've tried to help you with this crisis that was detrimental to you to begin with.
You also are making a good step towards making it up to your ex by trying to be there for "Lynn," even though she is now 18. You should tell her the truth about the whole situation also. She is a part of you. The way I have always seen it is, "I would rather hurt your feelings with the truth, then lose you with a lie." I am sure she will understand, and if she can't forgive you than at least you will know that you have a clean conscience, and you will have repaired the damage that you had caused to your ex so she can rest easy now.
[Comment by Peaceful: "if you're in too much of a hurry to clear your conscience, and your daughter can't relate to you in the present, you're screwed."]
---
Kate and Peaceful
Kate Miller:
Dear Bad Dad,
Sorry for your loss. It is never easy to go through situations like the one you are in.
Your daughter deserves to know you and it will be so helpful for her to reconnect with her father in a time like this. She needs you to be a real caring dad and to be involved in her life.  I would explain to your daughter why you could not stay in the relationship with her mother. I would only tell her positive things about her and if something comes up that gives reference to the negative…Be honest and explain it to her. She is 18 and is hopefully able to understand. She does not need to know about all your past trash talk of her mother. That would not help her or your relationship with her. You are now a more mature man.
No guilt, move on and just be honest and love your daughter in the present. – Kate
Peaceful:
Dear Bad Dad,
There are times in which we do not know what to do or say. Pray for guidance and follow it if we get an answer. It would help if you knew whether or not your daughter judged people as they are now or judged people from their past mistakes. – Peaceful
Problem 3. "Should I Tell My Friends I Think Their 5-Year-Old Son Is Going To Be A Rapist When He Grows Up?"
My friends have a son, about 5 years old. They enforce little (if any) discipline on him, and he throws a hissy fit if they try to "make" him do anything. They tell him to pick up something he threw; he ignores them. Dad picks it up in a couple of minutes. They tell him to go to bed; he ignores them and keeps doing whatever he is into. My fear is that they are teaching him that he can get away with anything by ignoring the rules. Specifically, I am concerned that he will never learn that no means no, i.e., that they are raising a rapist. Should I say anything to them? If I do, it would only be once, and I wouldn't harp on it. They are NOT people who would be okay with this outcome, and/but I don't want to stomp on my relationship with them either.
Signed "Watching"
---
Killer Advice
Danny Fortune:
Dear Watching,
I believe that you are painting the boy in the worst way possible. I do not believe that there is a sure-fire way to tell what a five-year-old child will grow up to be. Yes, they are definitely spoiling their child and it will most likely be to his detriment; being spoiled is not a condition that is easy to carry through life. Life is a great equalizer as well, though, and it looks like this little boy will have some hard lessons about listening to others and especially with those in authority. At face it seems likely that he does not have much experience in having to obey anyone but his parents. His attitude will not be conducive to his success, but to be honest, I think that you are beyond your place in this situation. You are talking about a little boy and worrying that he will be a rapist.
Do you have children? Do they listen to everything you say, and do they obey at the same time and follow your all your rules and guidelines? Are you seeing the worst in them? No, you should not tell your friends that you are worried their son will grow up to be a rapist. A am fairly confidant that would be the end of your relationship; it would certainly "stomp" your relationship with them. However you should mention that you have noticed that their son seems to not listen. Ask them if you can help in anyway, i.e. books, therapists, a shoulder to lean on.
Parenting is beyond hard and and having someone criticize or offer advice on your parenting is a very touchy subject. I would advise you to say nothing because it is not your child or your house. But, if you feel the need to interject yourself into another's familiar matter, avoid any and all mention of what you think their son will be. Ask about his willfulness and how it effects them, and if you can help. They need it.
[Comment by Peaceful: "Yeah, I agree with that."]
Michael McQuade:
Dear Watching,
Stop watching! You're reading way too far into this. The kid's five for Christ's sake. When I was eleven my mother had a friend and her daughter came to stay with us. I saw that child do shit that would make the Antichrist take notes. I thought for sure she would grow up to face charges of genocide or some other biblical atrocity. She's married and she's a doctor now. She's doing great. Life is so unfair (Ha, Ha!) As for "Rapist?" that's a stretch for a five year old. When's the last time you say crying, screaming and tantrums used in rape? If he's quiet, introverted, and torturing and killing small animals… then worry. I think that at worst they may be raising an asshole. But he's their little asshole, not yours. It's their prerogative. You probably have bigger things to worry about then your friends' spoiled brat.
[Comment by Peaceful: I have experience with my grandson, who has a hard time dealing with adults, but I'm not concerned.]
Arline Lawless:
Dear Watching,
Your concerns are good ones. I can see why you might not want to stomp on your relationship with your friends. But, you also have to think about them and others first. Hard concept, isn't it, putting others first? How would you feel if fifteen years down the road this exact fear you had about their five-year-old son becoming a rapist comes true? Would you want that guilt on your hands all because you didn't want to stomp on your relationship with your friends? If they really are your friends and can see your point (that you are laying out to them in a logical and level headed way) then they shouldn't have a reason to want to have to put a "stomp" in your friend-relationship. They should see that you are just a friend that is just concerned for their son's future well-being.
[Comment by Peaceful: "That is really interesting."]
---
Kate and Peaceful
Kate Miller:
Dear Watching,
It is frustrating to observe people we love doing things we do not understand or agree with. You have observed your friend's son being disrespectful and non-compliant and you have seen your friends not responding to what you think to be a right response. Have you expressed to your friends how  the situation makes you feel ? I do not think that you should tell them that you worry about him being a rapist. Tell them that it makes you uncomfortable, worried or sad etc to see the disrespect. Parents ultimately have the responsibility for their child and unless they are abusive to the child, you really have no say.  If they ask for advise please give them suggestions that would be helpful.  Pray for them.  You could recommend books or articles on child rearing. Please do not tell them you worry the child will become a rapist. I have seen many a spoiled child in my life and they have turned out ok. 
Abuse is more likely a cause of criminal behavior. – Kate
Peaceful:
Dear Watching,
There are many books on appropriate child raising. Many are available at the library. You could check one out and let your friends borrow it for a few days.That might help. – Peaceful
---
We're really interested in what everyone thinks – about the variety of solutions, disparity of the sentences, or anything else.  This is just our first installment of what we hope to be many, and we're always looking for problems to pose to the convicts (as well as Kate and Peaceful.)  Send any questions you'd like to be considered to otis.porkmeyer@gmail.com.  Irregardless, we'll get back to you.
Be well!
Otis
[Killer Advice logos by Alyssa Joy Bartlett, 2019]