You are currently browsing the category archive for the 'Maine Department of Corrections' category.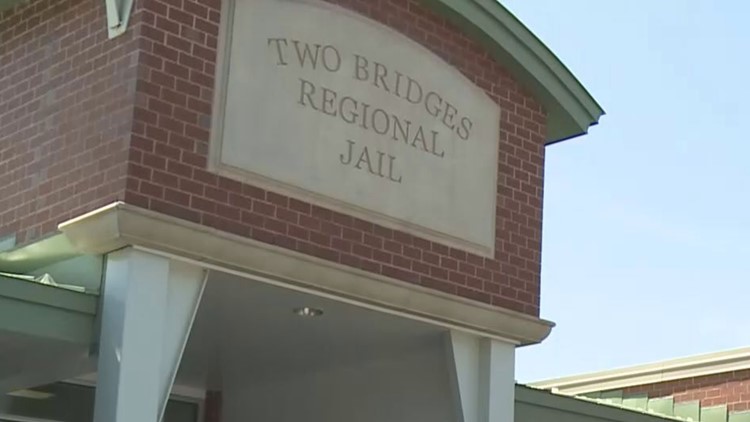 WISCASSET, Maine — Six people have been charged with smuggling drugs into Two Bridges Regional Jail in Wiscasset, state drug agents announced Tuesday.
Investigators began looking into the case in January, focusing on an inmate later accused of getting two people to send him drugs through the mail.
Maine's Public Safety spokesperson Steve McCausland said the Maine Drug Enforcement Agency alleges Alexander Laurelez, 23, of Topsham, enlisted the help of a 17-year-old and Kyle Brady, 19, of Topsham, to send him Suboxone and LSD to him through the mail while he was an inmate at the jail.
Suboxone is a brand name drug that contains buprenorphine and naloxone. It is used to treat adults who are dependent on opioids.
Laurelez is accused of instructing the two to hide the drugs between pieces of paper inside an envelope marked as "Legal Correspondence" and addressed and mailed to fellow inmate George Markos, 29, of Bath.
McCausland said the envelopes' return address was that of a Maine law firm, giving the appearance they contained legal papers so jail authorities wouldn't open them. He said the law firm had no knowledge or involvement.
Fellow inmate Devin Leonard, 26, of Wiscasset, is also accused of coordinating with Laurelez to have Suboxone smuggled into him.
McCausland said Leonard allegedly had girlfriend Brianna Ayers, 23, of Lewiston, mail Suboxone to the juvenile, who then mailed the letters to the jail.
On Feb. 27, jail investigators intercepted an envelope to the jail addressed to Markos, containing 17 Suboxone strips and three tabs of LSD.
Ayers, Brady, Laurelez, Leonard, Markos and the 17-year-old were all charged with both prison contraband trafficking and furnishing Suboxone and LSD.
Furnishing charges were aggravated for Brady, Laurelez and Leonard.
Ayers initially failed to turn herself in and an arrest warrant was issued. She was later arrested in Lewiston Tuesday afternoon and taken to Androscoggin County Jail.
Brady was charged at Cumberland County Jail where he was being held on a probation hold. No bail was set.
Laurelez, who had been released from the jail, was re-arrested on April 20 in Topsham and taken back to Two Bridges. Bail was set at $10,000 cash.
Leonard was charged at Androscoggin County Jail, where he was being held on unrelated charges. Bail was set at $5,000 cash.
Markos was charged at Two Bridges where he was a current inmate on a probation violation. No bail was set.
The 17-year-old was released to her parents in Topsham.
The Sagadahoc County Sheriff's Office and Topsham Police Department assisted jail investigators in the case.
Joshua Dall-Leighton is accused of sexually assaulting a female inmate in his charge at the Southern Maine Reentry Center in Alfred.

Joshua Dall-Leighton of Standish, who made headlines in 2015 when he donated a kidney to a woman who was looking for a donor, denies accusations that he had sexual encounters with a female inmate he supervised. 
A trial begins Monday for a former prison guard accused of repeatedly sexually assaulting a woman who was incarcerated at a transitional corrections facility in Alfred.
Joshua Dall-Leighton, 34, faces five charges of gross sexual assault and one of unlawful sexual contact. All are felonies, and he has pleaded not guilty.
Dall-Leighton received widespread media attention in June 2015 for donating a kidney to a woman who advertised her need for a new organ in the back window of her car. That gift of his kidney to a virtual stranger may play a role in his trial.
Among the motions filed in the case is a request by the state to keep that information from the jury. The defense objected, saying it was evidence of his character. It was not clear Friday how the judge had ruled on that motion and others.
The indictment states the alleged crimes took place on multiple days between December 2015 and February 2016. During that time, Dall-Leighton worked at a pre-release center for female inmates in Alfred, where the woman was finishing a prison sentence.
An affidavit filed in York County Superior Court by a Maine Department of Corrections detective describes alleged sexual encounters between the guard and the woman in a prison transport van. Dall-Leighton drove the van to take the woman to her workplace in Sanford, according to the affidavit.
The affidavit quoted a letter the woman wrote to a Bangor attorney describing the advances of an officer at the pre-release center. She said she eventually became intoxicated so she would be transferred from the Southern Maine Reentry Center in Alfred back to the Maine Correctional Facility in Windham to get away from him.
"I avoided sexual intercourse with this officer for some time but because of his position of power, and the many things I stood to lose, I felt pressured to engage," she wrote. "This officer transported me to work several times per week and we were often alone while driving. I requested a job change, but was repeatedly denied. I felt I was in a no-win situation."
Dall-Leighton stopped working at the pre-release center when he was charged, his defense lawyer told the Portland Press Herald at the time.
More than two years have passed since a York County grand jury indicted Dall-Leighton in November 2016. Neither the defense attorney nor the District Attorney's Office returned a call for comment Friday.
The woman was convicted in January 2012 in Rockland of elevated aggravated assault, robbery and burglary. She was sentenced to 10 years in prison with all but six years suspended. Now 34 years old, she has been released and is on probation. The Portland Press Herald does not name the victims of alleged sex crimes without their consent.
She also filed a lawsuit in 2017 against Dall-Leighton, as well as the state and prison officials she said failed to protect her from the assaults. The former guard did not respond to the complaint, meaning he was in default. A federal judge then ordered him to pay $1.1 million to the former inmate, although it is not clear if he can or will pay that sum.
Ezra Willey, who represents the woman in the civil matter but does not have an active role in the criminal case, said he is pursuing options for his client to collect at least part of that award. The judge also dismissed the lawsuit against the state and the corrections officials, a decision Willey has appealed.
Willey credited the woman for coming forward with her allegations against Dall-Leighton and referenced the #MeToo movement that has shed light on sexual misconduct.
"She's a recovery coach now," he said. "She's been speaking at different events about addiction. She's really gotten out there in the community and is not only trying to help herself, but she's really trying to help other people. I really admire her for that."
Dear viewers,
None of the contributors to this blog write us for the purpose of ending up on the blog.  Although in the beginning (and next year the Political Prisoners Blog will be ten years old) we solicited and posted, anonymously, things written specifically for the blog, that isn't necessarily so for all of our current inmate contributors.
Having had relationships with the current roster for over at least three years minimum, most of the entries that you'll view these days are excerpts taken from personal correspondence between the inmates and the members of the project.  We let everyone know, early on, that excerpts of their letters to us may be used in the blog; far more remains un-posted.  Convicts in Maine, of course, have no way of viewing the blog, or of seeing responses posted to their entries, unless we forward them on.
Recently, Arline Lawless whose content has been featured in blog since January of 2016 was written up for posting to "social media," referring to a Maine Department of Corrections ban on the same.  She was initially looking at a loss of earned good time, although presently she faces eight days of room restriction.
Unfortunately, until this issue is resolved you'll be seeing no more contributions from Arline Lawless.
Sincerely,
The Holistic Recovery Project.
Write to Arline via:
M.C.C. – Arline Lawless – MDOC #60057
17 Mallison Falls Road – Windham, Maine 04062
Holistic Recovery Project,
Thank you.  Thank you for thinking of me and praying for me.  I've found myself looking to God in this desperate time in my life.  Needing the guidance and structure.
This is my first time in "trouble" with the law.  So going to jail for something like this was very scary.  Especially knowing I'm not guilty and I have only to hope my attorney can prove it.  I have a lot of time over my head and it makes me so sad.
Thankfully the c/o's here are great, along with the girls.  I have realized I have more support outside than I had thought, which brings me hope.  Not knowing is absolutely the hardest thing right now.  I have bail hearing [near the end of the month.] If all goes well, I'll be able to have a little more time of freedom, so please pray for me.
Thank you for the ["Free stuff for convicts"] list.  And thank you guys for being the first people to write to me.  Keep praying for me.  I need all of the strength I can get, I find myself struggling daily.  I've only been here for days and it feels like so long.  How did you guys do it?  I've been reading books daily and doing inmate programs to make time go by faster.  I'm terrified I'm going to be stuck here for a while.  Thank you again for reaching out to me.  It means a lot.
God bless,
A-rain-filled-Tabitha
University of New England students have created a program for jail staff and correction officers to help them deal with stress and other wellness issues
PORTLAND, Maine — Students at the University of New England are spending time at the Cumberland County Jail this week.
The students have created a program for jail staff and correction officers to help them deal with several issues. The biggest one…stress.
They're doing it not only for class credit, but because they say it's the right the thing to do.
All week UNE students, studying to be nurses, occupational therapists and trainers, will help the staff with nutrition, exercise and stress management.
In the stress management session there were all kind of sensory activities like making slime and stress balls, by stuffing flour into a balloon.
It's a  tool that will come in handy for corrections officer Chelsea Moore.
"There's a lot of stress looking over your shoulder. There's a lot of not knowing what's going to happen at any given second. That's probably the most tiring part of it" Moore says.
This is not the first time UNE students have been in the jail. They were there last year working with inmates, helping them with all kinds of wellness issues.
While there, they noticed the jail staff and correction officers could use some of the same services.
Kelly Pitre, who is studying occupational therapy at UNE, and will graduate next month, is spearheading this program, which is all volunteer.
"I feel like it's our turn to take care of them" Pitre says. "I'm passionate about it, it's a great way to put my skills to the test and help implement stress, well being, health and wellness."
Libby Alvin, who is set to graduate from UNE's nursing program next month says while she is busy with her school work, she looks forward to getting out in the community.
"It brings you back to why you're doing school and why you're working your butt off everyday in the library, to work with people and help make things better."
A kind gesture that's greatly appreciated.
"It's nice to know somebody thought of us. There's all this work, put into a whole week of them coming in and spending time with all shifts" says Moore.
Last year Cumberland County Sheriff Kevin Joyce awarded UNE students a Volunteer Appreciation Award for their work with inmates.
As spring rapidly approaches, I once again find myself in the mood for a good spring-cleaning.  However, inasmuch as I am a guest a the "Little Hilton on the Hill" (M.C.C.) and have little to clean of my own, I have decided to do spring cleaning for others.  Yep, ol' Bob Wire has decided to clean the skeletons out of the closet of M.C.C.  Further, in the tradition of the great gossip columnists I will clean out the closet in the form of "Ask Bob Wire" (I am, after all, a man-in-the-know, here at the Hilton.)
Disclaimer:  I cannot say with 1000% certainty that what follows is actually true, but this I can say:  a rumor is not a rumor that will not die!
Dear Bob Wire:  Is it true that a female C.O. here at M.C.C. made a sex video for the Internet off her getting the shit fucked out of her by a dog? Sincerely, Inmate X
Dear Inmate X:  That rumor is patently FALSE… it was vaginal sex.
Dear Bob W:  I was told that there was an inmate in here who actually once saw a female C.O. do a strip act at Pure Platinum in Portland.  Is there any truth to that rumor?  Thanks, Inmate Y.
Dear Y: That rumor is false!  All one has to do is look at the C.O. in question to know that can't be true, for the C.O. is less than 300lbs and has her teeth.  What kind of strip act would that be?  Duh!
Dear Bob Wire:  Is there any truth to the rumor that in 2007 a staff member here was caught with child porn on their computer?  Thanks, Inmate Geek.
Dear Geek:  It is true!  But, in the defense of the individual involved the pictures were rumored not to be for him, but for a calendar in a couple of dorms here at M.C.C.  Good question.  Keep sending them.
Dear BW:  Is it true that from time to time that C.O.'s   h  ave been inclined to bang female inmates at M.C.C.?  Thanks again, Bob Enzyte.
Dear Chubby:  That is a very good question indeed.  Yes!  In 2007, a couple of C.O.s were fired for having sex with female inmates.  It is a fetish sweeping the nation.  It's called captive sex!
Dear Bob:  Is it true that one time a member of the medical staff was fired for possession of cocaine and other narcotics while on duty?  Thank you, Ted Blow
Dear TB: Yes!  2007 was a very good year for C.O.'s thinking they are "all that" and above everybody else.  Ooooops!!
Dear BW:  Who is watching the watchers here at M.C.C.?  John
Dear John:  Beats the shit out of me!  I guess there are things that even the gods cannot understand!
Well, that is it for this months "Ask Bob Wire."  Keep the questions coming, because if ol' Bob here can't find out (or make up) the good answers, nobody can!
Readers of my blogging often write me and say (actually, they write these things, not say them, just for the record) things like: "Bob Wire you're a pretty negative dude."  Yet others write "Who stuck a stick up your ass to get you so pissed off at M.C.C.?"  Still others write:  "Bob, I could so do you in the ass right now!"  Okay, okay, the last one I made up, but it is lonely here!  However the point is this: people think I am a negative kind of guy!!
HELLO!!!  ME??? NEGATIVE???
Okay, I can be a bit negative, but I also have a positive side.  To show the world the wonderfully positive Bob Wire, I will expose Super Positive Bob to the blogging world.  I am going to make Norman Vincent Peale look like a prophet of doom.  To expose my positive outlook in the blogging world I thought I might offer MCC suggestions for the better operation of the facility.  Pissing and moaning aside, Here I Go!
To the medical department:  read the labels on the inmate's prescription cards.  I think you will find that they do not prescribe taking the medication at 7:30 am, 10:30 am and 10 pm.  see the problem here?  Three fucking hours between the first and second taking and 12 HOURS TIL THE THIRD… Hello!  Is it that hard to give the inmates their meds on a schedule that has the semblance of sanity attached to it?
To the administration:  in an attempt to save money, I suggest the following:  get rid of the C.O.(s) at Sally Port; leave the gates wide open.  What are you afraid of anyway?  That an inmate might escape from one fenced-in area with razor wire to another fenced-in area with razor wire?  The money saved on not having one C.O. could provide bologna sandwiches one day a week at chow…
To the Chow Hall:  Keep you know who (J.R. – dorm 5) last in line at chow.  No one likes his nose dripping all over everything including the food in the salad bar, the tables, the food line… nasty… you guys know his nose drips everywhere; do something about it… fucking nasty.
To the guys that plow snow:  try to put the fucking snow plow down on the ground when plowing.  It is fucking bad enough that we have to walk everywhere improperly dressed for the weather; we should not have to use our sneakers to pack the fucking snow down…
To those in charge of the living quarters:  Stand up to the punks, for God's sake.  Who is running this shit hole anyway?
Well, that was fun.  I got to be Mr. Positive and if the powers to be are like me (and I would like to think they are), they will take these suggestions to heart and we can all live happier, healthier lives together.
Bob Wire
The facility off of Hammond Street in downtown Bangor is structurally sound, but it's currently over capacity, housing more than the 157 inmates it's equipped to jail.
BANGOR, Maine — There's a proposal in the works to build an entirely new Penobscot County Jail.
The price tag for taxpayers? $65 million.
The facility off of Hammond Street in downtown Bangor is structurally sound, but it's currently over capacity, housing more than the 157 inmates it's equipped to jail.
Penobscot County Commissioner Peter Baldacci said, on average, the jail houses 190 inmates.
"It's overcrowded and its been overcrowded for at least five or six years," said Baldacci.
Even more inmates facing charges in Penobscot County are being shipped to neighboring counties to be jailed, at a price of $800,000 a year.
"The cost of incarceration is significant," added Baldacci.
The proposed solution is to build a jail for 300 inmates and allow for enough room to house all of the inmates under one roof.
This new, freestanding jail would be built behind the current jail.
"It's too costly to build a 300 bed all-standing jail and walk away from our investment in the current jail," said Baldacci.
An alternative proposal to building an entirely new jail facility is to build an addition to the current facility with 150 beds.
State Representative Steve Stanley said he can get on board with the addition to the current jail.
"That will help them with the problem that they have and with their future needs down the road," said Stanley.
Officials with knowledge of both plans said this alternative would cost taxpayers $20-30 million dollars but may be equal in cost over time, given staffing and management costs.
Still, Baldacci said he's leaning toward the proposal to build an addition because it lets taxpayers off the hook for the steep price, which would be paid out over the next 30 years.
Stanley said the issue of overcrowding isn't a new one for the Penobscot County Jail, and he and his colleagues are partially to blame.
"They've seen it coming for years," said Stanley. "We as a legislature are making a lot more laws that are putting people in jail."
Stanley said building an entirely new facility on the taxpayers' dime isn't the solution though.
"The solution for the $60-70 million dollar jail is a little bit far-fetched because you're talking a $4 million dollar increase in the county budget," said Stanley.
Penobscot County would quickly go from having no debt to decades of debt with the proposal to build a new jail.
"It comes out of the taxpayers' pocket," added Stanley.
"I do have concerns about 30 years of debt," said Baldacci.
Penobscot County Sheriff Troy Morton released a statement to NEWS CENTER Maine in which he said he does "support the building of a new correctional facility."
The statement went on to say, in part, "the inmates incarcerated today often pose many challenges. Mental health, substance abuse, violence, and medical issues are real challenges and impact housing. […] While some changes in mental health and substance abuse may occur, there are still many laws being enacted and increased class of crimes implemented. The requirements being placed on correctional facilities require space to accomplish them."
Baldacci said the county commissioners will need to make a decision as to which direction they'll take on the issue next month if the proposal is to be put on the ballot in November as a bond issue.
It remains to be seen which solution, if any, the taxpayers in Penobscot County will support.
"When people are putting a bond issue for schools, for example, there's a natural constituency that's going to support better and more modern schools," said Baldacci. "There's not a natural constituency for a more modern jail. There are people who work to provide services in the jail who want to see us do something significant and have better facilities."