You are currently browsing the tag archive for the 'windham prison' tag.
Maine Correctional Center is more dysfunction functional then a quadriplegic's body, and almost as useless. Recently M.C.C. went through accreditation audit, The result aren't in yet but I'm sure they will pass. Whats fucked up about it is the "leadership" here at M.C.C. was so worried about dust, dirt, and waxed flours that he missed the fact there are bricks with missing mortar and sever cracks lining the top of Dorm 6. Now if that wasn't noticed by the so-called inspectors they must have has Stevie fucking wonder doing the inspections.
The "Leadership" at M.C.C. have had three long years to get this facility into shape, all the painting, waxing, cleaning, and half-ass repairing was all attempted at the eleventh hour. Inmates had their Rec. cancelled and were forced to strip and wax floors without enough improper tools and materials to do the job adequately. Some inmates stayed up all night trying to complete tasks that were ordered at 11:00 p.m. the night before inspection and in the process keeping other inmates awake by being loud and running equipment. (Great Idea By The Way)
Who in the hell would keep administrators in their positions who cannot do an adequate job. I think the MDOC needs a super douching of staff before anything else. Mr. Commissioner should start cleaning house, starting at the top (himself), and work his way down. Corrupt leadership and lazy assistants is a great way to piss away money, and get your privatization agenda completed and that Mr. Commissioner is a Big Fucking Mistake!!
Bob Wire
Recently M.C.C. went through an accreditation process by something called the A.C.A. I have not idea what the hell this A.C.A. name means or what the hell they actually do. What I witnessed the heard from A.C.A. doing was roaming the range of M.C.C. They were looking at this, touching that. They were laughing giggling and having a grand ole' time. I wonder if they were accreditation or not? For all I know they could have been from Dow Chemical and they were checking to see if we used enough of their chemicals in our paint, stripper, and wax? Because from where I lay. That is all I saw going on around here in the two prior days to the visit. It was: paint, strip, and wax, and strip, wax, and paint, and also waxing, painting, and stripping for two whole days!!! The accreditation people did not seem to care about; shower curtains held in place by shoestrings, or shower heads that spray water everywhere. They didn't seem to care about sinks that leak, or sinks with broken faucets. Did they care about toilets that don't flush right, or living quarters (Dorm 5 & 6) with no mechanical ventilation? Did they or do they care about heavy metal framed windows that open in and place sharp corners eye & head high, just begging for injury? Did they or do they care about the quality of food, or medical care we get? Dig this: The kitchen could not bake bread for 3 days, because officials here did not want the A.C.A. folks to see flour everywhere. The whole thing was a fucking show of appearances. It was a fucking Brazilian paint and wax job. No Bikini line here at M.C.C. All the painting was nice, but as tradition would have it, it is being peeled away as I write. In another posting I raised the question as to whether accreditation would help the inmates? The answer is a Resounding NO! Accreditation is nothing more than the vehicle to have M.C.C. administrators play "Pat Back" – " Shake Hand" with bunch of people from some other god – damned agency who's only job was to walk around and look at the compound through paint & wax colored (flour free) glasses… NOTHING MORE
NOTHING LESS
Bob Wire
Miranda Hopkins initially told police she "blacked out" and awoke to find her 7-week-old son cold and beaten
BELFAST — A Troy woman convicted of manslaughter in the death of her infant son is arguing for a new trial.
WABI-TV reports that Miranda Hopkins wants DNA taken from her two autistic sons, who she's blamed for the January 2017 death of her infant son, Jaxson.
A subpoena has been issued to their father seeking his approval.
The Maine Supreme Judicial Court rejected an appeal of her 13-year prison sentence last year.
Hopkins initially told police she "blacked out" and awoke to find her 7-week-old son cold and beaten. She told police one of her two autistic sons may have caused the injuries. Jaxson's cause of death was listed as blunt force head injuries.
A court found Hopkins drank shots of liquor and smoked marijuana the night of Jaxson's death.
The next court date is in February.
"Pissy Mood."
OMG, I feel like I am housed with Fucking third graders! My "wish they would die" List just got longer….. Med line can do that!
-Bob Wire-
"The Law is to blame."
It has been said that Solomon of old once remarked: "there was nothing new under the sun." Bob Dylan said: "If there is an original thought out there I could use it right now." What does that mean to ole' Bob Wire and the little tome that lays ahead you ask? Well what it means is: it means that ole Bob is beating a drum that has long been beaten before him. It may be a drum that has never been beaten at Maine Correctional Center (MCC;) that I do not know; but it certainly has been a drum beaten throughout the annals of history. It has been a  drum beaten by the wise and simple alike. It has rolled off the drums of philosophers and philosophies as it has been pounded out on the drums of religion and of religious zealots. It is a question that is at the very foundation of civilization and of civil nations. It is at the forefront of the multi-billion spending in near police states both in the East and West. The question is: What constitutes crime?
One can only guess what finalizing an answer to that question in some universal code could mean to the entire world. Religions (or many, many religions) argue that law is absolute; that is the God of the religion has dictated to mankind the does and don'ts of the nation. The law in such systems are suppose to be even handed and effect all peoples of all nations for all times exactly the same. In short this is to say that the "law" is universal. The problem with this logic is obvious so I will be brief: 1. Prove your God said it! 2. My God says something different! The fact that supposed universal laws (principles) may claim to be law for everyone, they still are in the final analysis nothing more than "do this, don't do that" laws that single out what is good or bad. It the case of "universal law" the god, a god or the gods tell us what is good and what is bad (look but don't touch, smell, but don't taste…
Some of you may be wondering where all this is going, where this is going to end, because it sure as hell does not have the beat of a Bob Wire blog. Well, this is where I am going with this: Here at MCC there are a sizable number of CO's who show utter disdain to inmates, for the fact that they have committed crimes. There is an air here that hangs off of certain CO's, that smell of the dislike the CO has for the inmates, ans I do not solely mean sex offenders; I mean the general inmate population. In the worldview of this CO type; they the CO's are the holy ones and the inmates criminal scum.
Let old Bobby Boy spell it out for those CO's who think their shit don't stink and inmates are criminal scum. Inmates are here because people, groups of people, city, county, state, and federal governments have deemed an act (any act) illegal. That's it, bottom line…
We here in the Christianized West don't live under any theocratic laws. No, we live under the arbitrary and inconsistent laws of lawmakers whose only job is to sit on their asses and decide what is right and what is wrong. Let me spell it out for you a bit clearer (sorry if this sounds like shouting,) inmates are here at MCC, they are in the Maine DOC, they are in county jails and federal jails all over our nation not because of what they have done but because of an arbitrary and inconsistent law made-up by the powers that be. In case I did not make it clear enough, inmates here at MCC because of LAW, because of LAWS, they are here by the hundreds because of a law not because of an action of the inmate.
WOE TRIGGER! PULL BACK ON THE REINS BOBBY BOY! ARE YOU SUGGESTING THAT WHAT MAKES CRIMINALS CRIMINALS IS NOT THEIR ACTIONS…? Yes, that is exactly what I am saying. The British comedy troop Monty Python may have said it best: " The only way, the only way to bring the crime rate down is to reduce the number of offenses." You see, as crazy as it may sound, all laws (no exception) are just made up by men. They may believe the laws are in the best interest of society, but the bottom line is and will always be that laws are the concoctions of arbitrary and inconsistent lawmakers. It is my belief that CO's that look down on inmates are just shit-bags. It is also my belief that CO's and everyone else in society are just one more law away from being in prison themselves. The United States, "that land of the free, home of the brave" place HAS THE HIGHEST PERCENTAGE OF INMATES PER-CAPITA THAN ANY NATION ON EARTH… Hello!!! We are not the free; the inmates here who look down on inmates as trash and useless scum are only one tiny law away from possibly being that trash and scum they so despise.
End Note: I will (some day soon I hope) follow up on this notion of mine and to further discuss my basic premise in more depth. Also, I would like to explore the notion or idea of a corrections/prison free nation… Don't laugh, it has been done before, and in a country one might not expect, and recorded in a  book that promotes universal principles of laws. That's funny but I think there is a guy named Solomon in that book; There is nothing new under the sun after all.
-Bob Wire-
I know that I complain a lot about life here at MCC and the fact of the matter is there is much to complain about. It does not take long for a host of issues to come flooding to the fore of my mind including things such as the piss-poor medical care and staff. The constant jerking of the inmate chain by CO's for their humor comes to mind as well. The thing is this: I really don't give a rats-ass myself about much that goes on around here.
It may come as a surprise that I am not a complainer by nature; I am not. What I have here, what I do here is bring the voice of the inmates (and others; including dirty laundry) to a blogging audience and presence. I am for good and bad, really nothing more than an ear. I listen to what is being said about campus. I listen to the inmates bitch and moan. I listen to the CO's piss and moan. I listen to everything I can possibly listen to then turn in into a short blog; hopefullly with a witty and cutting edge.
So here comes one little piece of listening; with comment of course!
The other day at chow; I overheard a few guys bitching about the prospect that they may get stripped searched everytime when leaving an industry job (in this case the wood shop) including strip searches before lunches. To say these men were less than happy campers is an understatement. The thing is: these men were inclined to bitch as opposed to act. One thing that is perfectly clear  to me is how much un-tapped power inmates have over the system. Too power to affect change here at MCC by the inmates is never used. It is not used because the Inmates (as I see it)are too god-damned busy using all their energy and resources eating their own. I am not a career criminal and am not fully aware of all the rules of "inmatehood;" but it seems to me that if the inmates turned their focus on the system rather than each other change would come howbeit slowly. Inmates here, and I suspect across our nation are so worried about the skinner or ripper, or the guy who cuts in line at chow; the guy who got the bigger piece; the guy who does't look right; the guy who doesn't shower everyday, they have no energy left or desire left to affect change. They would rather piss and moan just as I am doing now.
But, I have an idea though:
I think if the inmates stood up and said we don't want to be stripped search 2 or 3 times a day and walked off the job… Done…! FINISHED…! Things would change! If all the inmates walked out of all the industries jobs that cash cow would dry up over night. If all the inmates supported those in the industries by walking away from their jobs in the kitchen or pods things would change even if the inmates went hungry for a few days… I the fore mentioned, men walked away from the work crews? What if they walked away from the school syste? What if they just said in one big 600-700 man voice; "We are as mad as hell and we are not going to take it anymore?" What if they said this across the coreec tions nation?
In my opinion inmates need a loose-knit trade union, just like the CO's and other have. I think they need men chosen from amongst themselves to represent them, just like the CO' and others have. The inmates have the numbers, they could hve the voice too if they wanted it… They just have to stop eating their own long enough to see if they wanted to, change could come to MCC and to like institutions across the nation.
Let me make one thing perfectly clear, I am not advocating this position amongst the inmates (but I will write about it;) the inmates need to wake up and see this on their own…
The medical treatment program addresses addiction, provides inmates resources after their release
WINDHAM, Maine — A pilot program offered by the Maine Department of Corrections has been successful thus far in rehabilitating inmates with an opioid use disorder.
Under the MDOC's Medication Assisted Treatment (MAT) program, inmates with an opioid use disorder that are 90 days from their release date have the opportunity to choose a medication that will help them get off the drugs.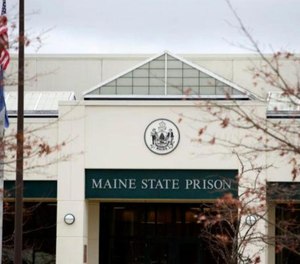 WGME reports that since the implementation of the MAT program in May, 60 inmates have enrolled and 40 have graduated. MDOC officials said 100% of the inmates who have graduated from the MAT program are actively participating in drug treatment after their release.
"This is no different that treating a diabetic or a patient with a chronic illness that needs treatment," Maine DOC Deputy Commissioner Ryan Thornell told WGME. "There's no reason we should not provide a treatment that we know, evidence tells us, works."
Right now, the pilot costs $35,000 a month to run at four out of the DOC's six facilities, according to WGME. Thornell is hopeful that the program will be expanded to two more state facilities by 2020.
"That's going to take several million dollars to expand like that but this is a priority for the state of Maine," Thronell told WGME. "I think we're going to have large support to make that expansion when the time is right."
There are three things I find so sad here at Maine Correctional Center (M.C.C.) I thought I would share them with with you. First, I find it so sad when an inmate has resolved himself to wait till his Release to receive proper medical care! That in my mind is simply tragic. I over heard some inmate talking about some liver issue that the medical staff was saying: Booze, Booze, Booze was the cause (when he first arrived:) testing six months later same issue, but no Booze to blame it on; the inmate try's to get medical to give meds without Tylenol (he takes 90,000mg a month.) At his 1 year health review (at 17 months.) The doctor asked the inmate (why aren't you on straight blah, blah," The inmate complains about his repeated attempts to get things changed. He tells the doctor he'll just wait till he gets out to get things corrected (his outside doctors did not give him meds with Tylenol.) The inmate has Two years to serve, he leaves the room the doctor does not change his meds. SO SAD…..
Secondly, the telephone… I see the telephone as the greatest source of conflict, stress, and strife to see inmates pleading w/ spouses, way ward girl friend is awful… Inmates so want to have some kind of normalcy in controlling events outside the walls. They can't, and it tears them up… SO SAD… To bad they did not have privacy. They must exposed their frustrations to the world (Dorm) SO SAD…
Lastly, it is so sad for me to see the "Tough Guys," "The guys who do time; the muscle bound career criminals who prey on the weak & elderly around the dorms hanging out day in and day out at the cages, swinging of CO's nuts. Yep, it seems the toughest, the biggest, baddest boys are the real  junior CO's…. SO SAD…..
Bob Wire
"This is the day that the Lord hath made; let us be glad and rejoice in it." Well actually it is the day that the commissioner of the DOC is supposed to be at Maine Correctional Center (MCC) is shaking in their britches… Why all the fear and trembling amongst the staff you ask? Well it seems his holiness the "Commissioner of Ponte" has been wielding his ax at the State prison like he has been farming in South America; using the old Brazilian Jungle slash and burn technique. Yes, it is true, his holiness Ponte axed nine people according to news reports and that has people here at MCC feeling less than secure (to say the least…)
The funny thing is that here at MCC the inmate population has been saying the axe was going to fly for months and three MCC organizations conducted an unofficial poll and came up with their picks for the "Heads Will Roll" axing.
The three groups are the Windham National Association Against Cruelty to Prisoners (WNAACP,) the Club the Easter Seals Foundation (CESF) and Gay Maine (the MCC Chapter.) This is how the polling fell out. At the top of the list was that CO who likes to pass out all the extra food to inmates (as the inmates; CAW, CAW.) According to their press release the WNAACP said if that CO does not know how potential dangerous (Thru the spreading of disease) it is to have 20, 30, or 40 inmates with nasty filthy hands dipping in buckets of food and then passing it out, he does not deserve to be employed. Next on the list was quiet a surprise to many people. The second chosen to be canned was the "Red Headed Dorm Dad" because (and I quote :) "He has lied to the inmates so many times that any capital he had to spend on credibility was gone years ago…"
That's it, the top two picked by the people who pick people here at MCC… There was one individual who just squeezed out of the "big two" and that was someone named Henry (Quoting once again :) "he's useless…"
Well that it from ole' Bob Wire for now… Stay tuned, because this story is not going away anytime soon….
Bob Wire
Written by Matt "Irish" Moscillo, performed by P-6 & the Windham Philharmonic.  From the CD, "Three More Julys," produced and recorded  by Guitardoors.org on location at the Maine Correctional Center / Windham Prison, back in 2010.